Sunday Miscellany Sunday 10 June 2018
***Our autumn/winter 2018 live tour continues!***
On Wednesday 5 December we will be back in the National Concert Hall in Dublin for our annual and hugely popular Christmas concert with the RTÉ Concert Orchestra and special guests. This concert is sold out but we do have tickets on sale for our 50th birthday celebrations, see below.
And you can find out all about our big plans for this programme's own 50th birthday at Miscellany50 -- a unique winter festival of new writing and music taking place at the Project Arts Centre on 7-9 December, making for an entirely new and separate radio series, Miscellany50, in 2019.
Do book early to avoid disappointment, and we hope to see you at some of these events in the near future!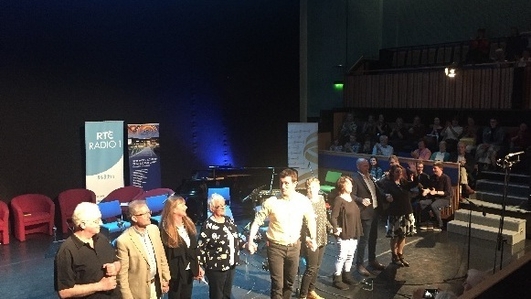 Sunday Miscellany
New Writing:
Somewhere Out There by Patrick Griffin;
Flight to the Falklands, a poem by Vivienne McKechnie;
Three Bicycles by Eoin Devereux;
Dawn Chorus by Mae Leonard;
I Am A Song by Joseph O'Connor
And
Sweet Van, a poem by Dónal Ryan
Music:
Curious Hand by Séamus Fogarty;
Anouman by Django Reinhardt, played by Diane Daly on violin and Boris Hunka on vibraphone;
Rannafast and Gan Ainm, by the Irish World Academy House Band: Niall Keegan on flute, Alec Brown on cello and Conal O'Kane on guitar;
Dawn Chorus, played by Blackie O'Connell on pipes and Siobhán Peoples on fiddle;
Stabat Iuxta Christi Crucem from the Las Huelgas Codex, sung by Rosemary Heredos.