***Summer 2020 update*** Miscellany remains open for submissions but we're receiving far higher numbers of scripts than usual, and, as ever, we have far more excellent pieces to choose from than we can use. If you're sending something in, make sure to read the guidelines first and bear in mind that, as stated in those guidelines, after an initial acknowledgement of your submission you'll only hear from us again if we're in a position to proceed to a recording.
Miscellany50, a series celebrating 50 years of Sunday Miscellany, is currently going out on RTÉ Radio 1 on Saturday evenings at 7pm. An anthology from the series is also on sale, published by New Island Books.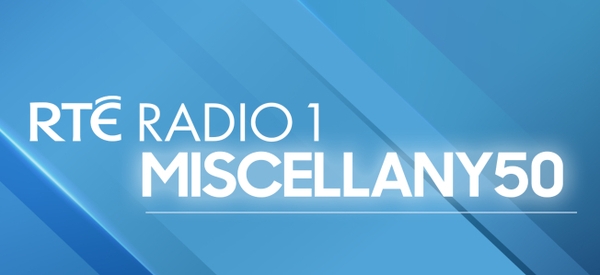 Miscellany50 is a celebratory radio festival weekend of short writing and music produced to salute fifty years on air in 2018 of Sunday Miscellany, RTÉ Radio 1's iconic programme. Five concerts will each capture a decade between 1968 and 2018 and be introduced by writers including Mary O'Malley, Joseph O'Connor and Lisa McInerney.
Miscellany50 will also offer a feast of music and song to savour – some specially commissioned to premier over the weekend – from artists including Donnacha Dennehy, Kate Ellis, Jennifer Walshe, Michael Holohan and Niall Valelly.
Throughout the weekend The Cube downstairs in the Project will play host to Miscellany50's Listening Lounge. Here you can sit back and enjoy free access to a choice of content from Sunday Miscellany's eclectic archive from classic contributors across the decades such as Maeve Binchy, Benedict Kiely, Sam McAughtry, Nuala O'Faolain and Anthony Cronin.
Miscellany50's concerts will be recorded and produced for broadcast on RTÉ Radio 1 in 2019 with the support of the Broadcasting Authority of Ireland.
Friday 7 December 2018, 7.30pm
John Bowman, Mae Leonard, John Boland, Nuala O'Connor, Leo Cullen, Deniuse Blake, Louis de Paor, Gerald Dawe, Evelyn Conlon, Denis Sexton and Gemma Tipton, Contempo String Quartet, Richie Buckley, Máire Ní Chéilleacháir and Jennifer Walshe
Saturday 8 December 2018, 3pm
Mary O'Malley, Donal Hayes, Maurice Cashell, Pat Boran, John Connell, Michael O'Loughlin, Martina Devlin, Cyril Kelly, Paul Rouse, Alannah Hopkin and Doireann Ní Ghríofa , Christy Moore, ConTempo string Quartet, Loah, Kate Ellis and Niall Vallely
Saturday 8 December 2018, 7.30pm
Joseph O'Connor, Dermot Bolger, Conall Hamill, Brian Leyden, Anne-Marie Kennedy, Sinéad Gleeson, Claire Kilroy, Rosaleen MacDonagh, Éilis Ní Dhuibhne and Simon Ó Faoláin, Navá and Contempo String Quartet
Sunday 9 December 2018, 12pm
Colin Murphy, John MacKenna, Honor Clynes, Stephen James Smith, Barbara Scully, Karl O'Neill, Liam Power, Kevin Barry, Caitríona Lally, Siobhán Mannion, Cormac Begley and Barry Kerr
Sunday 9 December 2018, 4pm
Lisa McInerney, Bernadett Buda, Danielle McLaughlin, Janet Moran, Mary Morrissy, Robert Higgins, Emilie Pine, Veronica Dyas, John F Deane, John Kelly, Jessica Traynor, Contempo String Quartet and Clíona Doris