Seascapes Friday 10 July 2020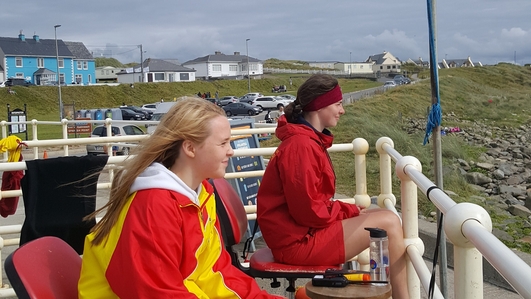 Seascapes podcast
Lorna Siggins visits Spanish Point in County Clare to speak to the lifeguards on duty. She hears about new working practices introduced becasue of Covid 19. From the RTE archives going back to 1949, Boatman John Gallagher tells of supplying the Eagle Rock lighthouse off the North Mayo coast on board his boat & lighthouse keeper Frank Sweeney tells of life on the rock plus lighthouse keeper Mr H Duggan tells of life on the Tusker Rock lighthouse in 1953. Also our regular contributor Hugh Oran explores the history of the Martello Towers which dot our coasts, who built them & why.
Pictured are Lifeguards Cora Deane & Rachel O'Brien on duty at Spanish Point, Co. Clare
Keywords
About The Show
Seascapes, the RTÉ maritime programme with Fergal Keane. Seascapes brings you around our coasts and onto traditional and modern boats and yachts for a taste of the great outdoors. Whether you are a trawlerman or a yachtie, Seascapes will be of interest to you.