Seascapes Friday 25 March 2016
Hello and welcome aboard this week's edition of your maritime programme Seascapes .....this week we hear more from the recent Dive Ireland Conference in Athlone with Richard Thorne and Rory Golden ; we have music from John Beag O Flatharta from Conamara ; the winners of the history of Irish Water Safety by Tiarnan O Sullivan in our Seascapes competition ...first this week to the Lewis Symposium held at the National Maritime College of Ireland which we featured a few weeks ago we'll be hearing from Margaret Stack ; Georgina Foley and Professor Robert Devoy .......we hear first from one of the great innovators of Ocean energy - Professor Stephen Salter, Emeritus Professor of Edinburgh University who addressed the gathering on the history of Ocean energy .....
From Emeritus Professor Stephen Salter to Professor Margaret Stack of the University of Strathclyde .....
Well from Strathclyde in Scotland and Professor Margaret Stack to Professor Robert Devoy of the Coastal Marine Research Centre ...
The voice there of Georgina Foley in The Beaufort Building from
The recent Lewis Symposium honouring Emeritus Professor Tony Lewis ......
Following a four month delay, World Sailing (formerly ISAF) have confirmed that Ireland's Andrea Brewster and Saskia Tidey have qualified for the Rio 2016 Olympic Games in the 49erFX event.
News yesterday that Africa would not enter the event released another European place and as the next in line based on the world championships in Argentina, Providence Team IRL's Brewster and Tidey have secured qualification for Ireland. We congratulate them...
So to our competition which was for copies of the History of Irish Water Safety by Tiarnan O Sullivan , we asked you tell us where they have their headquarters ..the Answer was Galway and our winners from a large entry are ;-
Margaret Bourke of Thurles, Co Tipperary
Peter Mc Gettigan , Lifford , Co Donegal
We return to the recent Dive Ireland Conference in Athlone where we met a great friend of the programme and a regular contributor to Seascapes – Flagship Scubas Rory Golden
From Rory Golden to Richard Thorne who had a piece in the latest edition of SUBSEA Ireland's only diving magazine ..Richard talked to Seascapes about snorkelling.....
On Monday night I was in Cobh for a fundraising night by the World Ship Society , Cobh branch where they had music by Molgoggers and raised a considerable sum for the Ballycotton RNLI Lifeboat Station ......and the following day I was at the Mens Shed gathering in the National Maritime Museum in Dun Laoghaire in an event supported by Fishermans Friend , we'll hear more in the coming weeks and we'll talking to the overall winners from the Cooley Peninsula...........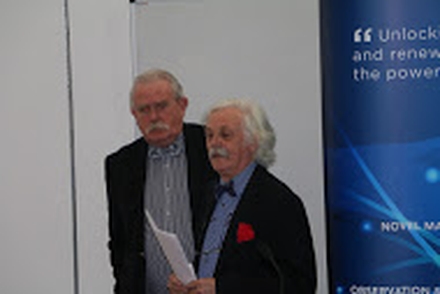 Well that's it for this week here on Seascapes , next Friday night
Richard McCormick , President of the Maritime Institute on the re publication of John de Courcy Irelands' "The Sea and the Easter Rising " by The National Maritime Museum and a series of illustrated talks over the coming months to mark the centenary of 1916 ; we preview the Maritime Forum scheduled for next weekend in the National Maritime College of Ireland ; and we mark the 10th Anniversary of John de Courcy Ireland's passing we have all that and much more here on Seascapes, Happy Easter ... ...until next Friday night, tight lines and fair sailing. "
About The Show
Seascapes, the RTÉ maritime programme with Fergal Keane. Seascapes brings you around our coasts and onto traditional and modern boats and yachts for a taste of the great outdoors. Whether you are a trawlerman or a yachtie, Seascapes will be of interest to you.