Seascapes Friday 29 August 2014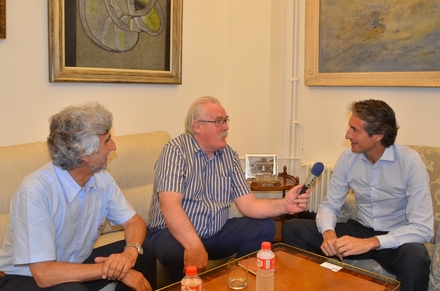 Hello and welcome aboard this week's edition of your maritime programme Seascapes , in this edition we'll hear the second part of our conversation with the distinguished maritime artist Kenneth King whose exhibition of paintings at the Sirius Arts Centre in Cobh "Vitality of the Sea" concludes this weekend ; Mary McBrien talks to Michael Clarke at Lough Erne Yacht Club where the Heritage Boat Association recently gathered ....as Ballyholme Yacht Club plays host to the Zhik Laser Irish National Championships we congratulate Finn Lynch who last weekend became the Under 19 Laser Standard World Champion as he heads for Spain and Cantabria in a moment we'll hear about the ISAF Sailing World Championships in Santander ......this weekend in his birthplace of Liscannor – inventor of the submarine John Philip Holland is being honoured marking the centenary of his passing and we'll have a full report on next weeks maritime programme.......so to the north of Spain and the majestic sea port and city of Santander which is hosting the ISAF Sailing World Championships on a recent visit there we talked to Spanish Olympic Sailor Jane Abascal first to the Mayor of Santander Inigo de la Serna....
Sailing maestro Jane Abascal and earlier we heard from Mayor of Santander – Inigo de la Serna - We wish all our sailors the very best in the testing waters of the Bay of Biscay off Santander in the ISAF Sailing World Championships......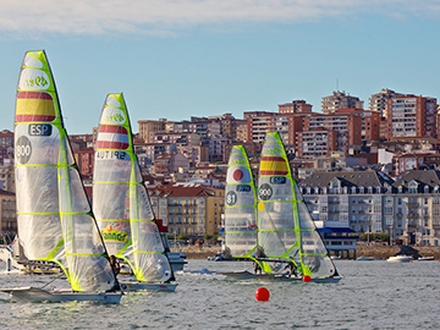 Last week on Seascapes we talked to maritime artist Kenneth King about his adventures at sea as a chaplain – this week his career as a distinguished maritime artist now based in Glencolumbkille in Donegal ...we talked about the kinship aboard a vessel on the high seas ..............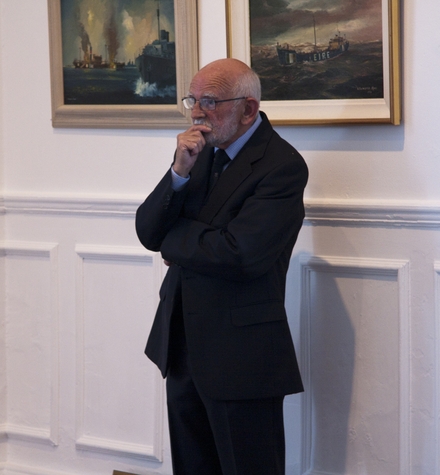 You can see and read more about maritime artist Kenneth King on the Seascapes webpage ......"Kenneth King – Life and Work" by Marianne O Kane Boal is available in the Crawford Gallery Bookshop and Liam Ruiseals in Cork and from the Four Masters in Donegal town...................a fortnight ago members of the Heritage Boat Association rallied from around the country in Lough Erne Yacht Club – Mary McBrien spoke with Michael Clarke- he is , as he says himself the titular Admiral of the club and the club historian ..........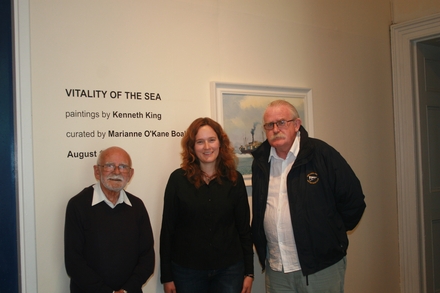 The cool, broken weather continued for the most part last week, though the rains did not lift many of the drought stricken rivers by much. Many fisheries were quiet, but overall there were still plenty that produced the goods for those who had time to be on the water. In the last couple of days the winds have built up which have had a bit of an effect on sea anglers and others going afloat in pursuit of their quarry.
Some good fishing was reported on the River Fane last week with salmon to 15lb landed. The River Suir is seeing more grilse than big fish running the river but Ger Roche still managed to catch and release a lovely hen fish of about 25lb which wins him Catch of the Week. The Blackwater Lodge saw fortunes improve last week and a number of fish were taken on all methods. The River Bandon has remained very low all summer but adapting tactics to conditions has seen the odd (very odd) salmon landed including a lovely 17lb fish earlier in the month. Sea trout fishing is going well but a flood is badly needed. There was some reasonable fishing on Lough Currane in the last seven days. There was a good bit of rain on the lake and it rose 5 inches on Tuesday. Unfortunately the rain that fell on the Laune catchment did not improve the fishing there, though a Red Francis in the right hands seems to be capable of great things. The Owenemore Fishery, only up the road, was out of order due to floods at the start of this week but prior to that was fishing well. At Ballynahinch rain last week brought a welcome rise in water levels, which has seen a big improvement in the fishing, with good numbers of fresh grilse in the river. At Delphi some anglers had as many as 4 salmon in a day, though the river levels were a bit up and down. Sea trout fishing is expected to pick up again when the Daddy Long Legs hatch. Fishing was slow last week at Burrishoole and only 6 salmon were reported. Water levels and angling effort were low on the Moy too and, as a consequence, only 139 salmon were recorded. Fishing was better at the Ballisodare Fishery and 71 salmon were landed, mostly on worm and fly. In Donegal there was good sea trout fishing reported from The Erne Estuary. The Owenea did not get much rain and fished better in the earlier part of last week.
Specimen pollack, good cod and rays made up the catches of anglers fishing from Red Bay last week. On Thursday the Kiwi Girl fishing Donegal Bay landed 20 blue sharks and the next day had 11 more. 19 of these were estimated at specimen weight. The bay is full of mackerel which made for good fishing at the Carty's Ulster closed gold medal boat league which was won by Gavin Dorrian. In Galway Bay anglers charter fishing are getting plenty of spur dogs and tope, though the species is count is good too – one angler had 14 species in a day. At little further south charter fishing from the Shannon Estuary is also going well with a good mix of species including a first for the Clare Dragoon – a stone bass caught during a shark trip. Staying with charter fishing, anglers fishing around Valentia Island also enjoyed good sport with a good mix of species and some good conger landed. Not far from there at Waterville some good bass are being caught by shore anglers. Moving around the coast to Courtmacsherry the reports from charter boat and small boat anglers are all positive and shore anglers at Timoleague are enjoying good bass fishing on Ragworm. Courtmacsherry is beginning to see an improvement in bass fishing following a long lull in catches. Bass fishing at Cork Harbour is going well though the wind in the last couple of days has curtailed the sport for small boat anglers. On the east coast, charter fishing for tope, bullhuss and even black bream continues to provide reliable sport.
The Kells Blackwater fished very well last week with anglers landing up to 2 dozen trout in a session. Both nymphs and dry fly were fishing equally well. By contrast it was a quiet week on Lough Sheelin in the cool conditions. Small flies can be the undoing of big trout and at least one 18 inch beauty fell to a size 18 dry last week no the Anner. Lough Corrib is low and warm and hatches are sparse leading to light angling pressure and few reports of fish caught and it is much the same at Lough Conn. 266 anglers fished Lough Melvin Open Trout Angling Competition which was won by Jimmy Cahill and John Moroney with 8 fish.
Erne Anglers Club angling coaches had a busy but enjoyable week with a great bunch of youngsters participating in their annual Angling Summer Scheme. 26 youths travelled daily from Enniskillen to Tooman's Fishery in County Leitrim where they could develop their angling skills. The kids had a great time with some fine individual catches in excess of 20 and even 30lb bagged. Congratulations to all involved. Good perch fishing was reported from a Carrick on Shannon venue where float fished maggot caught some good sized strippies. A number of venues in Co. Cavan fished well last week with the Killykeen and the north shore of Gowna seeing bags of 40lb put together by visiting anglers.
Pike anglers fishing for a German TV programme had some good sport on fly and lure at a Co. Mayo lake. Although the trophy fish eluded them they did manage pike to 85cm.
Finally, national policies for the management of trout, pike and bass were launched by IFI last Friday. The recommendations will now be brought forward and put into practice by IFI. Where required IFI will seek legislative changes to underpin and support the policies, which will be reviewed after a period of three years.
The main recommendations put forward include:
For Bass: a reduction in the daily angling bag limit from two to one fish in any 24 hour period; an increase in the minimum landing size; and a review of the closed season.
For Pike: in designated, managed wild brown trout fisheries, the current bye-law is recommended to be amended to prohibit the killing of any pike greater than or equal to 85 cm in length; all larger rod-caught pike should be returned to the water alive; in all other waters of the State an angler will be permitted to take and kill one pike of less than or equal to 50 cm in length (as per the existing bye-law); additionally, the policy calls for further research into pike movement and transfer programmes.
For Trout: a national minimum size limit; national bag limits; designation of a number of lakes and rivers sections as wild brown trout fisheries; in addition to other measures.
The broken, breezy conditions are likely to continue for the weekend but it looks like we'll see a return to dry settled weather next week.
Tight lines,
Myles Kelly Catch, Photo, Release
Follow the Irish Angling Update on Twitter or Visit Inland Fisheries Ireland on Facebook
If you have an angling story to share with the Irish Angling Update please send it to contact@fisheriesireland.ie.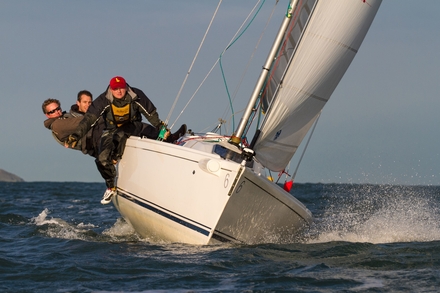 16 National Sailing Champions will battle it out for the ISA All Ireland Title
Defending All Ireland Sailing Champion Ben Duncan will face some stiff competition next week as he fights to retain his title. 16 national class champions have been invited to compete at the Irish Sailing Association's most prestigious annual senior sailing event; the ISA All Ireland Sailing Championship on the 6th and 7th of September. The championship, which began in 1947, will be sailed in the ISA's fleet of J80 keelboats from Howth Yacht Club where the nation's top sailors will battle it out for the coveted Helmsman's Trophy.
Among the invited competitors is recent Commodore's Cup winner and 1720 national champion Anthony O'Leary – a powerhouse within the international sailing circuit. O'Leary has competed at the All Irelands numerous times. Although both his sons Peter and Nicholas have won the championship a combined five times, Anthony himself has so far failed to bring the title back to Cork.
Earning a nomination from the GP14 class is Olympic veteran Ger Owens who competed at the Games in Athens, Beijing and most recently in London. Owens is no stranger to the ISA championship having won it in 2000. He will also line up against the 2007 victor Stefan Hyde.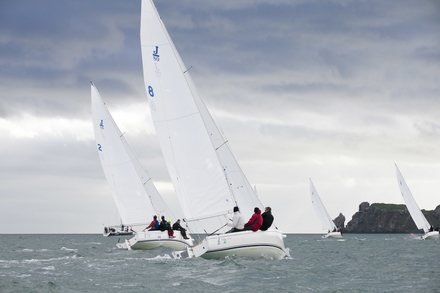 The 16 boats will compete in two fleets of eight on Saturday, each scheduled for three races. From there the top three boats from each fleet will progress to Sunday's final four-race series with two additional places remaining for the top two boats from a two-race repechage on Sunday morning.
National Class Champion Invitees:
Name

Surname

Club

Class

Alex

Barry

Monkstown Bay Sailing Club

RS400

Ben

Duncan

Defending Champion

Richard

Evans

Howth Yacht Club

ICRA 2'

Laurence

Hanley

Lough Ree Yacht Club

Shannon One Design

Chris

Helme

Royal St George Yacht Club

Ruffian

Stefan

Hyde

Royal Cork Yacht Club

SB20

Ian

Nagle

Royal Cork Yacht Club

ICRA '1'

Flor

O'Driscoll

Royal St George Yacht Club

J24

Anthony

O'Leary

Baltimore Sailing Club

Commodores Cup & 1720

Pat

O'Neill

Clontarf Yacht & Boat Club

IDRA14 & E-Boat

Jonathan

O'Rourke

National Yacht Club

Mermaid
About The Show
Seascapes, the RTÉ maritime programme with Fergal Keane. Seascapes brings you around our coasts and onto traditional and modern boats and yachts for a taste of the great outdoors. Whether you are a trawlerman or a yachtie, Seascapes will be of interest to you.