Seascapes Friday 8 August 2014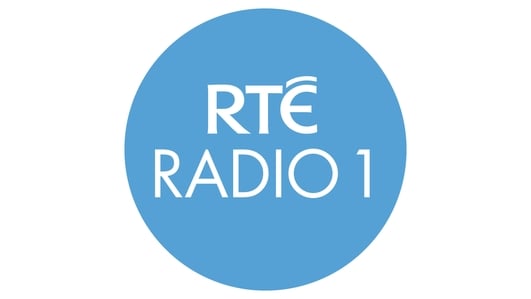 Seascapes
The maritime programme for this island nation presented and produced by Marcus Connaughton.
Seascapes Friday 8th August 2014
features Providence Team Ireland Sailing -and ISA Academy sailors Finn Lynch; Saskia Tidey and Andrea Brewster; Laser sailor James Espey; Norman Freeman on Captain Leonard Bunn ; Faulty EPIRB Alert ; Cruinniu na mBad; Schull Regatta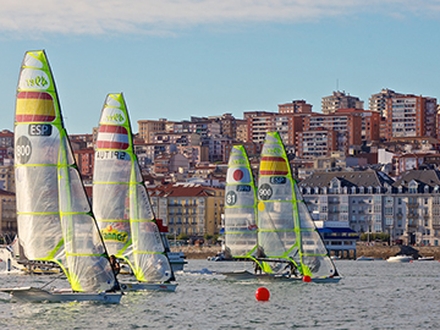 Hello and welcome aboard this week's edition of your maritime programme Seascapes , this week We hear from members of the ISA development squad Finn Lynch in the Laser –Andrea Brewster and Saskia Tidey in the 49erfx class ; we'll also be speaking with our Paralympians Ian Costello and John Twomey who are heading to the IFDS World Championships in Halifax , Nova Scotia with fellow team member Austin O Carroll in the Sonar and we catch up with Laser sailor James Espey....... this weekend in Kinvara Cruinniu na mBad takes place and in West Cork following a very successful Calves Week the historic 130th Schull Regatta takes to the water also on Seascapes your maritime programme Norman Freeman author of Seaspray and Whisky on serving with Captain Leonard Bunn ....first to those young sailors with the Olympics in Rio de Janeiro in their sights for 2016.....to Laser sailor James Espey who recently returned from Santander in Northern Spain....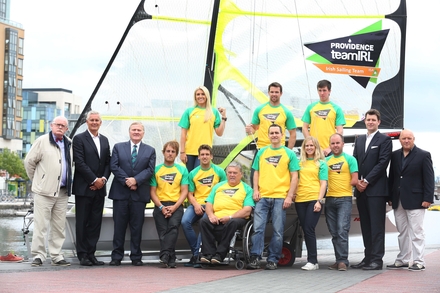 James Espey , next to Paralympians Ian Costello and President of the International Federation for Disabled Sailing John Twomey
Prior to their departure for Halifax , Nova Scotia last weekend....
Last week on Seascapes we heard from James O Callaghan, who is Performance Director of the ISA he spoke about Providence Team Ireland on last weeks programme and about the development squad one of their exciting prospects is Finn Lynch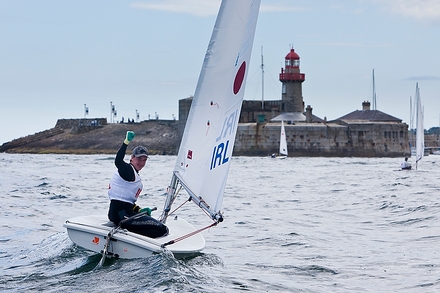 Next to Andrea Brewster and Saskia Tidey who in the past year have made remarkable progress .......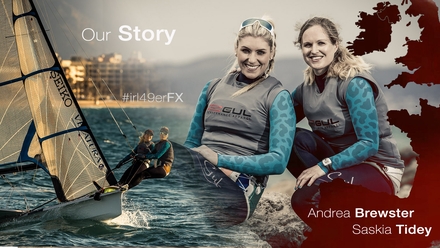 The clarion call of Wolf Like Me by TV on the Radio for Saskia Tidey and Andrea Brewster in the 49er fx class –they are now in Santander preparing for the world championships there next month...
There is an opening in The Sirius Arts Centre in Cobh next Thursday night 14th August at 7pm ....featuring the maritime paintings of Kenneth King with the artist attending and the launch of "Kenneth King Life and Work" by Marianne O Kane Boal , Seascapes will be there and we'll have an interview with both Kenneth and Marianne on the programme in the coming weeks. You can read more on the Seascapes webpage......
Sirius Arts Centre 'Vitality of the Sea' Exhibition & Book Launch at 7pm on Thursday 14 August 2014. Exhibition continues until 31st August 2014. Sirius Arts Centre, Cobh, Co. Cork presents "The Vitality of the Sea" an exhibition of new works by Donegal based artist Kenneth King. King has significant connections to Cork having shown at theCork Boat Show 1982-1985, Sirius Art Centre 2005 and the National Maritime College, Ringaskiddy 2009. King has created a substantial body of work specific to Cork. His oil paintings of vessels of the Irish Navy have been presented to various Commanding Officers. Moreover he has several paintings in the collection of the Navy, depicting the International Naval Review in Cork Harbour in 1996, which have been part of "Kings of the Tides" exhibition in the Harbour Office, Belfast, in 2012, curated by Marianne O'Kane Boal. Other exhibitions include "Maritime Paintings of Cork 1700-2000" curated by Peter Murray and shown in the Port of Cork headquarters, Custom House Street, marking Cork 2005: European Capital of Culture.
This exhibition is important in that it includes thirty works by the artist on loan from different institutions including the National Maritime Museum, An Post, the Irish Naval Service, Cobh Heritage Centre and private collectors. Furthermore the exhibition is intended to mark the Cobh launch of a major publication on the artist entitled 'Kenneth King: Life and Work' by leading Irish writer Marianne O'Kane Boal, with a preface by maritime historian Terry Conlan. The publication is a detailed analysis of the artist's work in light of the maritime painting tradition and providing literary context, with reference to his life and formative beginnings and with over one hundred illustrations. 'Kenneth King's work is a combination of scrupulous attention to detail and empirical realism, yet it is also marked by an immediacy and freshness that denote the might and vitality of the sea, the surrounding landscape and material heritage.' writes Marianne O'Kane Boal.
The book was funded by Ealaion na Gaeltachta, Department of Arts, Heritage and the Gaeltacht, Donegal County Council with support from Oideas Gael, Udaras na Gaeltachta and business sponsors that include Swan Net Gundry, Atlantic Dawn Group and Western Seaboard Fishing Company Ltd.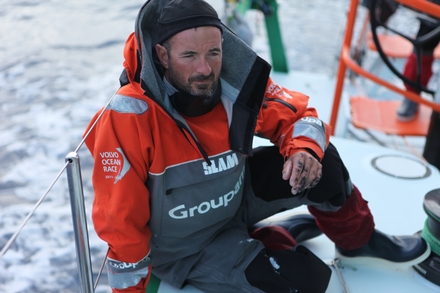 In the 2010 Sevenstar Round Britain and Ireland Race, Damian Foxall was watch leader on Volvo 70, Groupama. Taking Line Honours and setting a race record of 5 days, 21 hours, 26 minutes and 55 seconds, the Volvo 70 went on to win the Volvo Ocean Race with Foxall achieving cult status in his native Ireland.
For the 2014 Sevenstar Round Britain and Ireland, Foxall is back, as watch leader on MOD 70, Musandam-Oman Sail, skippered by Sidney Gavignet with three crew from the elite squad of sailors from the Sultanate of Oman.
"This race is an absolute classic," says Damian . "Like the round the world races, the Route du Rhum, this is one of them. When Groupama was getting ready for the last Volvo Ocean Race, this was one of the best things we did; a real test. We always talk about the first leg winner of the Volvo but maybe it's now the Round Britain and Ireland Race, maybe this is the one to look at?
In all the racing I have done, this is as tough as it gets because this is much more intense than other races and I take my hat off to the Irishmen, Liam Coyne and Brian Flahive (racing on First 36.7, Lula Belle); taking the race on Two Handed in a little boat is hard core."
Seascapes is grateful to regular listener David O Mahony of Derrynane Inshore Rescue Service in Caherdaniel in deepest Kerry about the recent marine notice MN41 regarding the recall of three models of the GME EPIRB.
Derrynane Inshore Rescue Service (CRBI) view this recall as a major safety issue, and would really appreciate it if you could mention it on the programme at the earliest opportunity.
They are as part of the CRBI (Community Rescue Boats of Ireland) a voluntary community marine rescue unit based in Derrynane Harbour, and are a "declared resource" to the Coast Guard,
And would appreciate a mention if possible as they have to fund all their operations and as a faulty EPIRB would tend to turn what could be an assistance to a possible "recovery" they are anxious that as many fishing vessel owners, skippers and recreational craft users be aware of the recall of the three models.
We have details of the notice on the Seascapes webpage .....
Marine Notice No. 41 of 2014
Notice to all Vessel Owners, Operators, Masters, Fishing Vessel Owners, Skippers, Fishers and Recreational Craft Users
The Department of Transport, Tourism and Sport wishes to advise it has been informed that Standard Communications Pty Ltd, the manufacturer of GME EPIRB' s, have issued a Product Safety Recall of the following affected EPIRB units:
GME MT400/ MT401/ MT403 EPIRBs with serial numbers between 50101000 and 80250722. Manufactered between January 2005 and February 2008.If you have a GME EPIRB then check the model number and serial number , the serial number can be found on the left side of the beacon at the base of the identity panel....if you have one of the affected units then you need to contact GME at recall@gme.net.au ....or your local distributor to arrange a replacement...mind you if you have an EPIRB and a lifejacket you should have it checked regularly before use each season....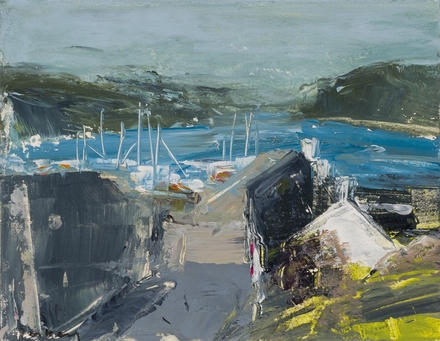 "Atlantic - Paintings", by Irish artist Donald Teskey RHA, 9th August - 10th October 2014, The Ballinglen Gallery, The Ballinglen Arts Foundation, Main Street, ...Ballycastle, Co Mayo, Ireland. Open 10 - 12, 2 - 4 pm Monday - Friday and strictly by appointment at weekends with a reception on 9th August 8:30pm, everyone welcome.
Donald Teskey has arguably become one of the best known landscape painters of his generation. His paintings of the Irish landscape are dramatic works that capture the power of nature and the sheer rugged beauty of the Irish landscape. In particular, he captures the West Coast of Ireland to perfection. He has devoted much focus to observing and painting the relentless and elemental nature of coastline and sea. Donald Teskey was born in Co. Limerick and graduated from Limerick College of Art and Design in 1978. He came to prominence as an artist through his skill as a draughtsman during the 1980s with several significant solo exhibitions as well as being the recipient of awards in EVA and the Claremorris Open Exhibition. Since 1992 he has crafted out a substantial body of work as a painter of the landscape and more recently the ruggedness of the western seaboard. Sometimes, working on a very large scale, his images reflect his response to the formal elements of composition; shape, form and fall of light. The results are powerful images of instantly recognisable parts of the Irish landscape with large abstract passages and surfaces which articulate the relentless energetic and elemental force of nature. In 2003 he was elected a member of the Royal Hibernian Academy, Dublin. He is also a member of Áosdana (The Arts Council established Aosdána in 1981 to honour artists whose work has made an outstanding contribution to the arts in Ireland, and to encourage and assist members in devoting their energies fully to their art). His work has been exhibited in the UK, USA, South Africa, Canada, Germany and Finland. In 2005, Limerick City Gallery of Art hosted "Tidal Narratives", an exhibition of large scale paintings and drawings coinciding with the publication of a book on the artist by Gandon Editions. He is represented in major collections including the Arts Council, Irish Museum of Modern Art, AIB, Limerick City Gallery of Art, KPMG, Butler Gallery, The Ulster Bank, OPW and The Archive of The Ballinglen Arts Foundation. Donald lives and works in Dublin. He is represented by the Oliver Sears Gallery in Dublin, Ireland www.oliversearsgallery.com & the Dolan/Maxwell Gallery, Philadelphia http://www.dolanmaxwell.com The work of the Foundation (Irish Charity 11019) is supported by The Arts Council, The Ireland Funds, Mayo County Council & private contributors.
For further information please contact Úna Forde, The Ballinglen Arts Foundation, Main Street, Ballycastle, Co Mayo Phone / Fax 096 43184, email baf@iol.ie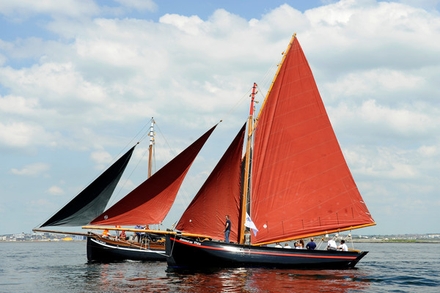 The 35th Cruinniú na mBád/ /Gathering of the Boats takes place this weekend in Kinvara with the 150 year old Hookers, An Capall , An Tonai, and An Maighdean Mhara they will land their cargoes of turf on Kinvara Pier at 16:00 hrs on Saturday afternoon , as they have for over a century and a half. These majestic vessels are an important part of our maritime heritage and will be joined by the rest of the Hooker fleet for a weekend of traditional sailing and racing.......
Information on the weekend' s events can be seen on the website www. kinvara.com/cruinniu or on the Seascapes webpage .......
A photographic exhibition opened in in Pearse Street Library in Dublin this week marking the centenary of the First World War – titled "Ringsend Seamen from the Great War : 70 Faces from 1918" marking the bonds between the local community , the port and the sea ...the exhibition runs until the end of this month Saturday 30th August – appropriate as a young seaman in the Royal Navy –Petty Officer Joseph Pierce Murphy of Ringsend was the first Irish casualty – on board HMS Amphion which struck a German mine in the North Sea he was twenty five.......a plaque in his honour and his fellow sailors was unveiled this week at St Patrick's Church in Ringsend.....
About The Show
Seascapes, the RTÉ maritime programme with Fergal Keane. Seascapes brings you around our coasts and onto traditional and modern boats and yachts for a taste of the great outdoors. Whether you are a trawlerman or a yachtie, Seascapes will be of interest to you.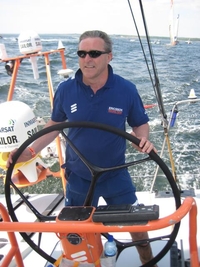 The Reel Thing
Hilary James/Simon Mayor
1:12 The Reel Thing
Hilary James/Simon Mayor
1:12 Sailing By
Bbc Concert Orchestra
1:25 Wolf Like Me
Tv On The Radio
1:42