Seascapes Friday 1 August 2014
Hello and welcome aboard this week's edition of your maritime programme Seascapes , this week we'll be hearing about the Providence Team Ireland Irish Sailing Team Olympic Qulifier Events and the progress of the Irish Olympic Team Sailing Academy – with Tony O Reilly CEO of Providence Resources plc ; former Olympian and Volvo Ocean Race Principal Race Officer Bill O'Hara ; Irish Sailing Association Performance Director James O' Callaghan ; Kieran Devaney has the tale of the Ouzel Galley and its mysterious voyage into the Levant; ............last weekend saw the centenary celebrations in both Kilcoole and Howth – we spoke to Pat Murphy who was master of ceremonies at the event in Howth about the hand over of the replica Asgard dinghy and the presence of our President Michael D Higgins in Howth last Sunday....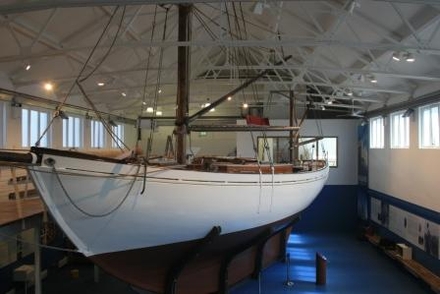 Pat Murphy , sailor and maritime advocate , you can now visit the ASGARD display at The National Museum of Ireland in Collins Barracks and see the replica dinghy displayed alongside the beautifully restored jewel in our maritime heritage – The Asgard..
Next here on Seascapes a note to say that the annual mass in Rosses Point for the people from the village who were lost at sea... takes place this Sunday at the Sligo Bay RNLI Station on the Point and will be broadcast live as the Sunday Service on RTE Television at 11.00am on Sunday morning.....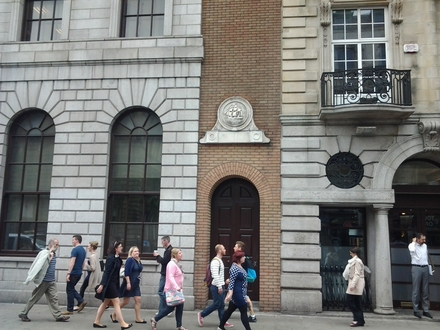 Ouzel is dockside slang for a Blackbird. Perhaps an unlucky name for a ship, there can be few more unlucky crew than the men of the legendary Ouzel Galley which set sail from Ringsend in Dublin in 1695 and vanished into the mists, only to reappear like ghosts from the distant past leaving behind a legacy and a mystery which is still unsolved to this day....... Kieran Devaney has been on the trail for Seascapes where a clue lies in the carving in Portland Stone of a ship above a doorway across from Pen Corner on Dublin's Dame Street.....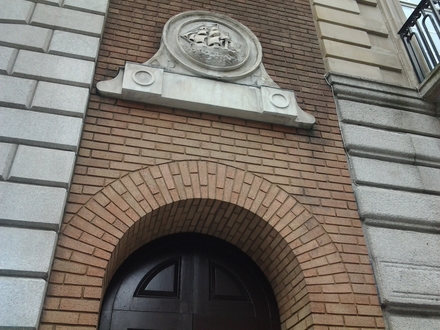 Kieran Devaney and singer songwriter Paul O'Brien with the Ouzel Galley Saga. That ballad is available on i Tunes or on Paul's compact disc Port to Port. Kieran acknowledges the assistance of Trevor Sweeney . The plaque above the Arch on Dublin's Dame Street still remains without an inscription. Maybe one day the name of the Ouzel Galley will be engraved there and others will hear her story. Only time will tell
Next on your maritime programme to the Grand Canal Basin in the heart of Dublin's Docklands where the Irish Sailing Association earlier this week announced details under the banner of Rio 2016 –Let the Games begin ahead of the ISAF World Championships in Santander next month and the IFDS World Championships in Halifax , Nova Scotia later this month...The Irish Sailing Team are supported by the Irish Sports Council and Providence on Tuesday we talked to Tony O Reilly , CEO of Providence Resources plc about Providence Team Ireland ...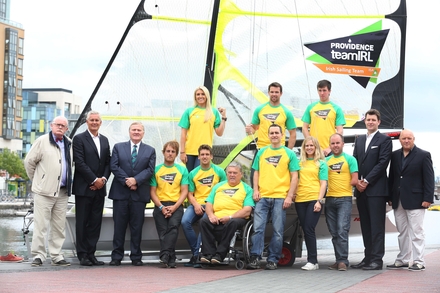 Tony O Reilly , CEO of Providence Resources next we talked to James O Callaghan Irish Sailing Association Performance Director.......
ISA Performance Director James O Callaghan bound for Rio de Janeiro...next to former Olympian and Volvo Ocean Race Principal Race Officer Bill O'Hara who guides Providence Team Ireland on the race rules......
The voice of distinguished Olympian and Principal Race Officer for the Volvo Ocean Race Bill O Hara completing this edition of Seascapes ........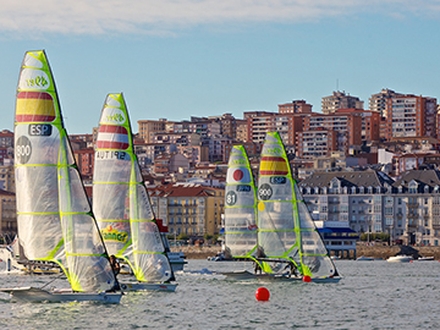 Next week we'll hear from members of the ISA development squad Finn Lynch in the Laser –Andrea Brewster and Saskia Tidey in the 49erfx class ; we'll also hear from our Paralympians Ian Costello and John Twomey who are heading to the IFDS World Championships in Halifax , Nova Scotia with fellow team member Austin O Carroll in the Sonar and we catch up with Laser sailor James Espey...not forgetting Ryan Seaton and Matt McGovern in the 49er ; don't forget just a week to go to the historic 130th Schull Regatta and Calves Week begins next week with over sixty boats entered ...not far away either is the Dingle Regatta which runs this year on the 16th and 17th of August ...also on your maritime programme Norman Freeman author of Seaspray and Whiskey on serving with Captain Leonard Bunn we have all that and much more on Seascapes , until next Friday night tight lines and fair sailing."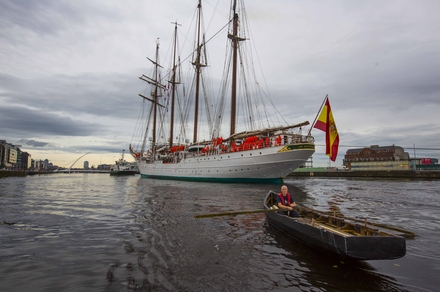 About The Show
Seascapes, the RTÉ maritime programme with Fergal Keane. Seascapes brings you around our coasts and onto traditional and modern boats and yachts for a taste of the great outdoors. Whether you are a trawlerman or a yachtie, Seascapes will be of interest to you.