Hello and welcome aboard this week's edition of your maritime programme Seascapes – this week Tom Hurley talks to Una Kierse and Dan Minchin about the Lady Lansdowne the worlds oldest surviving iron paddle steamship ; Naoimh Reilly bring us a report on last weekends Ocean to City Maritime Festival; we have news of the Juan Sebastian de Elcano which visits Dublin this weekend;
................Last weekend the members of the World Ships Society hosted the visit by a very special writer and visitor aboard the Cunard lines The Queen Victoria , he's a native of Hoboken , New Jersey and is known as Mr Cruise Liner –an international authority on ocean liners and cruise ships .. he is maritime historian Bill Miller ........curator of 20th Century Maritime History at Manhattan's South Street Seaport Museum....2nd from left with World Ship Society members..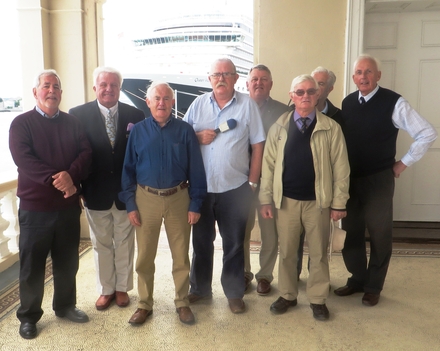 You can read more about Bill Miller and his thoughts on his visit to Cobh last weekend on the Seascapes webpage ......our thanks to Oliver Hawes and the members of the World Ships Society ....
Mon Jun 2nd Cobh (Ireland): Waiting on the dockside! Cheerful greeting from ten members of the local World Ship Society & all organized by Oliver Hawes. First, it was to an 11am memorial service in the center of this charming seaport for the 99th anniversary of the tragic sinking of the Cunard Lusitania, which claimed 1,198 lives and which brought America into that World War raging in Europe. Well done service with wreath laying, hymns, guard of honor, a few short speeches & a dozen of the Queen Victoria's officers standing proudly in full dress uniforms. Afterward, an interview for Seascapes, a weekly Irish radio program devoted to maritime matters. Then it was off to the cemetery where a good number of Lusitania victims were buried and, especially enhanced, with an insightful tour given by gentleman with a degree in graveyard studies. Indeed, there are lots of details to be shared and yet, even at this distant date, more research to be done. Then a stop at St Colman's Cathedral followed by a visit to the just-opened Titanic Garden, which includes a glass-screen relief of that immortal ship and which faces exactly in the direction where that ill-fated liner was anchored en route to New York on her tragic maiden crossing some 102 years ago. A chatty luncheon finished a very nice visit. Afterward, another ITV television interview aboard the Queen Victoria – this one themed to the Lusitania, her loss and the role of liners in the First World War.
That select club of kings & queens changes yet again! News today, that after almost 40 years, King Juan Carlos of Spain plans to abdicate in favor of his son. 47-year-old Crown Prince Felipe will become King Felipe. Just last year and after decades of rile, the Queen of Holland and the King of Belgium abdicated in favor of the eldest of their children.
Next on Seascapes to our competition ....... we said you could win a copy of "Irelands Western Islands by John Carlos courtesy of The Collins Press –and we asked you to tell us what city John Carlos is from ... the postcards and e mails came flooding in and out of those who correctly answered Galway our three lucky winners are ;
Geraldine MacCann The Curragh Co Kildare
PaddyCoyle Castleknock
John Sullivan , Bere Island, The Beara ...County Cork
After last weeks visit to Dublin Port by the Tall Ships the pride of the Spanish navy their sail training vessel the Juan Sebastian de Elcano is tied up in Dublin from this Saturday we have photos and details of visiting times to the Elcano .......
The "Elcano" is a 113 meters long four-masted schooner, the third largest tall ship in the world. It was built in Cádiz (Spain) in 1928 and has visited 152 ports in more than 70 countries.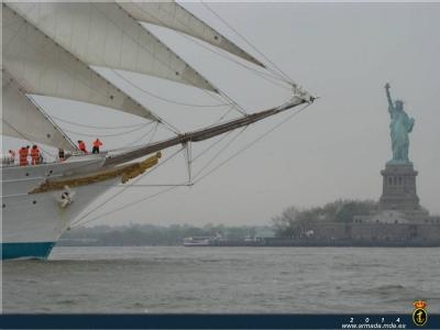 The Spanish Embassy in Dublin and Dublin Port Company have announced that the world's third-largest Tall Ship, the 370 foot long, four-masted "Juan Sebastián de Elcano" will visit Dublin from Saturday, 7th until Thursday, 12th June.
The impressive steel-hulled schooner will be met by two Dublin Port Company tug boats and a flotilla of yachts from local sailing clubs in a ceremonial escort to mark the ship's arrival at 7.30am this Saturday in Dublin Bay.
Led by Captain Enrique Torres Piñeyro, the "Elcano" is used primarily as a training ship for the Royal Spanish Navy, preparing its Officers for long periods at sea. She will arrive in Dublin carrying 191 crew on board, who will participate in a five-day programme of engagements in the capital to promote Spanish-Irish cultural exchange.
This includes a number of free public open days, when Dubliners and visitors to the city will be able to board and inspect this magnificent vessel up close in the following locations:
At Sir John Rogerson's Quay:
Sunday 8th June: 12.00 to 13.00 and 15.30 to 19.00;
Monday 9th June: 10.00 to 12.00 and 15.30 to 19.00
At Alexandra Basin*:
Tuesday 10th June: 15.30 to 19.00;
Wednesday 11th June: 10.00 to 13.00 and 15.30 to 19.00
The ship, now on its 85th training voyage, has been sailing for 23 days across the Atlantic from the Port of New York en route to Dublin Port. Built in Cádiz (Spain) in 1928, the "Elcano" has visited 152 ports in more than 70 countries, and of its 85 cruises to date, 10 have been round-the-world trips. The last time the "Elcano" visited Dublin was in July 1999. Her next ports of call include Hamburg, Germany and Fredrikstad, Norway before returning to Spain.
Next here on Seascapes Tom Hurley is in Killaloe on the trail of The Lady Lansdowne Tom spoke to Dan Minchin (an Aquatic Alien Species Specialist and Local Historian Úna Kierse on the Pier at Killaloe...... The Lady Lansdowne – is the world's oldest surviving iron paddle steamship, the wreckage lies submerged underneath Lough Derg Marina.....
The Lady Lansdowne is the world's oldest surviving iron paddle steamship, the wreckage of which lies submerged underneath Lough Derg Marina (on the Ballina side). In this package Dan Minchin (an Aquatic Alien Species Specialist who lives in Ballina) and Úna Kierse (a Local historian from Killaloe) touch upon the history of the ship, the condition it's in today and the possibility of raising it.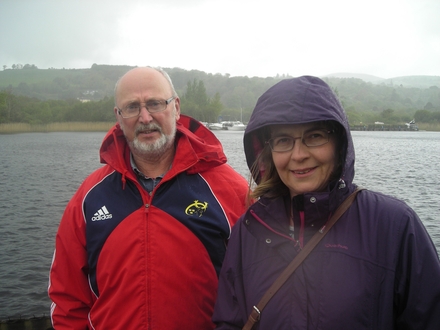 The Lady Lansdowne was built in sections in North West england at the Birkenhead Iron Works in 1833 (later to be the Cammell Laird foundry). She was the world's first iron ship with watertight bulkheads. The ship was assembled from parts transported to Dublin by the night mail steamer service from Liverpool, brought by canal barge from Dublin and via Lough Derg to Killaloe. She was built in a wet-dock that had been constructed adjacent to the Pier Head at Killaloe a few years earlier. It is known that on 20th September 1833, twenty men and six boys arrived from Birkenhead with the necessary tools and ship sections left to reassemble the Steamer on site. The engines she received had been removed from another of the Companys ships, The Mersey, which had recently been re-engined.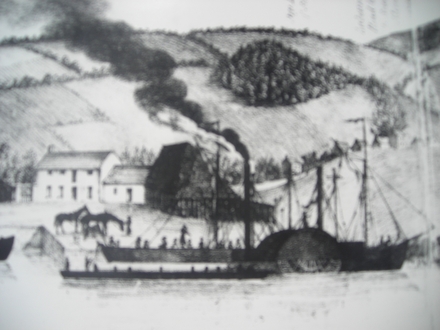 The Lady Lansdowne was launched at Killaloe on the 4th March 1834. She had five distinct compartments made of wrought iron partitions that would prevent sinking should a section become flooded. Being an iron ship she would float at a shallower draft than a similar sized wooden vessel. She therefore had an advantage in entering shallow harbour areas on the Shannon River and in Lough Derg.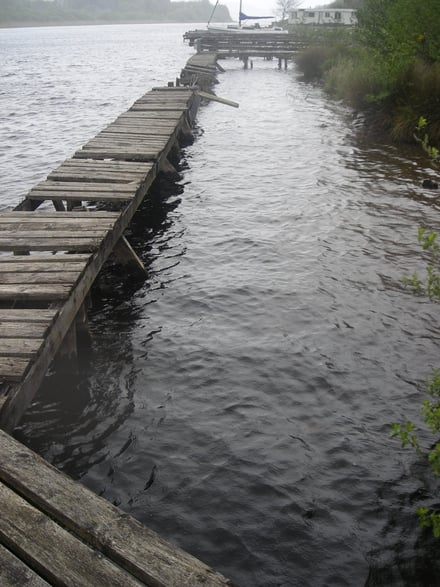 The Lady Lansdowne could tow up to four barges and was an important component of commerce at this time as goods, livestock and passengers could be ferried around Lough Derg. For example cattle could be towed in a barge to Portumna by a large steamer, to Shannon Harbour by a smaller steamer and then taken by canal to Dublin for export, within three days. Overall The Lady Lansdowne was the largest steamer to work on the Shannon, ferrying passengers and cargo from Portumna down to Killaloe until the 1860s when her demise was brought about by the arrival of the railway.
At the end of her working life the ship was beached in the shallows on the Ballina side of the Shannon River and left there on the site of what is now the Derg Marina. It is estimated that the date this took place was 1867-1868. As the vessel is more than a hundred years of age it has the protection of the 1987 Monuments Act.
About The Show
Seascapes, the RTÉ maritime programme with Fergal Keane. Seascapes brings you around our coasts and onto traditional and modern boats and yachts for a taste of the great outdoors. Whether you are a trawlerman or a yachtie, Seascapes will be of interest to you.