Next on Seascapes to documentary film maker Richie O Donnell and his follow up to the remarkable "The Pipe" , this project Richie explained to Seascapes from our Galway Studios concerns our exploration of our maritime resources in the Atlantic ....
A new documentary which will explore the politics of resource management in the North Atlantic has broken the record for monies raised on the Irish crowd-funding website Fundit.ie.
Atlantic – from the award-winning director of 2010's The Pipe, which looked at Mayo's Corrib Gas controversy – follows embattled fishing communities in Ireland, Norway and Newfoundland as they struggle to maintain their way of life in the face of mounting challenges.
As well as telling the personal stories of families affected by the encroachment of major oil companies, the film will fully examine the scramble for resources in the North Atlantic, contrasting the liberal Irish approach with the systems at work in Norway and Newfoundland.
As nearby regions benefit from tighter state management of their resources, Ireland is increasingly at the mercy of outside influences which control most of her oil and fishing wealth. By listening to communities which have experienced proper regulation - both financial and environmental – the film asks: Can resource exploration, done fairly, actually benefit small coastal communities?
To answer these questions, filmmaker O'Domhnaill sought a different funding approach, and since September 2013 the project has grown beyond all expectations.
"Given the huge uncertainty around traditional film funding, and our unshakable passion to get this film made, we decided to go straight to our audience," said O'Domhnaill.
"We've been blown away by the support," he says of the project which initially set a goal of €25,000 but which has gone well beyond that target.
"We've held fundraisers across the country, and the goodwill shown by artists and the paying public, many of whom are struggling themselves, has been incredible. It's clearly a film people want to see made; in essence it will be their film."
"With just a couple of days left to pledge to the Atlantic project, the gang at Fund it are excited to see where things will end up," said Fund it's Andrew Hetherington of the drive which closes on their site on Thursday evening.
"At this moment Atlantic is looking like it will raise over 20% more than our previous highest-pledging campaign."
The Atlantic team first ran a Fund it campaign in September 2013 for On the Horizon - as the project was then known - raising over €12,000. These funds were used for location filming, the creation of an online presence and the hosting of live streaming debates.
"Risteard has consolidated the success of his last campaign and has already received pledges 125% above what that project achieved," Hetherington added. "It's great to see so many first-time pledgers to the site, too."
Filmed in some of the most remote and breathtaking locations in the North Atlantic, at close quarters with those at the epicentre of the issue, Atlantic will bring the critical offshore resource debate out into the open.
"Social media, and our new interactive website (www.theatlanticstream.com), have been crucial," says O'Domhnaill. "This is a huge vote of confidence in our documentary; it gives us an unprecedented level of independence to tell this story."
All funds raised will go towards completion of filming from now until the end of the summer, with support already committed from the Canadian side to fund the editing and post-production.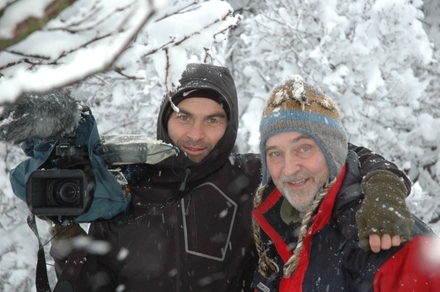 " Next week here on Seascapes we preview the Fastnet Maritime Festival ; Tom Hurley is in Killaloe on the trail of The Lady Lansdowne the world' s oldest surviving iron paddle steamship ; we have a report on the Ocean to City Festival and An Ras Mor with Naoimh Reilly ; results of our Seascapes competition for copies of John Carlos's "Ireland's Western Islands" and a report from ISAF Womens Match Racing World Championships all that and much more here on your maritime programme until next Friday night – tight lines and fair sailing."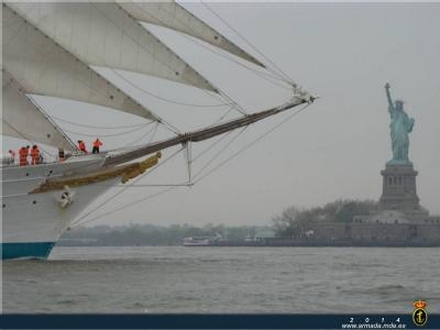 The Spanish Embassy in Dublin and Dublin Port Company have announced that the world's third-largest Tall Ship, the 370 foot long, four-masted "Juan Sebastián de Elcano" will visit Dublin from Saturday, 7th until Thursday, 12th June.
The impressive steel-hulled schooner will be met by two Dublin Port Company tug boats and a flotilla of yachts from local sailing clubs in a ceremonial escort to mark the ship's arrival at 7.30am this Saturday in Dublin Bay.
Led by Captain Enrique Torres Piñeyro, the "Elcano" is used primarily as a training ship for the Royal Spanish Navy, preparing its Officers for long periods at sea. She will arrive in Dublin carrying 191 crew on board, who will participate in a five-day programme of engagements in the capital to promote Spanish-Irish cultural exchange.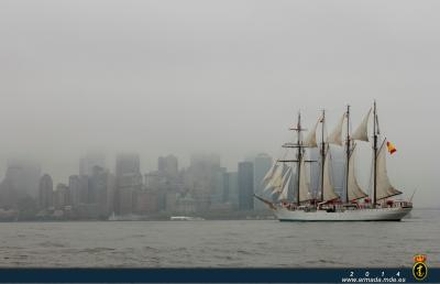 This includes a number of free public open days, when Dubliners and visitors to the city will be able to board and inspect this magnificent vessel up close in the following locations:
At Sir John Rogerson's Quay:
Sunday 8th June: 12.00 to 13.00 and 15.30 to 19.00;
Monday 9th June: 10.00 to 12.00 and 15.30 to 19.00
At Alexandra Basin*:
Tuesday 10th June: 15.30 to 19.00;
Wednesday 11th June: 10.00 to 13.00 and 15.30 to 19.00
The ship, now on its 85th training voyage, has been sailing for 23 days across the Atlantic from the Port of New York en route to Dublin Port. Built in Cádiz (Spain) in 1928, the "Elcano" has visited 152 ports in more than 70 countries, and of its 85 cruises to date, 10 have been round-the-world trips. The last time the "Elcano" visited Dublin was in July 1999. Her next ports of call include Hamburg, Germany and Fredrikstad, Norway before returning to Spain.
An intense battle began to unfurl this week in the waters below the historic Camden Fort Meagher in Crosshaven, Co. Cork. For the next four days 52 of the world's top female match racing sailors will compete for the title of 2014 ISAF Women's Match Racing World Champion and the €10,000 prize fund. The regatta, which is being sailed in Cork Harbour, will conclude this Sunday (08 June) after a physically and mentally gruelling of 130 one-on-one scheduled races.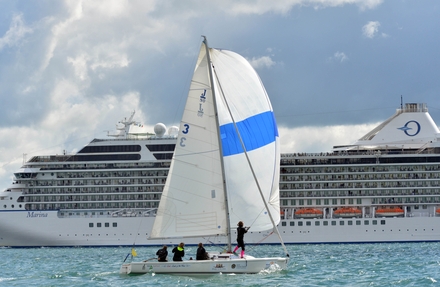 A beautiful sunny June morning greeted the crews as they travelled out to the race area at 9.30am. International Race Officer Peter Crowley ensured racing got underway on time and the freshening north westerly breeze made sure there was plenty of action for spectators.
Among the 13 international teams representing eight nations are two Irish entries skippered by Laura Dillon from Howth Yacht Club and Mary O'Loughlin from Royal St George Yacht Club in Dublin. The very first race was between Dillon's Team Ireland 1 and Team Sweden 2 skippered by Caroline Sylvia. The first day nerves settled quickly and Dillon's team matched Team Sweden 2 on their every move. Team Ireland 1 crew Maria Coleman (ex-Irish Olympian) commented "The day was challenging for everyone, ensuring you gained the maximum of your upwind boat speed however this let us down a little today, but we know we have the pre- starts nailed". Unfortunately a mighty broach by Dillon cost the Irish team the race and it took some time to rectify.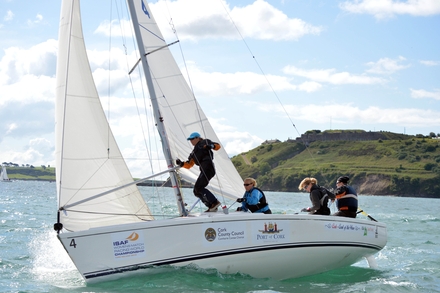 Team New Zealand skippered by Claudia Pierce and crewed by her Irish team mates had a sparkling day. "We had a great pre start against Anne Claire Le Berre's Team France pushing her out and making her do penalty turns at the start. This let us get away and sail clean for the race".
However, it was the two Danish teams that dominated the day. World #1 Camilla Ulrikkeholm and World #4 Lotte Meldgaard Pedersen ensured straight wins for all of their respective races. They were followed closely by Stephanie Roble of the USA with only one loss of the day.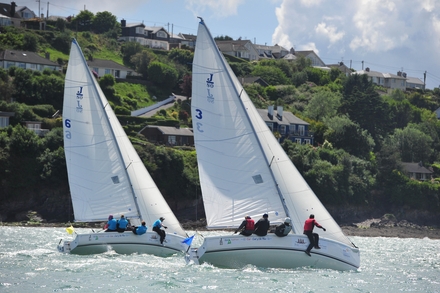 Further action is expected tomorrow, with a favourable breeze of between 10-15knts from the southeast. Spectators will be well entertained and looked after from Camden Fort Meagher.
Event organisers had planned a 'Sail in the City' festival for this Friday (06 June) but due to the forecast of heavy rain and strong winds the decision has been made to cancel the event.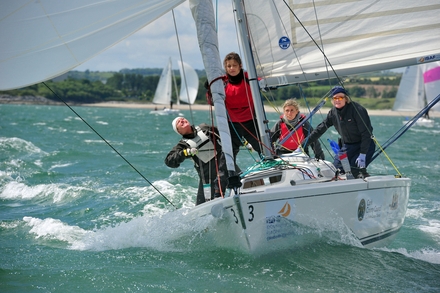 All results provisional
Stage 1 Round Robin

Wins

-

Losses

%

1

Camilla Ulrikkeholm - DEN

5

-

0

100%

2

Lotte Meldgaard Pedersen - DEN

4

-

0

100%

3

Stephanie Roble - USA

4

-

1

80%

4

Anna Kjellberg - SWE

4

-

2

67%

5

Caroline Sylvan - SWE

4

-

2

67%

6

Claudia Pierce - NZL

4

-

2

67%

7

Anne-Claire Le Berre - FRA

3

-

2

60%

8

Klaartje Zuiderbaan - NED

3

-

4

43%

9

Annabel Vose - GBR

2

-

4

33%

10

Mary O'Loughlin - IRL

2

-

5

29%

11

Anne-Christianne Kentgens - NED

1

-

4

20%

12

Lucie Scheiwiller - FRA

0

-

4

0%

13

Laura Dillon - IRL

0

-

6

0%
About The Show
Seascapes, the RTÉ maritime programme with Fergal Keane. Seascapes brings you around our coasts and onto traditional and modern boats and yachts for a taste of the great outdoors. Whether you are a trawlerman or a yachtie, Seascapes will be of interest to you.