Seascapes Friday 16 May 2014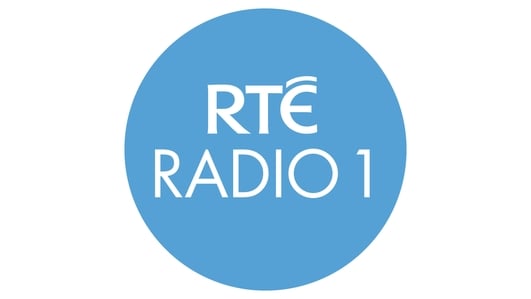 Seascapes
The maritime programme for this island nation presented and produced by Marcus Connaughton.
Seascapes Friday 16th May 2014
features Calves Week and Schull Rowing Regatta; Minister Coveney on naming of latest naval vessel;Radio Caroline ; Daphne Pochin Mould remembered; Womens Match Racing World Championships.
Hello and welcome aboard this week's edition of your maritime programme Seascapes – we have the latest from Inshore Ireland magazine with Gery Flynn; we have details of the Baltimore Wooden Boat and Seafood Festival which takes place next weekend ; we visit the RTE Radio Sound Archives and remember the late author broadcaster and aviator Daphne Pochin Mould; Kieran Devaney on the legend of Radio Caroline; ..........first on Seascapes to this years Calves Week which is in its 35th year in Schull in West Cork ....... Details were announced last week in the scenic surroundings of Blackrock Castle...... Seascapes spoke to to Commodore Tadgh O Dwyer about the event and about The Schull Rowing Regatta which is celebrating its 130th Anniversary this year .....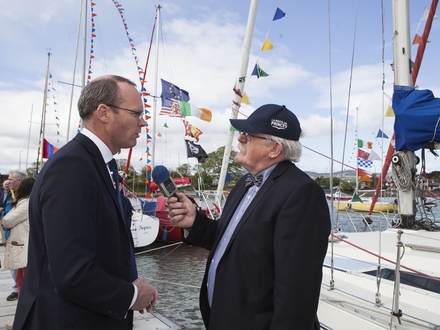 Next week here on Seascapes we'll be featuring the new pontoon at Dungarvan Harbour Sailing Club where last weekend the Minister for the Marine Simon Coveney TD performed the opening ceremony ..as the latest vessel to join the Irish naval fleet is being commissioned this weekend did the Minister have a view on the naming of the vessel which has exercised many opinions to letters pages and to Seascapes in recent months ....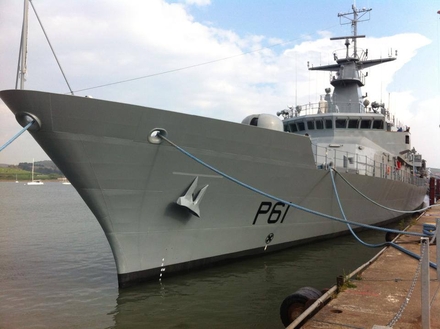 You can hear that full report on the new pontoon in Dungarvan Harbour on next weeks edition of Seascapes – if you have a view on the naming of naval vessels then do feel free to email us seascapes@rte.ie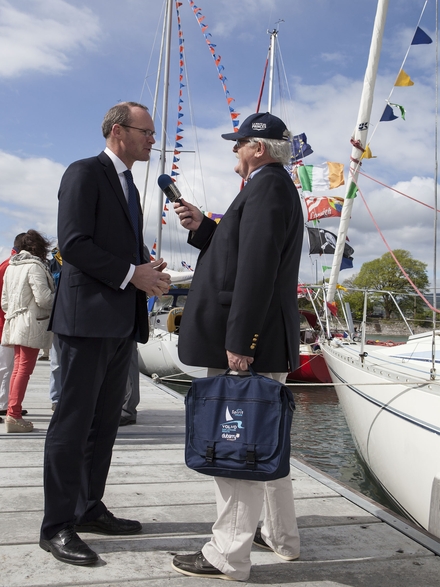 The Women's Irish Match Racing teams have been picked for the ISAF Women's Match Racing World Championship event in June. Skippers Laura Dillon and Mary O'Loughlin have been selected to represent Ireland at this year's ISAF Women's Match Racing World Championships, which will take place in Crosshaven June 3rd to 8th 2014 at Royal Cork Yacht club, Crosshaven, Co Cork.Its the first leg of the world womens match racing tour. The World Match Racing Championship for Women is one of the world's highest calibre sporting events. 16 international teams are expected to travel and compete. This will include some of the world's highest-ranking match sailors and potential Olympians. We'll have more on next weeks programme.....
Now to Liverpool and a vessel which carries on a tradition begun by Ronan O Rahilly – Kieran Devaney has more.........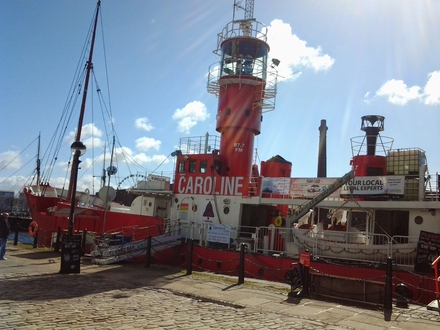 Kieran Devaney on the legacy of Radio Caroline and its creator Ronan O Rahilly , Kieran would like to acknowledge the assistance of Trevor Sweeney in compiling that report for Seascapes ......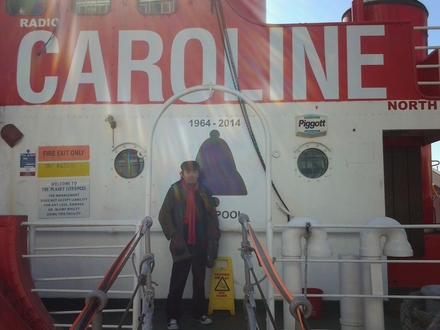 The Baltimore Wooden Boat and Seafood Festival is taking place next weekend with a wide variety of activities both on and off the water – you can see Towel Sail Yawls; Heir Island Lobster Boats ; Currachs ; Gandelows and much more over the course of the weekend .....the Ilen River Rowing Race ...the Carberry Challenge to build a boat in a day ; illustrated talks ; and on Sunday the 25th the Bristol Channel Pilot Cutter Association will race to the Fastnet, and are expected to arrive in Baltimore from Tuesday onwards. Baltimore Club Sailing will host the prize giving. These beautiful sailing centenarians were part of a huge fleet of pilot cutters that ranged as far as the south west coast of Ireland in their search for incoming ships in need of a pilot. ........
She was unique- an aviator; writer ; broadcaster and photographer – and she passed away at the end of last month – Daphne Pochin Mould –author of Ireland from the Air; Valentia-Portrait of an Island; Scotland of the Saints and Aran Islands; lets listen to this extract from 1962 and the RTE Radio Sound Archives taken from A Womans World presented by Sile Ni Bhriain with her guest Daphne Pochin Mould on the subject of the Rock of the Saints ...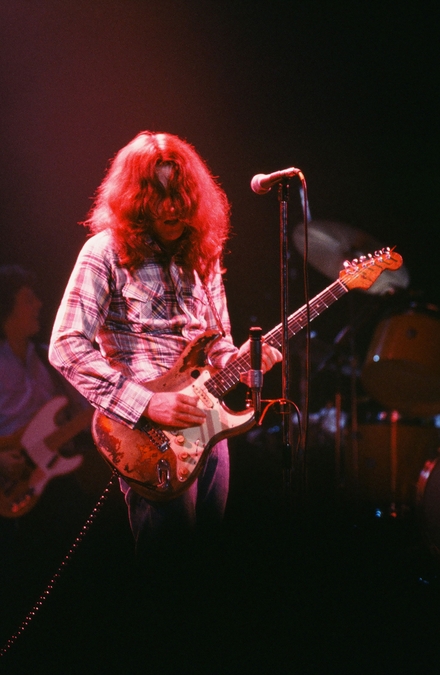 Family of the late Rory Gallagher donate replica guitar and personal items to raise funds for Ballycotton RNLI
The family of the late musician Rory Gallagher have generously donated a 'replica' Fender Stratocaster guitar, along with his original Oberheim warm-up amplifier and stenciled flight case, to raise funds for Ballycotton RNLI. The items will be auctioned later this month in aid of the Cork lifeboat station, whose lifeboat crew save lives at sea all year round.
The Californian, Oberheimer 'Studio Amp', is extremely rare (serial 003), and was purchased by the guitarist in the mid '70s and remains in good working order.
These two items will be offered for bidding as part of Whyte's, Pop & Rock Memorabilia auction. Whyte's have generously agreed to waive their commission. The Auction will take place between 4pm and 6pm on Saturday 31 May. Viewing will be at Whyte's galleries in Molesworth Street Thursday & Friday 29 & 30 May, 10am to 5pm, and Saturday, 31 May 9am to 12 noon. www.whytes.com
Dónal Gallagher, brother of the late musician said, 'Rory would visit Ballycotton where he was inspired to write material. This part of the country was very special to him and our family is delighted to be able to do this for Ballycotton RNLI. The volunteer lifeboat crew based there launches their lifeboat in all weathers and to all types of emergencies, saving lives at sea and helping those in trouble. I hope people who have a love of Rory's music and are interested in the auction will take pleasure in knowing that in purchasing this incredible guitar and Rory's own amp and flight case, that they are helping a great charity.'
Speaking on Gallagher family's kind donation to the charity, Chairperson of the Ballycotton RNLI Fundraising branch Fiona Flynn added, 'We are extremely honoured by the Gallagher family's kind donation, which will be auctioned to raise funds for the Ballycotton lifeboat station. Rory Gallagher is one of the most respected and talented musicians ever to come out of Ireland and we are delighted that his family have chosen Ballycotton lifeboat station to benefit from this special auction.'
The RNLI is a charity that saves lives at sea. Last year Ballycotton RNLI lifeboat launched 28 times and rescued 10 people. The majority of lifeboat crews are volunteers who undergo rigorous training to deal with every type of emergency at sea. The charity is dependent on the public for donations, which can continue to ensure that the RNLI saves lives at sea into the future. This year the RNLI celebrated its 190th year.
A video of Rory's song 'Lost at Sea' has been put to footage of the Ballycotton lifeboat. It can be viewed at http://rorygallagher.com/#/news/2014/05/rory_items_at_auction_for_ballycotton_lifeboat
Food critic Sally McKenna, TV chef Darina Allen and food writer Dr. Prannie Rhatigan are among the participants in the 2014 Burren Slow Food Festival, details of which were announced today.
Supported by the Burren & Cliffs of Moher Geopark and also featuring members of the Burren Food Trail and the Burren Adventure, the 8th annual festival takes place in Lisdoonvarna, Co. Clare, on the weekend of 24-25 May.
Seaweed is a common theme across the Festival Programme this year.
Author of "Irish Seaweed Kitchen", Prannie Rhatigan GP is hosting a demonstration and talk on how the thousands of tonnes of seaweed washed up on Irish coastline each day can be exploited for their potential as a foodstuff.
Meanwhile, Sally McKenna of John and Sally McKennas' Guides (formerly The Bridgestone Guide) and Stefan Kraan, author of "The Science and Gastronomy of Umami", will be discussing the benefits for Ireland's seafood industry in harvesting seaweed.
The festival also features food sampling of local artisan foods, a chance to meet local producers and growers, engage with fellow foodies, and enjoy cookery demonstrations from well-known chefs including Jess Murphy, Kai Restaurant, Galway; John Sheedy, Sheedy's, Lisdoonvarna; and Aidan McGrath, Wild Honey Inn, Lisdoonvarna.
Other highlights of the weekend include a talk by Slow Food Ireland President and chef Darina Allen; a Wild Food Foraging Walk hosted by Oonagh O'Dwyer from Wild Kitchen in Lahinch; and a demonstration of the essential skills of making handcrafted fine chocolates by Burren Chocolatier and Burren Food Trail Kasha Connolly.
The main festival banquet on Saturday night will be prepared by Vivian Kelly of Kierans Kitchen at the Roadside Tavern who will serve Gleninagh Lamb, Burren Smoked Irish Organic Salmon, desserts from Fabiola's Pâtisserie and wines from Burren Fine Wine & Food.
For more details on the Burren Slow Food Festival visit www.slowfoodclare.ie
Now in its second year - the Inter-firm Dragon Boat Challenge returns for a summer showdown as the River Lee comes to life to the beating of drums, the splashing of paddles this on the river with this spectacular pre-festival event for the Ocean to City Maritime Festival.
Teams of fifteen strong will hop aboard these impressive 40ft- long boats and compete to become the champions of the Inter-firm Dragon Boat Challenge. The races consist of four hand-painted dragon boats, each with a drummer aboard, sprinting against each other over a distance of 250m, starting at the R&H Hall grain silos to the finish line at Cork's Lapp's Quay. Twenty will compete in a series of heats, semi-finals and a final – with companies such as Apple and the Port of Cork competing for the much-coveted Dragon Boat Challenge Trophy.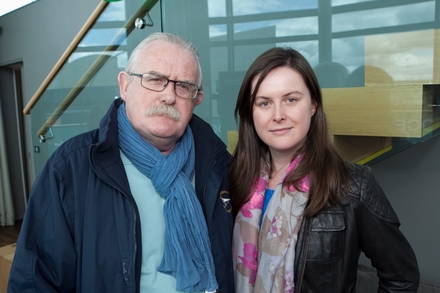 " Next week here on Seascapes we talk to Dermot Desmond with the latest from the Mission to Seafarers ; we'll have a feature on the new pontoon opened last weekend at Dungarvan Harbour Sailing Club ; we'll be hearing all the details on the Ocean to City Maritime Festival and An Ras Mor ; we continue to follow the progress of the Clipper Ventures Round the World Yacht Race as they leave behind the Panama Canal in its centenary year, all that and much more here on your maritime programme until next Friday night – tight lines and fair sailing."
About The Show
Seascapes, the RTÉ maritime programme with Fergal Keane. Seascapes brings you around our coasts and onto traditional and modern boats and yachts for a taste of the great outdoors. Whether you are a trawlerman or a yachtie, Seascapes will be of interest to you.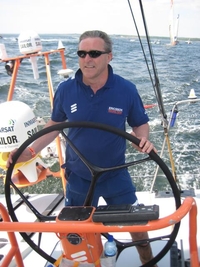 The Reel Thing
Hilary James/Simon Mayor
1:12 The Reel Thing
Hilary James/Simon Mayor
1:12 Sailing By
Bbc Concert Orchestra
1:25