Seascapes Friday 13 December 2013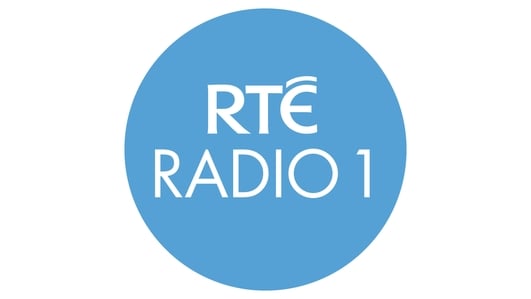 Seascapes
The maritime programme for this island nation
Seascapes Friday 13th December 2013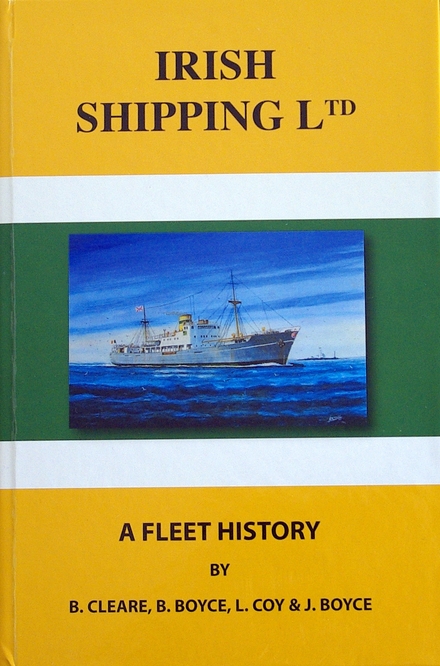 features The Fishmonger; Irish Shipping; Tide Tables; Old Gaffers 50th Anniversary.
Hello and welcome aboard this week' s edition of your maritime programme Seascapes – we bring you further fishy tales this week and the results of our competition for copies of "The Fishmonger" by Pat O' Connell courtesy of The Liffey Press – we have music from The Long Johns ; we'll have a further helping of "Irish Shipping – A Fleet History" the authors are John Boyce; Brian Cleere ; Brian Boyce and Leo Coy – Seascapes spoke with Brian Cleere and Leo Coy –we take up the story of the content of this beautifully produced record of an historic shipping line with Brian Cleere......
Leo Coy explained to Seascapes how you can source a copy of this fleet history .....
"Irish Shipping – A Fleet History" is available from Rosslare Maritime Enthusiasts and in select bookstores throughout the country.......we heard there from two of the four authors Brian Cleere and Leo Coy ....we've had a note from listener Liam O' Riordan in Blackrock in Dublin who writes....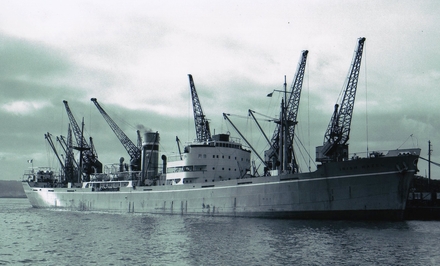 " I vividly recall the wild, wet Winter's night when the Irish Plane was driven ashore in a South Westerly gale at Ballyshane near Ballycotton.I was an eight year old in our family home in Ballycotton when an older cousin John O'Riordan, dressed in yellow oilskins, rushed in and excitedly told us that the 'Plane' was on the rocks. John was heading to Ballyshane with the Ballycotton Rocket crew whosubsequently brought the ship's crew to safety using their breeches buoy.
"We had a number of discarded Irish Plane life jackets in our home for many years afterwards.Eleven years later I became an Irish Shipping navigating cadet and joined my first ship, the 'new' Irish Plane, in Purfleet on 16th December 1958 before spending Christmas on a rough Atlantic bound for Halifax, Nova Scotia. I was back on board the Irish Plane later when it entered dry dock in Dublin and was renamed the Dacca City being one of first ships purchased by Bangladesh." Liam continues – " I later served on the Irish Oak and Irish Spruce before being appointed 3rd Mate on the smaller Irish Rose which,despite her size, traded on the North Atlantic as well as around European ports. When fully loaded with Canadian timber in an Atlantic gale,being on the Irish Rose was an exciting experience with 'green ones' washing over the decks. We had a close call in a fierce January storm in the English Channel when a collier foundered near us in huge seas and our cargo of 20 ton steel moulds broke loose, slid around the hold and threatened to puncture the hull. We made it safely to shelter in Torbay and the crew of the collier were rescued from their lifeboat by an Antarctic survey ship which was fortunately in the area." Liam was lucky enough to do a circumnavigation on the Irish Spruce and was also on the Irish Spruce when they were one of the first 'salties' i.e. deep sea ships to traverse the St. Lawrence Seaway from Montreal to Duluth, Minnesota where they were given a tremendous welcome with their crew 'adopted' by the strong Polish community. As they passed Quebec homeward bound down the St. Lawrence River, they met the royal yacht Britannia heading upriver with Queen Elizabeth and President Eisenhower on their way to officially open the seaway." Liam finishes by saying he got married in 1962 and decided to give shore life a try by joining Lloyds Bank where he later transferred to an embryonic computer department which eventually brought him to Dublin and AIB. He donated his sextant to the National Maritime Museum, Dun Laoghaire where it is regularly on display." Our thanks to Liam O Riordan for sharing those memories with us here on Seascapes.....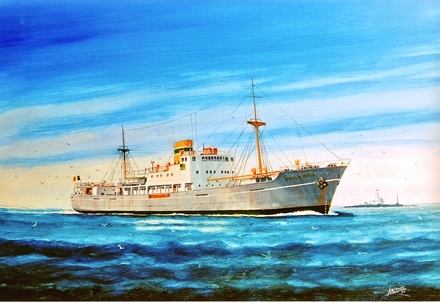 Next here on Seascapes to author of The Fishmonger Pat O' Connell who talked to Seascapes about the English Market and that much publicised meeting with the Queen of England on her State Visit .....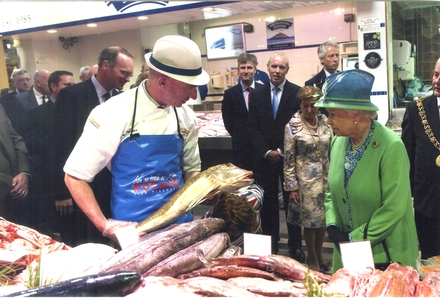 Pat O' Connell - A Face of Cork and author of "The Fishmonger"
As we mentioned in our competition last week – we've a handful of copies of "The Fishmonger" courtesy of The Liffey Press – we asked you to tell us the alternative name for monkfish that we mentioned last week in our introduction to Pat ...the answer being Mother In Law Fish ............we had the biggest response of the year on the programme – the lucky winners of signed copies of "The Fishmonger" are .....
*Frances Kelleher in Longford
*Pascal Lyons in Ballintemple in Cork
*Raymond O Connor in Kildimo in Co Limerick
*Nuala Higgins in Mullingar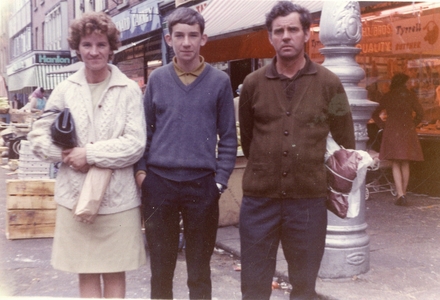 The 8th edition of the "IRELAND TIDE TABLES" for 2014 has been published & is available in selected retail outlets all around the coast. It's a must-have for all seafarers and those whose lives and property are affected by the sea & tides.
IRELAND TIDE TABLES 2014 includes a very useful map of the Met Eireann marine weather services, a list of weather-service telephone numbers, the RTE & BBC weather-forecast schedule, an invaluable map of the "Irish Coast Guard" & "NI Coastguard" Marine VHF communications network with times of weather forecasts, & a must know "MAYDAY PROTOCOL". Tidal times & heights (reproduced by permission of the UK Hydrographic Office) are provided for the five Primary Ports together with local variations for 120 Secondary Ports around the Irish coast.We'll have copies for Seascapes listeners early in the New Year ...stay tuned ....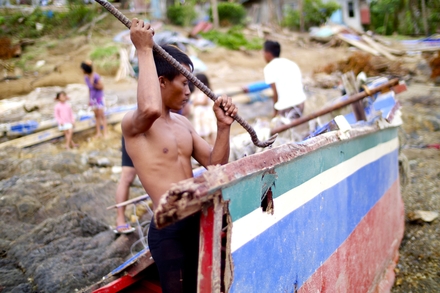 " Next Friday night here on Seascapes we'll be talking to the Chief Executive of CONCERN Dominic Mac Sorley on the plight of fishermen in the Philippines following Typhoon Haiyan and how they are rebuilding their lives and their fishing fleet – we hear from Photographer Nigel Millard with the RNLI and we have a signed copy of "The Lifeboat – Courage on Our Coasts" in our Seascapes competition – Hugh Oram on the treasured fruit that bananas were - being carried in the Captains cabin ; and Robert Dunne on the remarkable story of survival by his Great Grand Mother- Elizabeth McNair aboard "The Swan " with renowned Southern Syncopated Orchestra....all that and much more on your maritime programme , until next Friday night here on Seascapes –tight lines and fair sailing".
About The Show
Seascapes, the RTÉ maritime programme with Fergal Keane. Seascapes brings you around our coasts and onto traditional and modern boats and yachts for a taste of the great outdoors. Whether you are a trawlerman or a yachtie, Seascapes will be of interest to you.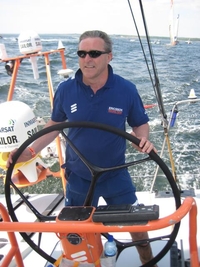 The Reel Thing
Hilary James/Simon Mayor
1:12 The Reel Thing
Hilary James/Simon Mayor
1:12 Sailing By
Bbc Concert Orchestra
1:25