Seascapes Friday 6 September 2013
Seascapes Friday 6th September 2013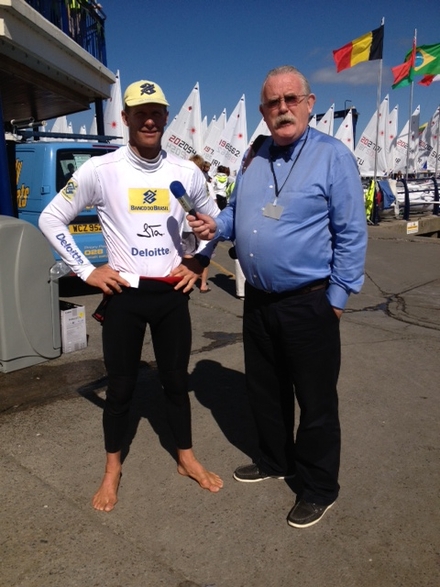 features Photographer Brian Carlin; Laser European & World Championships; Cats on board Ship ;Tim Magennis.
Hello and welcome aboard Seascapes your maritime programme -this week on Seascapes we'll have the tale of two cats from Norman Freeman and Tim Magennis ; photographer ; blogger and film maker Brian Carlin on a hectic year on the water as he heads for Brazil and Rio de Janeiro in the Clipper Ventures Round the World; ……..first this week to Dun Laoghaire where earlier this week Seascapes caught up with some of the sailors taking part in the Laser European and World Championships……..with sails flapping as the many world class sailors began to take to the water at the National Yacht Club we talked to James Espey ………from James to one of his heroes and one of the worlds great sailors Robert Scheidt from Brazil who began his sailing on inland waters of Sao Paulo in an Optimist …… …
Brazils Robert Scheidt making a return to the Laser Class ….
We wish all the Irish sailors well on the water as Annalise Murphy and Finn Lynch were doing particularly well in the Europeans and Worlds respectively ……Congratulations to Annalise and Finn on their wonderful performance......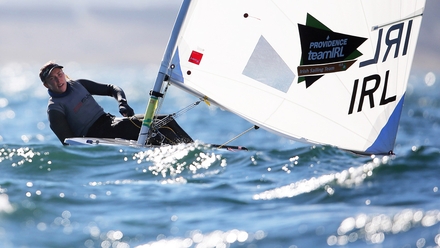 You may remember over a month ago we heard from Conor O Byrne from Baldoyle who is sailing in the Clipper Ventures Round the World Race well there are a number of sailors from this island participating and we'll be hearing from them in the coming weeks here on Seascapes ….. however this week we talk to photographer , blogger and film cameraman Brian Carlin from Fenit whom we've met before on Seascapes….. Brian has had a busy year so far and is in Brest in Brittany as the Clipper Fleet head for Brazil he came into to talk to Seascapes a few days ago about his thoughts on the voyage ahead………
Next here on Seascapes to veteran journalist and President of the Dublin Bay Old Gaffers who celebrated their 50th Anniversary this summer Tim Magennis who talked to me a few months ago about the late Jimmy Kelly of the Irish News in Belfast who passed away two years ago at the age of 100 and this story linked with a world renowned vessel……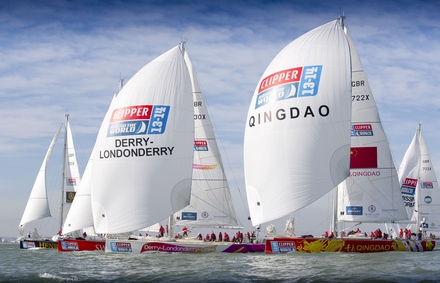 This is an extract from Brian Carli's diary of the Race Start -
The start was probably the biggest anti-climax from yesterdays celebratory parade of sail in London.
We slipped the moorings at 07:00 and motored with the rest of the 12 boat strong fleet to Southend Pier.
There was no sign of life, no sign of the enthusiastic crowds that lined the river Thames from the day earlier. No spectator boats even. We had three race control boats and a couple of onlookers from the shore.
CV29 didn't get off to a great start, with 12 minutes to the start the knot attached to the mainsail slipped and we have the bigger issue of the halyard falling back down through the inside of the mast. Either way it was all to late to proffer solutions, get the topper of the boom and lets just get this show on the road. It was a late start but we were in similar company. Maybe one boat crossed on time.
It wasn't long before we tried the brand new asymmetric spinnaker. Pop. Out she came. For a code 2 it certainly was big. Wind was only in the region of 8-10knots but it powered us along at a good 9 knot average. The crew have been in pretty good spirits. The skipper Patrick had a grin that could only be translated to "thank god we are on our way". I believe most teams were done with the formalities on shore and ready to get some sailing.
We dropped the kites after a while as we negotiated the fickle winds around Ramsgate. The in-shore boats ahead of us were suffering and we opted for a more easterly route. While we did get sucked into the hole that becalmed the fleet we were on its outer edge and pushed through with GBR and another unknown Clipper.
The race separated and compressed a couple of times in the first six hours but as the wind shifted from the pleasant 10-12knts it veered onto the nose. We faced a short chop now as tide fought the wind. The pressure increased to 24knts. Through the following hours there was several headsail changes and main reefs put in and shaked out.
The conditions we not easily below decks as Ross and Charles battled on with the Chicken Curry.
Charles braved the galley for as long as he could but the dreaded sickness finally made itself know.
While the determination to wipe free and anit-bact his hands, he simply wasn't of much use. His only contribution as he went from patchy red to ghostly white in complexion was the consistent direction to Ross, "You don't need to stir the Rice". I finally made the decision and directed him to get on deck or into your bunk, lulling around the food in a galley while sick is not a place for the poorly.
I took position of mother up, dished the dinner Ross cooked and washed up. 21 bowls came from the deck and below, many still half full. Clearly the sea state was beginning to effect more than Charles.
The evening closed in and it continued to come from in front. Sail and watch changes were the running order of the night. At around 0430 the wind began to shift and become light and variable.
While still in contact with the majority of the fleet it was decision time. DO you hug the English south coast in a battle to hunt more breeze or Do you dive south, cross the channel in the ebbing tide and try get to the French side? Patrick decided lets dive south. The grib files seem to indicate a slightly more favorable angle and an increase in wind with its change. A decision that will make or break us. Let us see how much of a gambler our Dutchman is????
"Next Friday night on Seascapes we'll be celebrating the 50th Anniversary of Galway Sub Aqua Club and marking the 50th Anniversary of Diving Ireland - meeting one of the founder members of GSAC George Ryder; and club members Paula Harte ; John Sheahan ; Thomas Moore and Joe Fegan …the club dives every Sunday all year round and is based right in the heart of the city at the Ocean Sports Club - we'll have all that and much more here on Seascapes ,so until next Friday night - tight lines and fair sailing."
Low water levels are posing a problem right across the country. Fish are showing no interest and frustrated anglers aren't that keen to venture out. Met Eireann are telling us that rain is predicted for the weekend and should reach the East coast on Friday night. Saturday should see rain spreading across the North and East and most areas getting some downpours. If it doesn't come soon, I can only suggest that ye do as the Indians did and start a rain dance! And please, please keep dancing because our rivers and lakes need a lot more than a drop or two.
Some seasoned anglers did venture out however and found a bit of variation and change of tactics helped. Jason Nash landed a lovely 7lb salmon on the Bandon which was fairly fresh and probably in the river no more than a week. Trout flies are working best for the grilse. Laune anglers are debating whether there are fish in the river and conditions are wrong or the fish are just scarce. The rain should answer that question and hopefully before the end of the season. Salmon anglers are reminded that as of the 1st of September, the daily bag limit for is now one salmon per day and please note the River Deel is now closed to salmon angling.
The Delphi, Drowes, West Cork and Killarney have little to report this week. The Moy recorded just 133 salmon, while the Currane reported Belgium anglers catching 20 sea trout from juniors up to 5lb over the last couple of days. Ballisodare tells us that fish are still moving in and out on the tides but because of the lack of anglers only 9 salmon were caught although some of these were a respectable 7lb weight.
Trout anglers faired a bit better this week. The hard fighting fish on Lough Ennell are providing some sport for anglers. Michael Flanagan managed to hook 8 fish last week and boated 2. One of them was a cracking 5.40lb trout. Lough Melvin fished well on occasions for sonaghan with some rods reporting good catches while on other days the fish were small and undersized.
The browns at Carton house are crying out for Daddy. These leggy flies are causing the trout to rise together with Minkies and Wooly Buggers. The rainbows are feeding well and are in great condition and the Sheet of Water offers great sport.
Despite high temperatures Monaghan angling guide Peadar O'Brien delivered for his Dutch clients. Jip and Martin Strik managed 12 pike and a couple of jacks. Also doing well is Lough Allua which is approx. 5km from Inchigeelagh village in Cork. Greg Latour reports a fine pike weighing 19lbs and 97cm in length. Unfortunately it was his wife Sigi who caught it….not Greg. Ah well there's always next time Greg !
Mark Heffernan marks this time of the year by catching massive tope and this year is no exception. His latest is just under 70lbs in weight whereas previous years they weighed 67.5lbs and 53lbs respectably. Following close behind Mark this week we had Maria Corrigan from Kilmore Quay in Wexford with a fabulous 67lb female caught at high water using mackerel bait. Mike Dennehy of Kinsale Charters witnessed the wonderful sight of a large pod of Bluefin tuna bursting, some of them jumping completely clear of the water. He was out on the Silver Dawn last week and had landed superb specimen albacore tuna. One of these tipped the scales at 22kg. This fish caught off the south west coast receives our 'Catch of the Week'
The Lough Gowna festival proved popular with coarse anglers this week with 75 anglers taking part. Venues were at Killykeen, Corfree, Rosduff and Dernaferst. Derek Buckley, Enniskillen took first place with 101.85kg and Tony Hopkins, Barnsley came second with 96.70.kg. Regular visitor to Melvin Lodge, Nigel Barnes didn't go away empty handed. He got himself a cracking net of hybrid and roach and a few well fed tench.
Some competitions to look forward to…
Lough Key – Sept 8thWorld Pairs Angling – Sept 8thLough Derg International Predator Competition – - Sept 16th – 18thPike Fly Fishing Lough Derg – Sept 21stIrish Fly Fair and Angling Show 2013 – Nov 9th – 10th
Tight lines,
Nancy Hearne
Catch, Photo, Release
About The Show
Seascapes, the RTÉ maritime programme with Fergal Keane. Seascapes brings you around our coasts and onto traditional and modern boats and yachts for a taste of the great outdoors. Whether you are a trawlerman or a yachtie, Seascapes will be of interest to you.