Seascapes Friday 23 August 2013
Seascapes Friday 23rd August 2013
Features IFDS Disabled Sailing World Championships;ISA Safe Trx App; Verolme Dockyard Reunion; Close Encounter.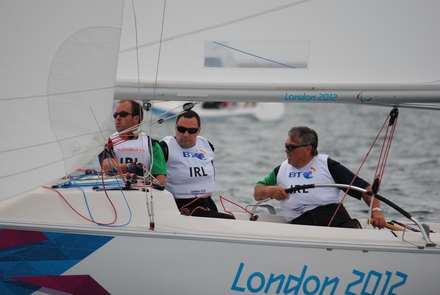 Hello and welcome aboard this weeks edition of your maritime programme Seascapes – we'll have the latest on the August edition of Irish Angler; we preview the arrival of the leading competitors in the IFDS Disabled Sailing World Championships in Kinsale – we'll be talking to IFDS President John Twomey and Organising Authority Chairperson - John Stallard ; the BMW J24 World Championships also begin this weekend in Howth Yacht Club on the East coast; Charles O Rourke tells us about a similar close encounter to that experienced by Larry Butler from Dundalk ; first this week on Seascapes to a newly designed free smart phone app to assist in reducing loss of life on our waters – the app was developed by DeCare Systems and the Irish Coastguard – its called the ISA Safe Trx and was launched this week in the Port of Cork boardroom on Custom House Quay by the Minister for the Marine Simon Coveney TD –
Seascapes wondered if …..
You can read more about that app on the Irish Sailing Association website www.sailing.ie /SafeTrx and on the Seascapes webpage ……
This weekend the defending World Champion from Brazil, the multiple European Championship winner, a former World Champion and a past North American Champion are among the quality field lined up to contest the BMW J24 World Championship at Howth Yacht Club which has attracted 42 entries from 10 countries – the sailing takes place all week
Until next Friday…..we wish them well – quite a spectacle …..
You may remember a fortnight ago we heard the tale of a monster from the deep and a close encounter that Larry Butler from Dundalk experienced in the Irish Sea sailing back from the Isle of Man – Seascapes listener Charles O' Rourke from Kill Abbey wrote …
" Marcus,
Listening to Larry Butler on your last show and to another recent account of the loss of a trawler when a submarine got entangled in its nets reminded me of an incident that happened in the 1980's.
I was returning to the National Yacht Club in Dun Laoghaire from Wales with my family in our 26 ft. Westerly Centaur sloop.
We had left Pwllheli at night and it was now early dawn on a beautiful Summer's morning. I was on the helm and my family were below sleeping. It was an idyllic scene. The sun was rising behind me tracing a golden track in my wake. Visibility and sea state were perfect for sailing.
It was one of those occasions when you feel blessed to be at sea. I was suddenly shaken out of my reverie by the loud sound of cascading water, like a waterfall, astern.
Looking around, I saw the sinister-looking, huge, black shape of a submarine surfacing not more than 100 metres in my wake.
I have no idea of its identity, (no ensign visible).
Thankfully we suffered no ill-effects from the incident but I did wonder, like Larry Butler, whether these vessels have any means of detecting the location of surface craft, particularly sailing craft, before selecting where to surface.
Perhaps some of your listeners might have this knowledge?
Charles."
Congratulations to Irish Open Water Swimmer who a few weeks ago swam around Jersey Island – Fermoy's Owen O' Keefe completed his Fermoy to Youghal swim last Friday you can see a video of his remarkable achievement on You Tube…..
Ireland has won a silver and bronze medals in the European Lifesaving Championships in the towns of Noordwijk and Den Haag, Holland.
The Team Bronze was won in the Simulated Emergency Rescue Competition by Triona Mc Menamin from Letterkenny, Co. Donegal, Cormac O Sullivan, Bernard Cahill, Dylan Barrett who all hail from Ennis Co. Clare.
Bernard Cahill and Dylan Barrett also won an individual Silver and Bronze respectively in the Run -Swim-Run Competition, which simulates a rescue from the water.
Children around Ireland as young as eight can get involved in a series of progressive Lifesaving classes taught by Irish Water Safety, through the www.iws.ie website and hopefully go on to represent their country in these competitions.
Next here on Seascapes to the International Federation for Disabled Sailing – as the town of Kinsale hosts the IFDS Disabled Sailing World Championships – the President of IFDS is John Twomey the veteran Paralympic Sailor …..
We'll be featuring the world championships on next Friday nights edition of Seascapes and you can read and see more on the dedicated website www.ifdsworlds2013.com or indeed visit Kinsale …….
Greg Renton is about to set sail from Fenit to Napier, New Zealand in his refurbished yacht "Silent Annie".
He first set out from Ireland some years ago, but his crew mate suffered a heart attack off Vigo and was lifted on board a cargo ship.
During the transfer Greg's spreader caught in the ship's anchor. Not realising the extent of the damage, Greg sailed on.
Next day the mast collapsed, hitting Greg on his head and splitting it open. He fired off his EPIRB and was lifted off. The rescue crew scuttled the yacht.
Greg spent 8 days in hospital in Spain, returning to Ireland to recuperate with his good friend Ger O'Donnell in Spa, Co Kerry.
While there they contacted the MD of Pesca Nova through Joe Burke of Tralee. Maybe one of Pesca Nova's trawlers would come across the scuttled yacht...... And so it turned out! The yacht was saved and towed to Portugal, put on a transporter and brought to Ger's boat shed in Kerry.
Greg and his brother have spent the last few years completely repairing and refurbishing 'Silent Annie', and plan to set sail for New Zealand later this week.What a remarkable story we wish them fair winds and fair sailing ….
Our thanks to Joe Burke and Des McWilliam …….
There is a major reunion of former Verolme Dockyard Workers this weekend in Rushbrooke in Cobh …with guided walks ; illustrated talks and a photographic exhibition -more details on www.visitcobh.com ……..
Next on Seascapes to the latest edition of Irish Angler ………..
In this month's issue of Irish Angler they focus on bass, our premier saltwater sport fish.
Steven Neely features on the cover and his article covers catching bass in difficult conditions. David Norman looks at the joys of night fishing, while Jim Clohessy writes about an interesting project by ESB and UCC in Cork Harbour tagging bass to find out more about their habits and migration patterns.
In other saltwater water fishing, Terry Jackson is in search of smooth hounds while Kit Dunne has advice for novice specimen hunters. Our Top Mark this month is Sligo's Mullaghmore.
In freshwater, Carl Dixon finds trout in some unusual places around Cork, as he goes Urban Trouting. Geoff Cooper tackles bream, Jimmy Tyrrell shares a top salmon fly, Peter Dunne has another Dirty Dozen and in their Where to Fish spot features Delphi, a real jewel of Irish fishing. Stevie Munn talks about a friend's top fly patterns which have worked for him too.
Irish Angler field tests a 10ft, 5-wt rod from Hardy that is tough enough to tackle our big loughs and as usual the What's New section features the latest gear for anglers of all disciplines.
"Next Friday night on Seascapes we'll be featuring the IFDS Disabled Sailing World Championships with many of the remarkable sailors and their stories ; Marcella Connolly will be out on the water with some of the competitors and we'll be hearing from US Coach Betsey Alison ; Team GB 's Niki Birrell; Stephan Thomas, John Roberts and Megan Pascoe and Bradley Johnson from the USA team; Beach Master Fergal O Hanlon;all that and much more here on Seascapes , until next Friday night - tight lines and fair sailing."
About The Show
Seascapes, the RTÉ maritime programme with Fergal Keane. Seascapes brings you around our coasts and onto traditional and modern boats and yachts for a taste of the great outdoors. Whether you are a trawlerman or a yachtie, Seascapes will be of interest to you.