Seascapes Friday 26 July 2013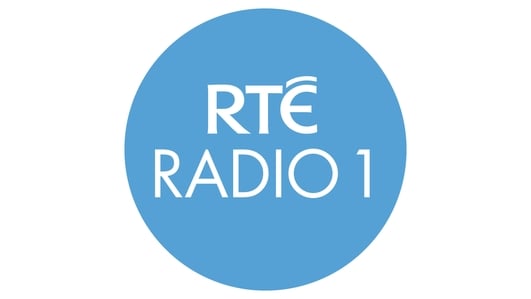 Seascapes
The maritime programme for this island nation features Port of Cork stamps from An Post;Inland Waterways-Colin Becker;Claudine Murphy; Bruno Sroka-Kite Surfer.
Hello and welcome aboard this weeks edition of Seascapes your maritime programme –On this weeks programme we have our monthly report from Colin Becker on The Inland Waterways as the 53rd Shannon Boat Rally begins this weekend ; we celebrate the issue by An Post of a new set of stamps featuring the Port of Cork we'll be talking to Barney Whelan of An Post and Brendan Keating of The Port of Cork – we have a few sets of 1st Day Covers of these stamps in our Seascapes competition this week courtesy of An Post ........... The Mirror World Championships are set to start in Dromineer at Lough Derg Yacht Club ; we have music from Rita Connolly ; The Royal St George Yacht Club in Dun Laoghaire host the 2nd Access National Championships we have details ;....... first this week to Olympic sailing prospect Claudine Murphy – Claudine is the daughter of Olympian Cathy Mac Aleavey and Con Murphy and sister of Anna Lise - Seascapes caught up with Claudine during a brief break in training a week ago on the East coast to discuss her plans for Rio de Janeiro in 2016........
The Royal St George Yacht Club is hosting the 2nd Access National Championships at the Club this weekend -The event is open to all physically and sensorially disabled sailors aged 8 to 18 and who are affiliated with a club that runs Access Sailing in Ireland. Boats from Galway, Kinsale, Lough Derg & Dun Laoghaire are entered. There will be racing on Saturday afternoon and Sunday and a good social programme for both competitors and parents.....you can find out more on the Irish sailing Association website – www.sailing.ie.
Three times World champion Kite Surfer – Frenchman Bruno Sroka left from Penn Enez beach at l'Aber Wrac'h, Brittany and after 16 hours and 37 mins of sailing Bruno realised one of his dreams ! …. by being the first person to kite-surf from France to Ireland....yes you heard correctly Kite Surf from France to Ireland . He managed to kite 240 nautical miles (444km)............ In 2008, he became the first man to cross the hazardous Cape Horn on his Kiteboard. This Irish campaign, is the first leg of three challenges that he has set out to complete over the next two years............For Seascapes Marcella Connolly talked to an exhausted Bruno Sroka as he was welcomed ashore at the Royal Cork Yacht Club in Crosshaven we also hear from his Irish Co-ordinator & Cork resident Arnaud Disant on what kind of person Bruno really is and what it takes to be a world champion Kite-Surfer.............
Congratulations to all involved in the rescue of those aboard the the Tall Ship The ASTRID as she ran aground earlier this week off Ballymacus Point near Kinsale ......easy to understand how upset Captain de Kam was at her loss ...........
Aquatrek in Youghal have been in contact to say that they are doing a cruise in Croatia commencing on the 10th August . Only €650 for the week for Facebook followers.Contact- John Innes at Aquatrek for more detail ..........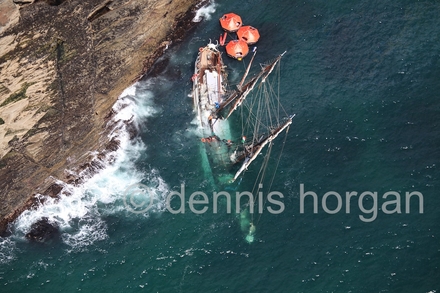 We head to the West next and from our Galway Studios – Colin Becker has this months report from the Inland Waterways Association of Ireland....
Colin Becker of Inland Waterways Ireland – Martin Donnelly-Commodore of the Shannon Boat Rally was also in touch with Seascapes to say that A milestone in Shannon Boat Rally history was in 2010 when President McAleese officially launched the 50th Shannon Boat Rally on the quay wall in Carrick-on-Shannon and to mark the close association between the IWAI and the town of Carrick-on-Shannon a replica navigation buoy was erected at the quayside.The Parade of Sail takes place this Sunday ...
Last week at a ceremony in the Port of Cork boardroom An Post launched a series of three new stamps featuring the Port of Cork
The three stamps, designed by Steve Simpson, feature MV Queen Elizabeth berthed at Cobh Cruise Berth, a Maersk Vessel carrying large containers of bananas into Ringaskiddy Deep-water berth and the Cork Clipper Yacht racing past Cobh as part of the Clipper race in 2010. Seascapes spoke to Barney Whelan of An Post about how these stamps came to pass .....
To coincide with the launch of the stamps, the Port of Cork also announced the winner of their Photography Competition themed 'Cork Harbour – A Port in Focus'. Tony O'Driscoll from Cobh, was the overall winner and to mark his achievement his photograph was designed into a postcard. The postcard was unveiled with the stamps attached, all ready for posting.. We have special sets of the 1st Day Cover courtesy of An Post in this weeks Seascapes competition – plus copies of that postcard........ Our question is can you name the designer of the stamps – answers on a postcard to Seeascapes , RTE Radio 1, Fr Mathew Street , Cork or by email to seascapes@rte.ie .
The Port of Cork stamp set and accompanying First Day Cover and Miniature sheet set are on sale nationwide. They can also be ordered at www.irishstamps.ie or by calling 01-7057400.
An Post and the Port of Cork Company unveiled a new postage stamp collection last week celebrating the Port of Cork and Cork Harbour.
The three stamps, designed by Steve Simpson, feature MV Queen Elizabeth berthed at Cobh Cruise Berth, Ireland's only dedicated Cruise berth, a Maersk Vessel carrying large containers of bananas into Ringaskiddy Deep-water berth and the Cork Clipper yacht racing past Cobh as part of the Clipper race in 2010. Collectively these stamps celebrate Cork Harbour and highlight its importance as a commercial port, a cruise destination and a beautiful leisure amenity for everyone to enjoy. The Port of Cork has been for many years the main trade link for the south coast of Ireland and today the Port remains a vibrant busy port, facilitating the movement of imports and exports. The Port of Cork is a key link to the continued economic success of Ireland and in particular the entire Munster region.
To coincide with the launch of the stamps, the Port of Cork also announced the winner of their Photograph Competition themed 'Cork Harbour – A Port in Focus'. Tony O'Driscoll from Cobh, Co. Cork was the overall winner and to mark his achievement his photograph was designed into a postcard. Today the postcard was unveiled with the stamps attached, all ready for posting. There were over 130 photographs received for the competition, which greatly exceeded the Port of Cork's expectations.
Four RNLI lifeboats were launched to a sinking 42 metre Dutch training vessel Astrid, which had hit rocks inside the Sovereign Islands at Ballymacus Point near Kinsale in Cork. All 30 people onboard were brought to safety when Kinsale lifeboat transferred all the casualties from the sinking ship onto Courtmacsherry RNLI lifeboat and a local vessel. They were then taken to Kinsale.
Both Kinsale and Courtmacsherry RNLI lifeboats were called out at 12 noon on Wednesday 24th July to go to the immediate aid of the sail training vessel that had got into difficulties on the western entrance to Kinsale Harbour in Cork. There was a two metre swell and winds were Force five to six. Ballycotton and Crosshaven RNLI were also launched. Kinsale RNLI lifeboat was first on scene.
The training vessel had lost power and was driven on to rocks by a strong southerly wind at the western entrance to Kinsale Harbour. The grounded vessel was taking on water and a crewmember from Kinsale RNLI was put onboard. Eighteen of the casualties were taken off the Astrid by Kinsale RNLI lifeboat and transferred to Courtmacsherry lifeboat, before being brought to safety.
The remaining twelve were put onto a life raft deployed by the Astrid's crew, which was towed to safety by the Kinsale lifeboat and picked up by a local vessel. The people on board the life raft were then taken to Kinsale harbour and assessed by medical teams.
Irish Coast Guard helicopters from Waterford and Shannon were also on scene along with ambulances and medical crews from Cork.
Speaking about the callout Courtmacsherry RNLI Coxswain Sean O'Farrell said, "Everyone was very fortunate. I want to praise the quick thinking of the skipper and the crew from the Astrid. They kept calm and did everything we asked them to do. We were able to get them to safety quickly and a major tragedy was averted. To be able to recover thirty people safely was a great day for everyone involved."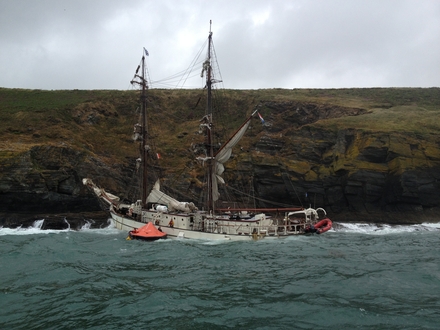 Brittany Ferries gives passengers free Wi-Fi
As summer holidaymakers head to France, Brittany Ferries is helping them stay connected by offering a new free Wi-Fi service on-board all its ships. It is the latest move by the ferry company to offer its customers a state of the art travel experience, allowing them to surf the internet, send emails and stay in touch via social networks as they sail to or from France.
The move underlines Brittany Ferries' commitment to providing the very best on-board service, with the range of facilities already including high quality French dining, comfortable bars and lounges, good shopping opportunities, and, on longer routes, a spa treatment room and swimming pool.
The Wi-Fi access allows wireless connectivity to the internet for Brittany Ferries passengers via any wireless-enabled PC, tablet or smartphone. It is free to all customers, who each receive an individual access code printed on their boarding card when they check-in. The service can be accessed on all routes, 24 hours a day, throughout most public areas of each ship.
The 2013 Glandore Classic Regatta each year seems to expand and has attracted more than 80 boats ranging in sizes. Some of the more significant entries including the Jolie Brise.
Jolie Brise is celebrating the centenary anniversary of her construction by the Paumelle yard in Le Havre in 1913. The world famous, gaff-rigged pilot cutter was the last boat to carry the royal mail under sail and has won the Fastnet Race three times, including the inaugural race in 1925. Jolie Brise is owned, maintained and sailed by the pupils of Dauntsey's School.
Jolie Brise, arguably one of the most famous tall ships in the world, is a 56' gaff-rigged pilot cutter built in Le Havre in 1913, launched by the Paumelle yard to a design by Alexandre Pâris.
Photo Credit: © Brian Carlin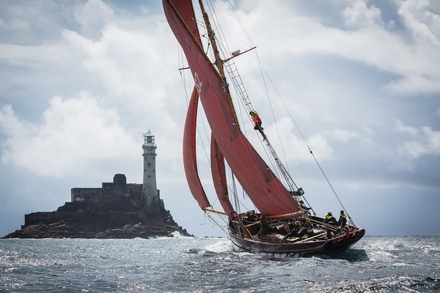 Tall Ship Astrid was on a voyage from Southampton to Cherbourg calling in to Kinsale. On board were 23 trainees from France, Ireland, the Netherlands, UK and Spain. The crew were from Belgium and the captain, Pieter de Kam was from the Netherlands.
As the Astrid was leaving Oysterhaven, as part of The Gathering Cruise parade of sail in to Kinsale, the vessel experienced engine failure. They notified a nearby RIB which was being helmed by ISA (Irish Sailing Association) CEO Harry Hermon. The RIB attempted to take a line from Astrid however due to the onshore winds and swell this was not possible. Captain de Kam issued a May Day.
The ISA RIB and the yachts in The Gathering Cruise flotilla stood by until the RNLI arrived. There was a safe rescue of all 30 crew who were brought to Kinsale on board the yacht Spirit of Oysterhaven and the lifeboat. All crew were brought to Kinsale Yacht Club where they were provided with showers, food and dry clothing. They were all medically checked and are in good health.
Sail Training Ireland and Kinsale Yacht Club are working together to make arrangements for accommodation and for returning the crew to their homes.
Commenting on the rescue, Captain Pieter de Kam, Tall Ship Astrid stated "I would like to thank the lifeboat and the Coastguard for the safe rescue of all my crew. We very much appreciate their outstanding work".
Harry Hermon, CEO, Irish Sailing Association commented "It is thanks to the rescue services that all crew were rescued quickly and safely without injury. I would also like to thank all the sailors from the Gathering Cruise who stood by Astrid providing support to the crew. Kinsale Yacht Club has also been fantastic providing food and clothing and helping Sail Training Ireland find accommodation for all the crew".
The Gathering Cruise will continue on to the Glandore Classic Boat regatta on Friday 26 July. The cruisers have a further week to cruise at leisure the Cork and Kerry coastlines before rallying again in Dingle for the farewell gathering reception.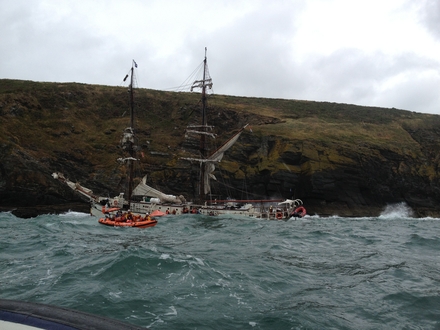 Marine Institute bursary students inspire bright future for marine sector
Marine Institute Bursary students seized the opportunity to showcase their talent and skills highlighting their experiences during their eight-week work placements with the Marine Institute at the annual Bursar Seminar day at the Institute recently .
The Bursary programme at the Marine Institute provides 3rd level students with the skills and experience to further develop their careers within the marine sector. Twenty-six students from diverse fields of studies are gaining work experience in a variety of jobs including fish and shellfish assessments and surveys, corporate communications, sampling salmon and commercial fisheries in ports, assessments of maritime economics and oceanographic buoy development.
"The Bursary Seminar Day is used to give students a chance to practice their presentations skills and provide information on their bursary to their peers.The standard of the presentations this year was extremely high and showed that during the short period of the student bursaries, they fully understood the subject matter and were able to communicate this to the audience," she added.
The Bursary programme is highly recognised and is aimed at undergraduates who have completed two years' study in a relevant discipline. This year bursars came from a total of twelve different third level institutes across Ireland and the UK including NUI Galway, NUI Maynooth, University of Ulster, Queen's University Belfast, Galway-Mayo Institute of Technology, Institute of Technology Tralee, University of Plymouth, Sligo Institute of Technology, Anglia Ruskin University, Dundalk Institute of Technology, University College Cork and Carlow Institute of Technology.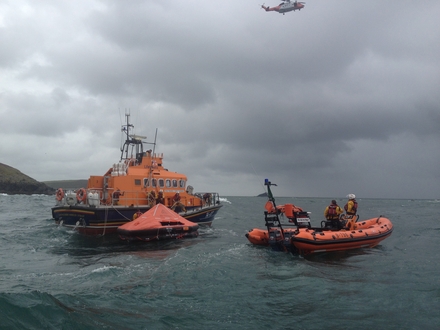 About The Show
Seascapes, the RTÉ maritime programme with Fergal Keane. Seascapes brings you around our coasts and onto traditional and modern boats and yachts for a taste of the great outdoors. Whether you are a trawlerman or a yachtie, Seascapes will be of interest to you.