Seascapes Friday 5 July 2013
Seascapes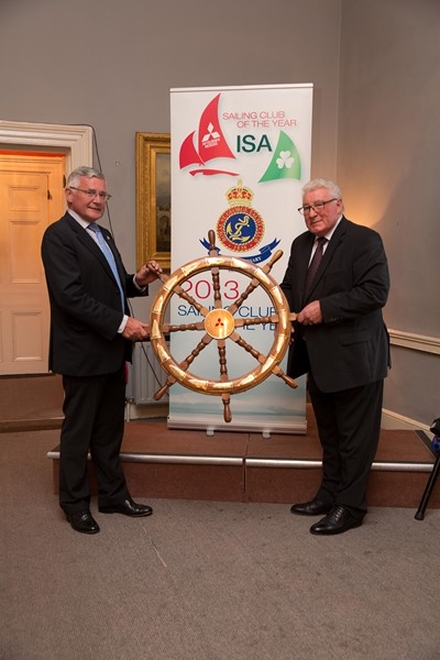 The attraction of visiting Dublin City remains strong for visitors who arrive under their own sail into Dun Laoghaire Marina from all over the world including from the USA, Australia, Norway, Germany, France, Switzerland, Finland, Netherlands, Belgium, Sweden, UK, Spain, Italy. Dun Laoghaire Marina reports that 250 boats from overseas have visited its marina for varying periods of time since 1st April 2013. These figures are being released in advance of the Volvo Dun Laoghaire Regatta, the biggest sailing event in the country which will take place from Thursday 11th – Sunday 14th July. In addition to the 260 local boats that will compete in the Regatta, 120 will arrive to compete from other yachts clubs outside Dublin Bay, Northern Ireland and right across the British Isles.
Speaking about the influx of boats into the Dun Laoghaire Marina, Paal Janson, General Manager said "the main reason we see such a flow of visitors into the Marina is because of the attraction of the capital city and the novelty of being able to visit a European city and stay in your own accommodation which is a relatively unusual offering. Dun Laoghaire Marina is also a safe and large marina with capacity for 820 boats, 24/7 access, full facilities and direct transport links."
The Marina will also welcome all of the visiting boats from outside Dublin Bay for the Volvo Dun Laoghaire Regatta (VDLR.) The VDLR is the biggest sailing event in the country. 380 boats and 2,500 sailors will compete across 25 different classes of boats and the competitors will race across eight different courses over the four days of the Regatta.
Speaking in advance of the VDLR, Adam Winkelmann, VDLR Chairman said 'We have been running this Regatta every two years since 2005 and over that period of time have only seen a 7.5% decrease in entries which is not that dramatic considering the state of the economy. The Regatta also brings a significant amount to the local economy. Using the ITIC* multiplier the average expenditure per competitor will be €60 per day which for 2,500 competitors will be €150,000 per day and €600,000 for the four day event."
*ITIC – Irish Tourist Industry Confederation
For further information please visit www.dlmarina.com and www.dlregatta.org
Hello and welcome aboard this weeks edition of your maritime programme Seascapes – Kieran Devaney talks to the Kings of Tory and Coney Island ; we'll be hearing from Gery Flynn on whats in the latest edition of Inshore Ireland magazine ; in Open Water Swimming as the competitors gather for this years Vibes and Scribes Lee Swim we talk to Ned Denison ; we look at the latest edition of Irish Angler and Campbell Baird on the Irish team in the World Youth Fly Fishing event taking place here later this month ; we 'll have the results of that competition for copies of The Great Blasket ; .......... First this week on Seascapes to marine biologist conservationist – author and a man whose interest like many before him began in rockpools – next Tuesday he 's in Bantry for the West Cork Literary Festival where he will be talking about "Ocean of Life: How Our Seas Are Changing" he is Professor of Marine Conservation at The University of York – Callum Roberts.....
This week IFA Aquaculture were championing the research on fish farms- Seascapes wondered what Professor Roberts made of these ventures in our offshore waters given the Scottish experience .......
Professor Callum Roberts author of "Ocean of Life" will be speaking at the West Cork Literary Festival in The Mariner in Bantry at 5.30pm on Tuesday next 9th July ......more detail from their website which is www.westcorkliteraryfestival.ie
On Saturday 13th of July – as part of the Festival – Tim Severin ; Poet – James Harpur and writer Billy O Callallaghan will be reading on Whiddy Island – the ferry leaves at 12.15 with the event commencing at 13.00hours ......
The Irish Sailing Association this week announced that the Irish oil and gas exploration and production company Providence Resources P.l.c., are to sponsor the Irish Sailing Team for a four year period in the run up to the Olympic Games in RIO in 2016. This sponsorship follows a six month deal in 2012, which provided the team with additional resources in preparation for the London Games.
The Irish sailing team had their most successful Olympics for thirty years in 2012 with 4th, 10th and 14th finishes.
Speaking at today's announcement Providence Resources, Chief Executive, Tony O'Reilly, said "Providence Resources were so proud of the Irish sailing team at the Games in 2012 and we know they can achieve so much more. We want to provide the team with the support to reach their goals in 2016".
The Irish sailing team will be named Providence Team IRL for the four year period and joint branding will be rolled out over the coming weeks.
Responding on behalf of the ISA, Alan Crosbie, Vice Chairman ISA Olympic Steering Group commented "We are delighted with the commitment and confidence shown by Providence Resources in our sailors. We very much appreciated the support they provided prior to London 2012 and this new partnership will offer a more secure training platform four years out from the games".
the 2016 sailing team members include:
Olympic
Annalise Murphy, (Laser Radial)
Ryan Seaton & Matt McGovern, (49er)
James Espey (Laser)
Paralympic
John Twomey (Sonar)
Ian Costello (Sonar)
A number of other campaigns are currently in training to reach qualification for 2016 including two campaigns in the new all-female class 49er FX.
Commenting on the announcement James O'Callaghan, Performance Director, ISA stated "It is a real boost for our team to partner with Providence Resources for four-year. We can now really push on from the platform Irish Sports Council funding and guidance given to the programme thus far. The sponsorship from Providence means we can spend more time at the RIO venue and increase contact time our sailors have with the coaching team".
2013 is an important year for Irish Paralympic and Olympic sailors as it will be the only year that they will be competing in an international competition in their home waters prior to RIO 2016. The IFDS (International Federation of Disabled Sailing ) World Championships will be held in Kinsale from 22 – 30 August and John Twomey 10 time Paralympian and the current President of the IFDS will be representing Ireland. The following week (30 Aug- 06 Sept) Dublin Bay will play host to the Laser European & World Championships, which comprises:
European Laser Standard Men's Championship 2013European Laser Radial Women's Championship 2013European & World Laser Radial Men's Championship 2013
In addition to Annalise Murphy and James Espey, over 20 ISA Development and Performance sailors will be competing at this international event.
The latest edition of Subsea Ireland's only Diving Magazine celebrates forty years published by The Irish Underwater Council in this their 50th Anniversary – the latest magazine recalls much of the history of the magazine ; Secrets of Seaweed ; a focus on Limerick Sub Aqua Club; Ocean Addicts Gathering in Kinsale which raised funds for the RNLI;Shark Preservation and much more.
Next to Open Water Swimming as this weekend the Vibes and Scribes Lee Swim takes place – Seascapes talked to Ned Denison about our waters and was the temperature picking up .......
The latest Newsletter is also out from The Maritime Institute of Ireland our thanks to Pat Sweeney for the latest edition- their website is www.mariner.ie Congratulations to them on their Museum Award from the Industrial Heritage Association of Ireland.
The official newsletter of the Irish Titanic Historical Society – The White Star Journal – the June edition features articles on Annie Moore The Ellis Island Girl; The Titanic Centenary in Stamps; the Wreath laying ceremony in Cobh in April and much more – our thanks to editor Killian Harford you can contact the society on
irishtitanichistoricalsociety@gmail.com .
Next week on Thursday the Volvo Dun Laoghaire Regatta takes to the water with almost four hundred craft participating involving all the waterfront yacht clubs – a great spectacle for Dublin Bay with a huge variety of vessels from Howth 17's to Flying Fifteens ; Fireballs ; Water Wags ; Mermaids; Squibs ; SB 20's ; Ruffians -J 109's and they are just some of the classes – Seascapes will be there and we'll have highlights from the regatta the following week here on your maritime programme.....
In the July issue of Irish Angler they have their usual range of articles on fishing in Irish waters; in their editorial they ask why Golf seems to attract so much government money compared to Angling, citing the recent Irish Open event which was subsidised to the tune of one million euro by the Irish tax payer.
In Game Fishing , top guide Paddy McDonnell shares the secrets of successful salmon worming , while John Buckley revisits small stream trouting with its unique challenges.More on flies from top tyers Jimmy Tyrell and James Curry, Campbell Baird has all the detail on how the preparations proceeded for the Irish team for the World Youth Fly Fishing event which is being held here this month. In the Coarse section , Geoff Cooper tries to catch tench on camera in Arctic conditions . Specimen Fish Hunter Terry Jackson targets roach/rudd hybrids.At sea , Martin Magowan looks at the trend in very light fishing for the smaller species. Down south in Cork Jim Clohessy explains how to fish lures effectively, elsewhere in the Irish Angler young Steven Neely continues his pursuit of bass; North Clare is their Top Mark this month plus of course all the latest tackle for anglers and featured competitions. You can read and see more on our page on the book of the face and on the Irish Angler facebook page and website....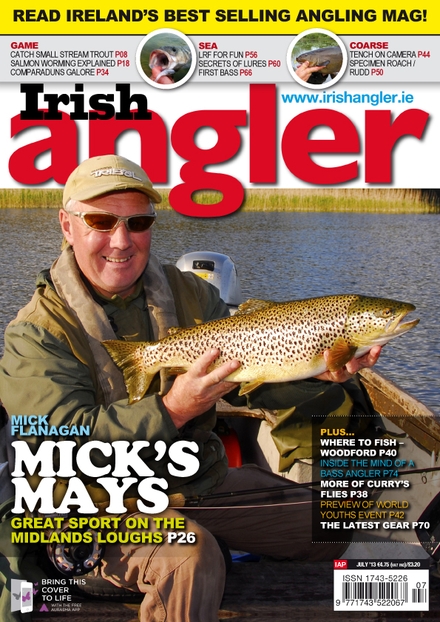 Staying with Angling the big news this week is that rod and tackle maker Hardy and Greys has been sold to a US rival. The company with a royal warrant which is one hundred and forty years old and based in Alnwick in Northumberland has been purchased by Pure Fishing of Columbia in South Carolina with a deal negotiated by Grant Thornton. This acquisition follows on the recent sale last month of the Poole based yachtmaker Sunseeker to a Chinese company...globalisation how are ye .....!!
At the recent Route des Princes in Dun Laoghaire Seascapes met up with James O Callaghan who is Performance Director at the Irish Sailing Association ........
John Joyce the Author of Fire and Ice is set to Describe a dramatic incident in a talk at Kilmore Quay Seafood Festival this Saturday - Four Russian submarines - each with authority to fire their atomic-tipped torpedoes independently of orders from the Kremlin - brought the world closer to the brink of nuclear Armageddon in 1962 during the Cuban Missile Crisis than anyone thought possible - John will give his talk in the Stella Maris Centre in Kilmore Quay at half past seven on Saturday evening ........
Finally to the Shannon Estuary next on Seascapes and a few words from Richard Glynn about Scattery Island and one of the last inhabitants who is his next door neighbour she is now in her mid eighties and fit as a fidil..........
We finish with this weeks competition results for copies of the The Great Blasket – A Photographic Portrait published by The Collins Press. The question we asked was to name the oldest living native Blasket Islander he was recently home on a visit from the United States and published his memoir with Gerald Hayes ........he is Mike Carney and we had a great response with both emails and postcards – the winners are –
Celeste Slye , Ballyferriter, Co Kerry
Mrs Agnes Carley, Fourmilehouse , Co Roscommon
About The Show
Seascapes, the RTÉ maritime programme with Fergal Keane. Seascapes brings you around our coasts and onto traditional and modern boats and yachts for a taste of the great outdoors. Whether you are a trawlerman or a yachtie, Seascapes will be of interest to you.