Seascapes Friday 15 March 2013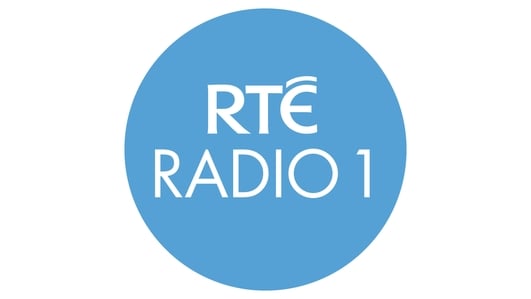 Seascapes
The maritime programme for this island nation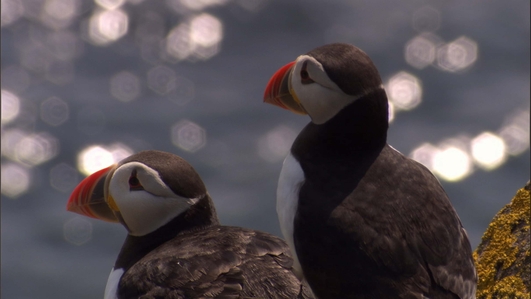 Seascapes podcast Friday 15th March
Seascapes features Mark Jessop on Puffins, Gerald Butler the Lightkeeper and Sharks and Manta Rays receive protection under CITES
Hello and welcome aboard your maritime programme Seascapes on this weeks edition of Seascapes ....sharks are
given protection by the Convention on International Trade in Endangered Species ; we'll be talking to seafarer , fisherman and light house keeper and recently published author Gerald Butler and his book The Lightkeeper – you'll have an opportunity to win a copy in our Seascapes competition;
there is much activity on the water this weekend both around our coastline and on the inland waterways and as usual Irish Water Safety is appealing to all members of the public to ensure that they wear a well maintained and correctly fitting lifejacket for all water-based activities,you can read more on www.iws.ie . ....first this week on Seascapes to one our most striking sea birds – The Puffin,
they nest in burrows , Mark Jessop is a Marine Biologist and a post doctoral researcher in The Marine Ecology Group at the Coastal and Marine Research Centre at University College Cork – based at the Irish Naval Base in Haulbowline, he did his Undergraduate degree in his native Melbourne , Australia and his Phd in Cork – he has worked in the Antarctic on seals; penguins and albatrosses – Seascapes spoke to Mark Jessop about his research on the colourful puffins .....and what numbers we have off our shores and where they are...?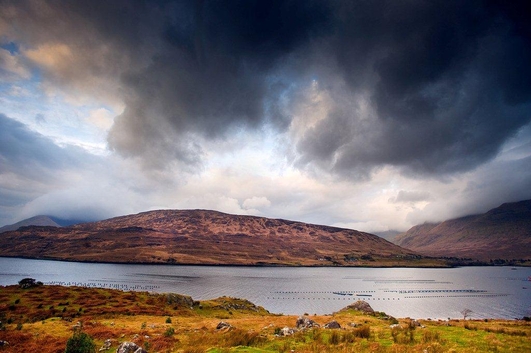 Massive container ships called Triple E ships are forcing ports around the globe to grow to accommodate them, back in 1998 the maximum capacity on container ships was five thousand containers - new container ships can carry eighteen thousand containers – enough to fill a train over sixty eight miles long......the ships are described as being almost a quarter of a mile long and taller than twenty storey high office building and wider than a motorway – no port in North or South America or the Panama Canal can take these vessels – they can however squeeze through the Suez Canal and they will trade between Europe and China.
In Britain the ports of Felixstowe and Southampton can take these vessels however a new port twenty miles east of London called London Gateway which is being funded by Dubai's DP World – London Gateway is due to open at the end of this year and is a massive construction project employing over two thousand five hundred workers.
Its likely to bring over thirty thousand jobs to that area near London.....perhaps we will see the same in Foynes
on the Shannon Estuary .......
The Marco Polo is the worlds largest container ship at present with a capacity of 16,000 containers. The world renowned Maersk Line the Danish shipping company has ordered twenty triple E's from the South Korean ship builder Daewoo....Maersk have an existing fleet of over five hundred vessels.
Hard to believe that the original container ship a converted Second World War Oil Tanker and used by the inventor of the metal box American business man Malcolm McClean , the vessel carried fifty eight containers.
A note in from Seascapes listener Maurice E Withers ..... Ahoy , Seascapes…….if you should like to visit APOLLO DUCK and select "classic yachts" you'll find at the top of the list of classics for sale - - a 1920s Dublin Bay Oyster Smack for sale for £500. She appears to be in poor condition as reflected by the price but I'm sure there are not too many of these old timers around. I think she is lying on a mud berth at Shoreham and it appearsthe owner wants to let her go as he is picking up big moorings bills. It would make a great restoration project for an Irish boat enthusiast. That note from Maurice Withers (Royal Cape Yacht Club + Royal North of Ireland)-
Preparations are currently underway for an ambitious and exciting expedition from Galway to Greenland this summer. Organised by Killary Adventure Expeditions, 'North of Disko' will see a crew of sailors, kayakers, climbers, a photographer and filmmaker set sail for the northwest coast of Greenland in mid June.
The crew aim to cover the 1500nm to Nuuk, the capital of Greenland, in about 14 days and then continue north, reaching Upernavik, well inside the Arctic Circle, a week later. From there, a team of four will set out on a 300km unsupported sea kayak, navigating through fjords and ice fields, while the team of three climbers will begin to tackle a series of first accents, as they follow the kayakers south.
Adding a further dimension to the expedition, photographer Daragh Muldowney aims to explore and capture the beauty of this spectacular coastline, with the aim of publishing a book and hosting an exhibition upon return. The entire expedition and its achievements will also be documented through film.
Leading the crew on board the 49ft, ex admirals cup racing yacht the 'Killary Flyer' is Jamie Young, whose previous expeditions include the successful Irish Cape Horn Sea Kayak Expedition in 1989, the Guinea Bissau Sea Kayak Expedition in 1992, and the expedition, which attempted to re-enact Shackleton's epic boat trip from Elephant Island to South Georgia, in 1997.
Next here on Seascapes to a man who was born in Castletownbere and whose family are steeped in the traditions of the Commissioners of Irish Lights he served on Bull Rock ; Old Head ; Mizen ; Tuskar ; Galley Head ; Ballycotton Island ; Inistearaght ; Bailey ; Roancarrig ; Skellig Michael and the iconic Fastnet – he is Gerald Butler author of The Lightkeeper with Patrica Ahern which is published by The Liffey Press – what was it like being a light keeper on a lighthouse….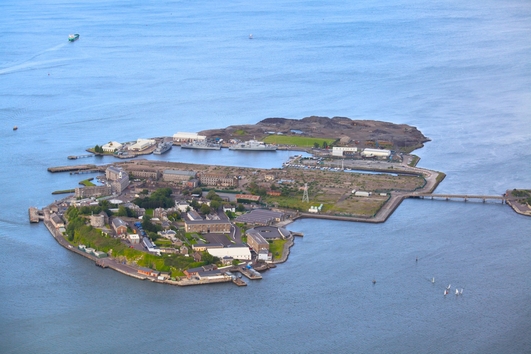 You can win a copy of The Lightkeeper courtesy of Irish Books Direct Dot Ie – the question is name the publisher of Gerald Butlers memoir written with Patricia Ahern – Answers on a postcard to Seascapes, RTE Radio 1, Fr Matthew Street , Cork or by email to seascapes@rte.ie .
The tourist season at Loop Head Lighthouse commences this weekend as the West Clare landmark opens to the public for the first time this year.
The lighthouse will be opened for its third successive season on Saturday and will remain open each weekend, including Easter Weekend and Bank Holidays, up to and including September.
Loop Head Lighthouse, located at the mouth of the Shannon Estuary, is steeped in history and rich in maritime heritage with its origins dating back to the 1670s. The existing tower style lighthouse was constructed in 1854 and was operated and maintained by a keeper who lived within the lighthouse compound.
In January 1991, the lighthouse was converted to automatic operation, and today is in the care of an attendant and is also monitored by the CIL.
On St. Patrick's weekend a fleet of twelve Heritage Canal Boats will depart from Richmond Harbour at the Shannon River close to the town of Longford on route to Dublin via the Royal Canal. The Heritage Boat Association is celebrating the re-opening of this unique navigation. These "canal boats" are the same commercial barges that once carried cargo all across the inland waterways of Ireland. They were indeed the juggernauts of their day and the canals were the highways on which the commerce of the nation depended.
Following decades of dedicated work by volunteer groups (particularly the Royal Canal Action Group) as well as county councils and Waterways Ireland, the canal navigation has recently been re-opened. This gathering of the canal boats will be the largest ever in the history of the canal as even when they were carrying cargo they would have moved alone or in small groups.
It will take the boats six weeks to reach the river Liffey in Dublin as they will be interacting and celebrating with schools and community groups at many locations along the canal. Their skippers and crews are particularly interested in meeting with families who would have had friends and relations who worked on the navigation when it was a commercial waterway. Full details of the calendar and ports of call are available from the website http://heritageboatassociation.ie/.
Next Friday night on Seascapes -more from The Lightkeeper –Gerald Butler and an opportunity to win a copy courtesy of Irish Books Direct dot ie – from Inishmore Olwen Gill will have the latest from the islands and that proposed Fish Farm development ; David Dinsmore, Editor of Irish Angler on the latest edition ; we visit the Seascapes archive and hear from Rorke Bryan –Ordeal By Ice –Ships of the Antarctic........all that and much more, until next Friday night here on Seascapes tight lines and fair sailing."
About The Show
Seascapes, the RTÉ maritime programme with Fergal Keane. Seascapes brings you around our coasts and onto traditional and modern boats and yachts for a taste of the great outdoors. Whether you are a trawlerman or a yachtie, Seascapes will be of interest to you.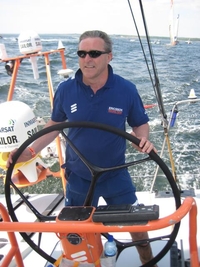 Crazy Face
Van Morrison
3:10
Knockin' On Heaven's Door
Bob Dylan
2:42 Knockin' On Heaven's Door
Dylan, Bob
2:42
Streets Of Laredo
Johnny Cash
3:43
North To Alaska
Johnny Horton
3:01