Seascapes Friday 24 June 2016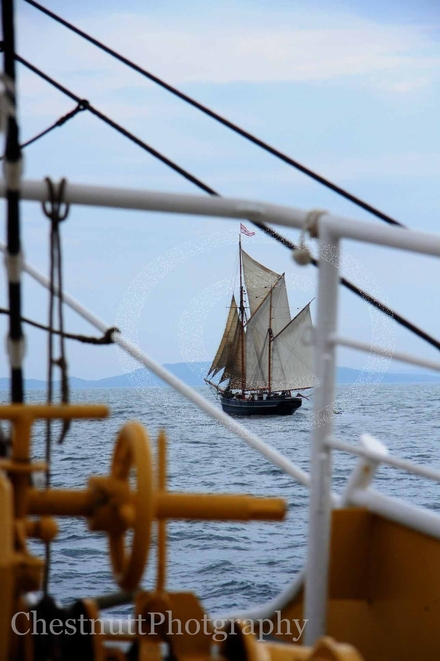 Hello and welcome aboard this week's edition of your maritime programme Seascapes , we have music from Fairport Convention and " A Sailor's Life " …..we visit the brand new Seafarers Centre in Dublin Port with Stella Maris – ships visitor Dermot Desmond and Eamonn O Reilly of Dublin Port Company ….we go aboard the Morgenster in Cork and Waterford and we'll be hearing from a twenty one year old sail trainee on his maiden voyage from Belfast and Chairman of Sail Training Ireland – Seamus Mcloughlin …..…………..First this week to Damian Foxall's remarkable record breaking Volvo Round Ireland record aboard Oman Sail in 38 hours and 37 minutes in the Volvo Round Ireland Yacht Race as Rambler 88 also completed the course ….. Oceansports David Branigan was on the spot for Seascapes…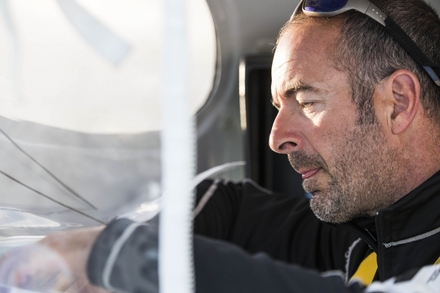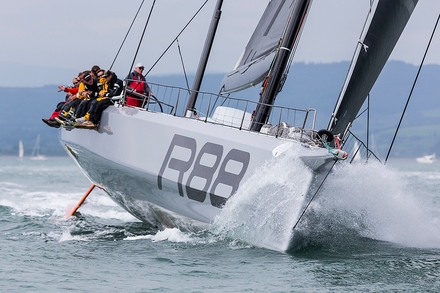 Rambler 88 - Winner of Volvo Round Ireland Yacht Race
photo by David Branigan/Oceansports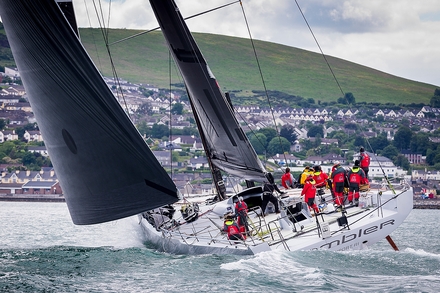 David Branigan talking there to Damian FOXALL with IRELAND ROUND WE GO by Sean Olohan ..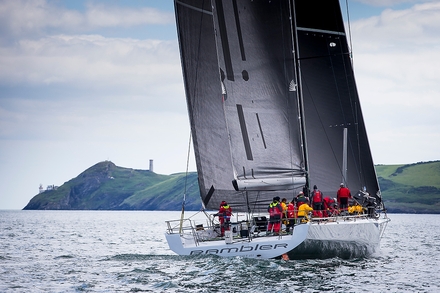 Further north on the East coast …………… Greystones Sailing Club officially opened its new premises last Sunday …. The Club, originally established in 1968, caters for over 350 members and is very much a family club, rooted in the Greystones community. Initially sailing was confined to Mirror dinghies launched from a rubber mat rolled out on the shingle on North Beach with boats transported to and from the harbour on the tops of cars.
Next to Sail Training and the recent visit of the Dutch registered brig Morgenster to both Cork and Waterford we went aboard and met up with the Chairman of Sail Training Ireland Seamus McLoughlin on the extreme left of Michael Chestnutt's photo in The Mansion House.....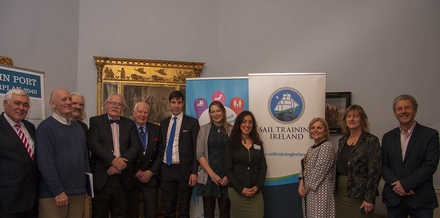 Next to Lina from Lithuania aboard Morgenster on the voyage from Belfast …
Also aboard was twenty one year old sail trainee Glenn from
Dundonald …..
From Sail Trainee Glenn to the Captain of The Morgenster – Harry Mutter …..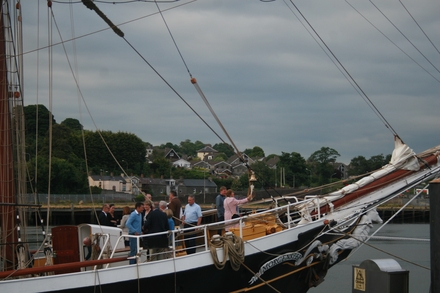 Last Friday in Waterford with the Morgenster and the Brian Boru tied up in the heart of Waterford city we spoke to the Chief Executive of The Port of Waterford – Frank Ronan
With the recent passing of Dave Swarbrick of Fairport Convention here's an extract from "A Sailors Life" taken from their classic album "Unhalfbricking"
Next here on Seascapes to to the heart of Dublin Port where last week we heard from the Chief Executive of Dublin Port Company Eamonn O Reilly , before we headed down to the new Seafarers Centre we talked
We left the Dublin Port Company offices a a few hundred yards
Away entered the shining new Seafarers Centre ....Eamonn again
As we were admiring the facility we spoke to a great friend of the programme Mission to Seafarers , Ships Visitor Dermot Desmond
We hope to make it along on Sunday the 10th July for Seafarers Sunday at the new centre on Alexandra Road in the heart of Dublin Port
Cobh Traditional Sail & Sea Shanty Regatta In Association with Cove Sailing Club and the Naval Service Squadron takes place this weekend with all the details on display on the Seascapes webpage......
Seascapes was at a remarkable concert "Starboard Home" in the National Concert Hall this week on Wednesday and we'll be bring you conversations with many of the artists who participated and composed material for the occasion in the coming weeks....
The Wexford Maritime Festival is in full swing this weekend
Featuring five vintage lifeboats a rowing regatta and much more details on www.visitwexford.ie .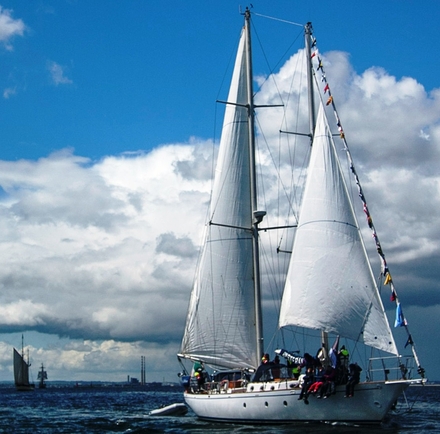 "Well that's all folks for this week ,on the sound desk this week Niall O Sullivan ………….. next Friday night here on your maritime programme Seascapes we talk to newly elected Senator Grace O' Sullivan about Rainbow Warrior growing up beside the water in Tramore and how we can preserve and maintain our maritime heritage…..we preview the Glandore Classic Boat Summer School next month….we have a report from the Cobh Traditional Sail and Sea Shanty Regatta and with the advent of Cruise liners visiting West Cork we meet Clodagh Heneghan of Cork County Council .....all that and much more , until next Friday night , tight lines and fair sailing."