Claudia Scanlon and Lynn Kennedy
Claudia is 15 years old and last year she spoke to Ryan about her skin condition EB.
She joined Ryan in studio alongside artist Lynn Kennedy who was inspired by Claudia's remarkable determination.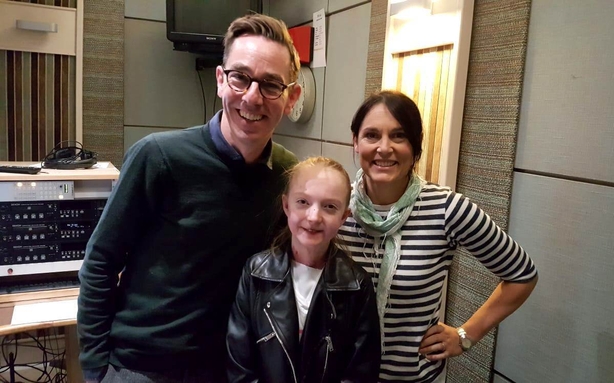 'I am Claudia' is at the Zurich Portrait Prize – National Gallery of Ireland until January 12th.
It will then go 'on tour' to the Crawford Gallery in Cork form January 31st to April 13th.
Lynn also has a solo show at Signal Arts in Bray next March.
Dublin Airport has produced a commemorative calendar celebrating its 80th birthday which occurs on January 19, 2020.
The calendar has 12 iconic images including famous sports and political figures arriving at Dublin Airport during the past eight decades. It features famous historic moments such as President John F Kennedy's visit, the Beatles' arrival for two concerts at the Adelphi Cinema, and the return of the Ireland team after Italia 90.
If you would like to support or donate to Debra Ireland go to www.debraireland.org or buy a calendar at Dublin Airport the proceeds from which go to three charities including Debra Ireland, Spina Bifida Hydrocephalus Ireland and the Gary Kelly Cancer Support Centre.
The calendar is available for purchase online via The Loop for those taking a flight. For those not travelling, it can also be bought at the Shop & Collect desk in the Arrivals area of Terminal 1.
Text BUTTERFLY to 50300 to donate €4 to DEBRA Ireland