Ray Darcy Thursday 20 February 2020
Ray's Press up Challenge!! Ray is pledging to do 3000 push ups over the month of April - He is doing it to raise money for Laura Lynn if you would like to donate click here
Ray has put together a nice calm playlist give it a listen and let us know what you think ray@rte.ie
The Ray D'Arcy Show - Full Show
On today's show Esra Uyrun missing for 9 years, Live music from Kodaline and Ray O'Neil and Allison Keating with relationship advice
Missing Esra Uyrun for 9 years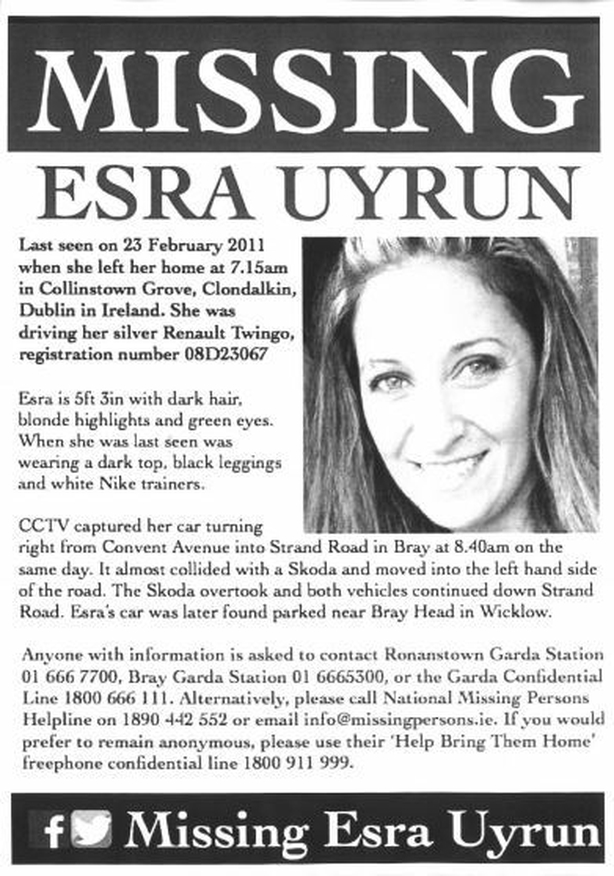 Nine years ago this weekend, Esra Uyrun left her husband and her two year old son behind at their home in Clondalkin in Dublin to go to the shop and she has never returned. Esra's car was found later in Bray. Esra's sister Berna Fidan, who lives in London, has never given up hope of finding her and regularly travels to Ireland to seek help from the public – She talks to Ray this afternoon
Garda Appeal:
Esra left her home at approximately 7.15am in a silver Renault Twingo registration number 08D23067. This vehicle was located in a car park at the bottom of Bray Head.
When last seen Esra was wearing black leggings, a dark top and white Nike trainers.
CCTV captured the Renault Twingo turning right from Convent Avenue onto Strand Road in Bray at approximately 8.40am on the 23rd February 2011.
A Skoda car had to swerve to avoid a collision. The Renault then moved into the left hand side of the road and pulled in to allow the Skoda to overtake it. They both continued down Strand Road in the direction of Bray Head. Later that morning the silver Renault Twingo car was captured on CCTV parked at the car park at the bottom of Bray Head. There has been no activity on her bank accounts or her Facebook page since the 23rd February 2011.
Gardaí at Ronanstown Garda Station are investigating Tel: (01) 666 7700
The Ray D'Arcy Show All Ireland Quiz
Tipperary v Leitrim - Winner Leitrim
Donegal v Mayo - Winner Donegal
Limerick v Dublin - Winner Limerick
Waterford v Westmeath - Winner Waterford
Clare v Kildare - Winner Kildare
Fermanagh V Monaghan - Winner Fermanagh
Kerry v Roscommon - Winner Roscommon
Tyrone v Carlow - Winner Tyrone
Louth v Kilkenny
Laois v Wicklow
Longford v Down
Meath v Cork
Armagh v Offaly
Cavan v Galway
Antrim v Derry
Sligo v Wexford