Ray Darcy Wednesday 13 November 2019
Christmas Card For Barry
You might remember Barry Connolly from Co.Meath, who loved receiving cards and after we spoke to his mum Sharon about it, Barry received over 4,800 birthday cards in September of this year.
Well, we've had an email in to the show saying;
"Could you please email me name & address for Barry, the 30 year old that his Mam asked for cards for his birthday this year.
I can't find his details ( in spite of knowing I saved them) & would like to send a Christmas Card...thank you"
Kind Regards
Mary Frances
We've checked with Barry's mum Sharon and she's ok with us sharing the address again and that's Barry Connolly, Carranstown, Ballivor, Co Meath
The Ray D'Arcy Show - From The Cork Studios
On todays show, Film director Jim Sheridan remembers Niall Tóibín who sadly passed away today, Frances Mc Carthy from the Blackrock Castle Observatory chats to Ray, Cat Hospital starts on TV tonight, we meet tonight's finalists for stand up and be funny and live music from John Spillane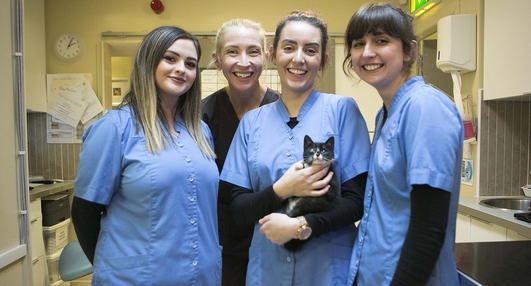 Cat Hospital
Persians, Russian Blues, Maine Coons, Siamese, Sphynx, Ragdoll, Scottish Fold, Devon Rex, Shorthair, Norwegian Forest. These are all the different kinds of patients Clare Meade deals with on a daily basis. The one thing that they have in common is that they are all cats! That's because Clare and her team look after our feline furry friends in Ireland's first dedicated Cat Hospital in Glanmire in Cork. It's about to be featured in a new show that starts on Friday on RTE 1 at 8.30pm With Clare is Wolfgang Turner, who is one of her busy customers, because he looks after as many as 25 cats!