Ray Darcy Monday 11 November 2019
Our baking challenge is ongoing and this time around Ray is challenged with making Brown Bread. To join in the challenge see Ann-Marie Dunne's recipe below. Stay tuned for the result of the baking challenge soon, here is Ann-Maries Brown Bread recipe if you would like to give it a go yourself:
Ingredients Gr. Method
1 Self Raising flour 225g, Salt 5g, Baking Powder 7.5g, Bread Soda 5g. Sieve bread soda to remove any lumps. Then sieve plain flour, salt, cream of tartar & bread soda together
2 Wholemeal Flour 225g Add to above and mix through evenly
3 Hazelnut/natural yogurt 125ml, Fresh Milk 230 ml, Egg 50g, Mix together with spatula Add to dry ingredients and mix to soft sticky dough
4 Pour into greased 2lb loaf tin, flatten roughly with fork and sprinkle with oat flakes/ seeds
Preheat oven to 220C turn back to 195C when bread in oven and bake for 40mins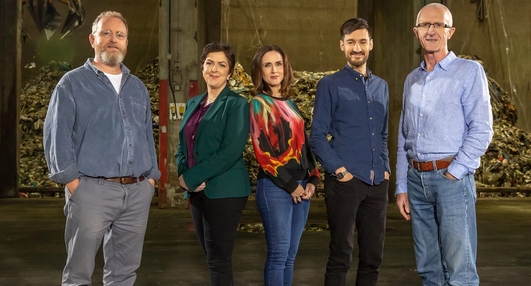 What Planet Are You On ?
Today, RTE kicks off a week-long focus on climate change to coincide with Science Week. Tomorrow on RTÉ One a three part series will begin. It's called "What Planet are you On?" presented by Maia Dunphy.
The show follows three familie and looks at their daily lives in the areas of water, waste, energy and food in their homes. Their habits are then evaluated by experts! Maia Dunphy is here now and the experts: On waste - Brian Kelleher, lecturer in environmental chemistry in DCU. On water – Fiona Regan, professor of chemistry and Director of the DCU Water Institute and on energy - in our Limerick studio - JJ Leahy, professor in the Department of Chemical Sciences at the University of Limerick.