Ray Darcy Friday 26 January 2018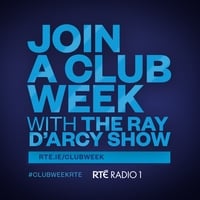 Join A Club Week With The Ray D'Arcy Show
Ray D'Arcy wants people all over Ireland to try something new this month!
We had an idea with the help of Thomas who emailed into the show – what if for one week clubs throw open their doors to everyone?
This 'welcome week' is to encourage people to try out something new like a dance club, supper club, book club, without the pressure to sign up or set up an initial meeting.
It's like speed dating for clubs, test out as many as you want during the week (which is on October 22nd to the 26th) and hopefully one will stick with you!
If you reach out to Ray, your club may get a shout out on the air waves!
For more information and how to register your club check out our Join A Club Week Website
Stress-Free Brides
Yesterday, Ray was chatting about weddings - the biggest wedding trends and faux pas. Following on from the chat, we got an e-mail from listener John Daly, who is a wedding videographer, who said:
I have attended hundreds of weddings as a Videographer since 1984 and I have seen many brides not enjoy their big day because they try to make it unique. Brides, relax!
We chat to John today about how brides can ensure their wedding goes stress-free!
To visit John's YouTube channel, as mentioned, visit https://www.youtube.com/channel/UCcX5IptlVjGyvPFtue3akwg.
Hothouse Flowers
This year marks thirty years since the Hothouse Flowers' debut album, People, was released – it was the most successful debut album in Ireland ever! We're delighted to be joined in studio this afternoon by Liam, Fiachna and Peter for a chat and a few songs...
Forthcoming gigs by the Hothouse Flowers include Vicar St on February 22nd, and the Alley Theatre in Strabane on February 24th. For more information on the band, visit www.hothouseflowers.com.