Ray Darcy Thursday 18 January 2018
Coming Up on Today's show, Actor and writer Malachy McCourt, rugby legend Shane Byrne is Ray's guest for soundtrack to your life and we review The Lion King from both a parents and child's point of view.
The Ray D'Arcy Show - Full Show
On todays show, help find Beddy Buddy Duck, end of life choices with Rev Bridget Spain and Taithí Gan Teorainn on TG4
Help Find a Beddy Buddy Duck in Blue
We got this email into the show today CAN YOU HELP:
Good afternoon Ray,
I am HOPING you can help to find a blue Beddy Buddy Duck
With Christmas over, our 7 year old daughter, Roisin is now looking forward to her birthday (inearly February- not too many days away!)
For the 1st time EVER, she has asked for a specific gift (usual response is "Oh, I don't want any presents"! (she's like an Irish Mammy years too early!)
So we are now on a desperate search for the blue Microwable Beddy Buddy Duck - she wants a friend for her Duck, the yellow version that she's had since she was born & her father was given a few years before that! She cuddles him every night. He was once forgotten on the Luas for 2 hours, but was found (serendipity!)
We've searched the internet - no joy! Any links that we found were for old ads for sale.
We contacted the company that made the Ducks in the UK, but they couldn't find one as they were discontinued years ago ??
If we can't get it for her birthday, she's happy to ask Santa for it next Christmas!
So could you please help us appeal to chemists/gift shops/the nation to see if anyone has a blue Beddy Buddy Duck anywhere?
PLEASE help us to find this Duck!
Thank you!
Ger & Caro Dooley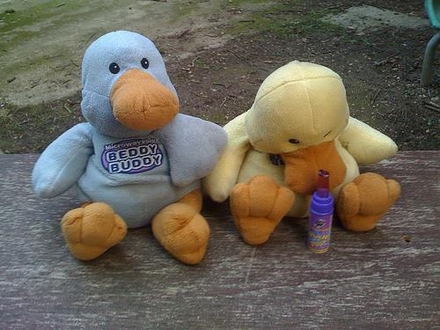 Taithí Gan Teorainn - Experience Without Limits
Taithí Gan Teorainn follows eight young Irish people to the most far-flung corners of the earth as they walk a mile in the shoes of their foreign counterparts, working the same exhausting hours and enduring the same daily physical and mental toil.
Each episode in the four-part series sees two people travel to India, Cambodia, Kenya and Kyrgyzstan where workplaces are often hazardous and some operate without the basics of running water or electricity.
James Reihill and Siobhan Heffernan chat to Ray this afternoon about their experiences.