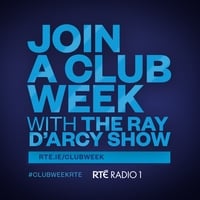 Join A Club Week With The Ray D'Arcy Show
Ray D'Arcy wants people all over Ireland to try something new this month!
We had an idea with the help of Thomas who emailed into the show – what if for one week clubs throw open their doors to everyone?
This 'welcome week' is to encourage people to try out something new like a dance club, supper club, book club, without the pressure to sign up or set up an initial meeting.
It's like speed dating for clubs, test out as many as you want during the week (which is on October 22nd to the 26th) and hopefully one will stick with you!
If you reach out to Ray, your club may get a shout out on the air waves!
For more information and how to register your club check out our Join A Club Week Website
Club Open Days: Monday October 22nd
Maynooth, Toastmasters Co Meath
We are inviting visitors to come along free of charge tonight at 19.45 to see our competition and see if Toastmasters is for you.
Cabinteely Boules Petanque Club, Dublin
We play French Boules or Petanque every Saturday and Monday at 10.30 at Cabinteely House, Cabinteely Park - We can loan you boules and show you how to play.
Ballymote Active Retirement Bowling Club, Co. Sligo
A Short Mat Indoor Bowling Club for people who are retired or working reduced hours. We meet every Monday & Friday from 14.00 to 16.00 at The Loftus Hall in Ballymote, Co. Sligo.
SatSun, Ballyfermot Photography Club, Dublin
A friendly and welcoming club. We are here to help and assist in all matters photography
We meet every Monday night from 19.30 until 21.45 in the Resource Centre , Ballyfermot Rd. Dublin 10.
Clonmel Swing Dancing, Co. Tipperary
Beginners & Improvers Swing Dancing Classes every Monday night at 19.30 in The Coachman Bar, Parnell Street Clonmel, Co Tipperary. Love jazz and the music of the 20's 30's & 40's then pop along. Its a fun, easy, sociable class and you can come with or without a partner
Howth Yacht Club, Dublin
Howth Yacht Club Welcomes all ages to enjoy sailing and fun on and off the water in beautiful surroundings. We can introduce you to a world of sailing and fun on the water.We are opening our doors to anyone from 10 am. The coffee will be on.
Rotary Club of Dublin, Fingal
Our club meets for lunch every Monday in the Maldron hotel at Dublin Airport at 13.00. We run charity projects in the Fingal area and we also participate in Rotary International projects such as the elimination of polio in Africa and Asia. We have a very active social programme such as weekends away, visits to the theatre, ten pin bowling and golf outings.
Mallow Badminton Club, Co. Cork
Mallow badminton has been on the courts for over 25 years belting out the shuttle cocks. We have our Club Night every Monday night in Mallow Youth Centre from 20.00 until 22.30, its for social players, and everyone is welcome. No racquet required
Anne's Netball Club, Dublin
We are a fun and competitive netball club. We have 4 teams from fun and participatory to competitive with an eye on the title. We have players from all age ranges, youth to experienced...Open night starts at 19.30.
Itosukai Karatedo Ballinasloe, Co. Galway
Teaching traditional Japanese/Okinawan karate & kobudo since 1976. Sport karate also, we start at 19.00
Coolmine Set Dancers, Coolmine, Dublin 15
We meet weekly for our Set Dancing Class / Session at 20.30. We learn dances from many different parts of the country. A set is a dance for 8 people, and could be danced to reels, jigs, polkas etc. it's a great way to learn a new skill, make new friends, keep fit and learn a part of your tradition and heritage.
Pastime Chonamara, Co. Galway
Pastime Chonamara is a bi-lingual Craft and Activity Club based in Indreabhán in the Conamara Gaeltacht where everyone is welcome to be part of our group. Our open event starts at 16.00.
Toastmasters Swords Club, Co. Dublin
A club to help you find the skills and confidence to effectively express yourself in any situation. If you need to speak in public for any reason Toastmasters will help you structure your speech and advise and help you on the best way to deliver it. Our open event starts at 20.00
Athboy Women's Group, Co. Meath
Me Time for women in the area age 18+, Tea/coffee & a chat, & activities as voted on by the group. Supported by Meath Partnership. We meet at 09.45 am.
The Freebird Club, Dublin
An award winning Irish "start up",The Freebird Club is a Social travel and homestay club for people over 50. Our members engage socially with fellow members through social travelling and some members,support their domestic income and dwindelling pension,by "hosting" members. Currently we have 3000 members,across 70 countries and hosts in approx 70 of them. Growing weekly. Our open event starts at 09.00 am
St. Vincent's Water Polo Club, Dublin
A Water Polo club with Junior, Senior and Masters teams for both male and female. Our open event starts at 20.30
Portmarnock Judo School, Dublin
Judo training, our open event starts at 19.00
Failte Toastmasters Charleville, Cork
Community club open to all over 18's In the comfort of our club one can hone their communication and leadership skills Though attending our club you become a better communicator, exercise management skills , become a better listener and gain self confidence. Our open event starts at 19.50
Douglas Harmonia Singers, Cork
We are a community choir based in Douglas in Cork. We sing a mixed repertoire of songs including modern, traditional, folk and sacred pieces. The choir perform at concerts, masses, for charity and in competition.
Practice is held every Monday night 8.00 pm to 10.00 pm at the Ardfallen Centre, Douglas.
We are always ready to welcome new members. Our open event starts at 18.00
Midleton Senior athletic Club, Cork
We are an athletic club whose focus is on competitive running and non competitive running. Our members participate in road running, cross country, marathons, triathlons, ironman, trail running and fun running. Our aim is to provide social and fun training to meet our members needs. Our open event starts at 18.00
Sacred Harp Singers of Dublin
Also known as shape note, Sacred Harp singing takes its name from a songbook called The Sacred Harp. This four-part a cappella music dates from the 16th through 20th centuries, and is characterised by haunting harmonies, traditional modes, raucous songs, serene hymns, fast fugues, and high-energy anthems. Our open event starts at 19.00
Tuesday October 23rd Before 3pm
Tennis in Carrick-on-Shannon, Co Leitrim
Carrick on Shannon Tennis Club, Co Leitrim at 2 pm
Martial Arts in Castleknock, Dublin 15
Royal Grappling Academy in Castleknock, Dublin 15 We are right next to Connolly Hospital, Junction 6 off the M50. We teach Brazilian Jiu-Jitsu and martial arts. Our open event starts 10:30 am
Rotary Club in Dublin North
We are a group of people in the Howth, Sutton, Baldoyle area. We carry out projects in our local community and also support national and international projects through Rotary International. We meet up every Tuesday at 1pm in the Marine Hotel, Sutton Cross for lunch and to organise and plan our upcoming events.
Bingo and live music-in Newcastle West, Co. Limerick
We run a daycentre in Newcastle West three days every week. We aim to provide people who are socially or geographically isolated to have a social day with a full home cooked meal with bingo, live music, singing and dancing. Although generally for older people, youth isn't an obstacle as all our attendees are young at heart! Our open event is at the Desmond Complex Day Centre at 11.00 am
Scrabble Club, Ringsend Community Centre, Dublin
We have a weekly scrabble meeting on Tuesday at 2 pm in the Ringsend Community Centre at the bottom of Thorncastle Road with the church at the top. It's a friendly club and whether you are a beginner or want to pick up scrabble again you are most welcome. We have boards and tea,coffee and biscuits are provided

.