Ray Darcy Wednesday 8 November 2017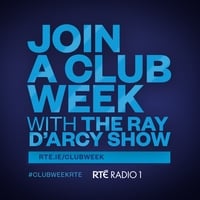 Join A Club Week With The Ray D'Arcy Show
Ray D'Arcy wants people all over Ireland to try something new this month!
We had an idea with the help of Thomas who emailed into the show – what if for one week clubs throw open their doors to everyone?
This 'welcome week' is to encourage people to try out something new like a dance club, supper club, book club, without the pressure to sign up or set up an initial meeting.
It's like speed dating for clubs, test out as many as you want during the week (which is on October 22nd to the 26th) and hopefully one will stick with you!
If you reach out to Ray, your club may get a shout out on the air waves!
For more information and how to register your club check out our Join A Club Week Website
The Ray D'Arcy Show - Full show
On today's show, Rat's in the trees in Kerry, Why is everything so expensive in Ireland? David Mc Williams new TV show, Tracy Mc Ginnis finally got her new car and live music from Paul Bradley
Why Is Everything So Expensive in Ireland?
David McWilliams is back with a new studio series exploring the big issues facing Ireland .Tomorrow night he asks, why is everything so expensive in Ireland? David chats to Ray this afternoon

David McWilliams' Ireland: Why are we so broke? airs on TV3 tomorrow night, Thursday 9th November at 10pm
Live Music and Chat with Paul Brady
Paul Brady is here for some chat and to play a couple of tunes! His new album Unfinished Business is out now and he is kicking off a tour around Ireland on the 17th of November.
The new album Unfinished Business is out now and the tour around Ireland starts on November 17th. All of the locations and information are on paulbrady.com