Ray Darcy Monday 18 January 2016
Zoe Ireland Drake Is Ready To Go Home, Can You Help?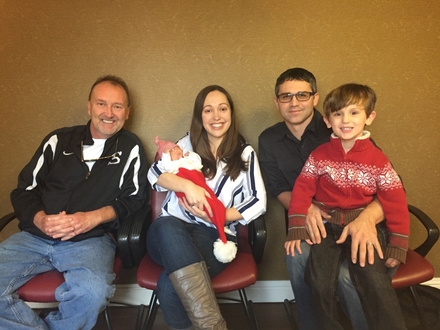 Baby Zoe, with her Mam Jenny, Dad Gavin - Grand Dad and Big Brother
In October last year we first spoke to Jenny Drake, she was en route home to America from Paris when she went into labour at 25 weeks on a transatlantic flight. The pilot was forced to divert to Dublin, where she gave birth to her daughter in the Rotunda. Baby Zoe Ireland was born. 2 and half months later she is growing stronger every day and is almost ready to go home but unfortunately it will cost the family €70,000 to bring her home and they are currently trying to raise funds as their insurance doesn't cover it.
Jenny and Gavin have a 3 year old son, Aiden, who is staying with his grandparents in Kentucky. They also have an optometry practice, Drake Eye Care and Eyewear, in Murfreesboro, TN.
They have been staying in Hugh's House – Ade Stack and her husband run the house for families like Jenny's and in December they were given a People of the Year award for their work – Jenny and her husband were in the audience as testament to that good work.
If you would like to help the Drake family get baby Zoe home click here