Playlist 25th November 2013
A List
REMEMBER ME – GAVIN JAMES IRISH

LONG TIME GONE - BILLY JOE ARMSTRONG & NORAH JONES
QUEENIE EYE – PAUL MCCARTNEY
THE MAN WHO WANTS - AMOS LEE
MY HERO – CLONMEL PRESENTATION GIRLS SCHOOL

MY LIGHTHOUSE –THE VILLAGERS NEW

LIGHTENING AND THUNDER – DEADY NEW

FIVE HUNDRED MILES – JUSTIN TIMBERLAKE, CAREY MULLIGAN AND STARK SANDS
COULD BE THE WEATHER – THE WOULD BES NEW

COWARDS CORNER – LISA O'NEILL

SIMPLE THINGS – SIMPLE THINGS COLLECTIVE

B List
GREAT WALL OF CHINA – JACK L IRISH

ANOTHER IS WAITING – THE AVETT BROTHERS
GIRLS – THE 1975
WHEN TWO WORLD COLLIDE – CHAS AND DAVE
LET ME GO - GARY BARLOW
SING TO THE MOON – LAURA MVULA
TAKE ME TO THE CHURCH – HOZIER NEW IRISH

TURN OFF THE SILENCE –ROISIN O AND MUNDY

MAYBE – THE HENRY GIRLS NEW

CARNIVAL STATION – THE CARNIVAL BROTHERS
SOMEONE LIKE YOU – ADRIAN DUFFY & THE MAYO BOYS

Recommended Listening
CAVALIER – JAMES VINCENT MCMORROW

EVERYBODY'S MUSIC – THE BARLY MOB

RAINBOX – TRACK DOGS

MARRIED TO MUSIT – FIACH MORIARTY

DOWN ON THE BAYOU – ROBERT MIZZELL
IF ONLY I – NOWHERE MAN & WHISKEY GIRL
HOOK , LINE & SINKER – THE SHOOS

DOWN DOWN THE DEEP RIVER – OKKERVIL RIVER
LET IT ROLL – BRENDAN QUINN & THE KICKIN' MULE

SOMEWHERE ONLY WE KNOW – LILY ALLEN
Album of the Week: Robbie Williams - Swings Both Ways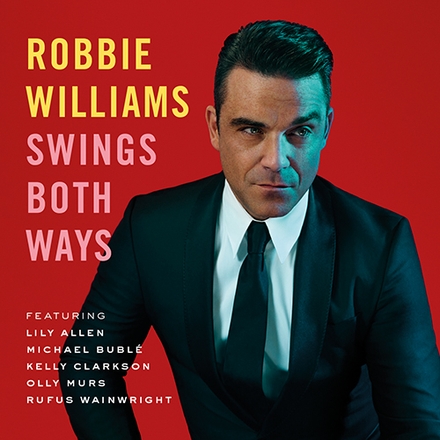 This weeks Album of the week is Robbie Williams Swings Both Ways and here is what Natalie Palmer had to say...When it comes to British solo stars Robbie Williams is one that stands out from the crowd. Never in fear of offending anyone he takes risks (we all remember Rudebox) and nine times out of ten they pay off.
Robbie first released a swing album over ten years ago, and now he is at it again, revealing: "First of all, I wanted to do a Swing album because I wanted to do a Swing album. I always knew I'd do another and I think now is the perfect time to do it," and with the help of a few great showbiz pals he's hit the nail on the head once more.
Shine My Shoes
The opening track is written by Robbie himself and his old pal Guy Chambers and it's a great opener to the album. It starts with the typical swing click and then grows with the sound of trumpets and a full blown brass band. It's very much a big band track and shows signs of a new Robbie as he refrains from swearing as he says 'happy as a pig in shhhhh.'
Go Gentle
This track was performed by Robbie on last week's X Factor and is his new single. A song that is quite clearly directed at his little girl Teddy as he sings of dancing with boys but not having to kiss them and stating he will always be there for her. A song most dads out there would be able to relate to about, a sweet and charming look at fatherhood.
I Wanna Be Like You Ft Olly Murs
Here we see two artists who are often compared joining forces on a classic Disney hit. Does Olly want to be just Like Robbie? He is definitely heading that way. Both stars are known for their cheeky chappy personalities so putting this into a fun light hearted song has worked really well and you can hear in the recording that they had a ball doing it.
Swing Supreme
A slower track that unfolds into Robbie classic 'Love Supreme' but as a swing version. This is a genre he has mastered but taking a track many fans know and love and changing it into a big band number could be a risk but his voice is so smooth and it becomes a really good listen. A little bit of old school RW regenerated into something new.
Swings Both Ways Ft Rufus Wainwright
Rufus who is potentially unknown in the UK makes a welcome appearance on this track which he also co wrote. Their voices are very similar and the song is a little tongue in cheek which is something everybody is used to with Mr Williams as he sings: 'And after I've done her' to which Rufus replies: 'You can do me.'
Dream A Little Dream Ft Lily Allen
First John Lewis, then 'Hard Out Here,' now dreaming a dream with Robbie. It's nice to see Lilly back on the music scene in a selection of different styles. This song is sung beautifully and it sounds incredibly classy and romantic as the two sing it together. An unexpected but gorgeous rendition of a classic love song.
Soda Pop Ft Michael Buble
It's instantly clear from the first note that this is going to be a fun, upbeat song. You can hear the jazzy piano and the trumpets are a wonderful big addition throughout the entire song. Buble's vocal is flawless as always and to see them do this together on a stage with a huge band would be a real treat.
Snowblind
From fun with Buble to a calming song written by Guy Chambers and Williams himself. Jazzy piano gone and twinkly sounds brought in; maybe Robbie has become a softy at heart now. A song about love and relationships is made more magical as the strings echo in towards the end. As it is a ballad type song the vocal isn't mind blowing but it still sounds lovely.
Puttin On The Ritz
The album then goes back to some more toe tapping swing with 'Putting On The Ritz.' It's hard not to imagine him swinging around the stage and putting on a fabulous show when you hear this track. It's one that really oozes the swing genre with lengthy musical interludes that make you want to chuck on a flapper dress and go dancing in a big jazz hall.
Little Green Apples Ft Kelly Clarkson
Here we see Williams join forces with one of world's most loved female vocalists, newly married Kelly Clarkson is a surprise collaboration but his big personality and her big voice makes for an endearing musical moment.
Minnie The Moocher
Opening with some big notes that prepare you for a strong swing vocal, Robbie's voice has a huskier tone and he is joined by some manly backing vocalists. There would be a lot of crowd interaction at a live show with this one, his voice gets, dare we say it sexier as the song goes on and takes on a faster pace as it comes to an end.
If I Only Had a Brain
A song from the ever popular Wizard Of Oz is the penultimate track on Robbie's second swing album and it's songs like this that show his voice for what it is capable of. Not a huge ballad but a sweet sentimental song that requires heart. However we all know he has a brain because he's mastered making millions out of a genre that many current artists approach anymore.
No One Likes A Fat Popstar
"I come from a land of kebabs and curries," isn't an opening line anyone would expect to hear, but that's what happens here. He also sings of how showbiz is a single chin game, and munching on a thimble of self esteem. He's then joined by an operatic choir who sing about how no one likes a fat popstar. It's great to see someone (especially a bloke) having a go at the industry as it is one that can be so fickle and shallow when it comes to looks.
Our Verdict
It's rare to see an artist poke fun at themselves and others whilst still remaining respectful but Robbie Williams does just that. It's clear to see people want to work with him and his songwriting efforts with Guy Chambers are fantastic. His vocals, although not always flawless are charming and listenable. This album has the swoon factor and proves once again that Robbie is one of our best entertainers.
Playlist
RTÉ Radio 1 Music Policy
With more than 40 hours of music on RTE Radio 1 every single week, we want to ensure the best music for our listeners is played. Every fortnight we have a new playlist of the best of the new releases from Irish and international acts. And there's always an album of the week. The tracks are rotated over the main daytime programmes and are updated every week.
Tracks from the Radio 1 Album of the Week can be heard over the week on Rising Time, The Ronan Collins Show and Late Date. (Tracks marked ** are new additions). We hope you enjoy the music...