Playlist 18th November 2013
A LIST
REMEMBER ME – GAVIN JAMES IRISH
LONG TIME GONE - BILLY JOE ARMSTRONG & NORAH JONES
QUEENIE EYE – PAUL MCCARTNEY
THE MAN WHO WANTS - AMOS LEE
WHO'S TO SAY IT IS – LOUISE KILLEEN IRISH
MY LIGHTHOUSE –THE VILLAGERS NEW IRISH
LIGHTENING AND THUNDER – DEADY NEW IRISH
FIVE HUNDRED MILES – JUSTIN TIMBERLAKE, CAREY MULLIGAN AND STARK SANDS
COULD BE THE WEATHER – THE WOULD BES NEW IRISH
COWARDS CORNER – LISA O'NEILL NEW IRISH
Simple Things – Simple Things Collective IRL New
B LIST
GREAT WALL OF CHINA – JACK L IRISH
ANOTHER IS WAITING – THE AVETT BROTHERS
GIRLS – THE 1975
WHEN TWO WORLD COLLIDE – CHAS AND DAVE
LET ME GO - GARY BARLOW
SING TO THE MOON – LAURA MVULA
TAKE ME TO THE CHURCH – HOZIER NEW IRISH
TURN OFF THE SILENCE –ROISIN O AND MUNDY NEW IRISH
MAYBE – THE HENRY GIRLS NEW IRISH
CARNIVAL STATION – THE CARNIVAL BROTHERS
11. SOMEONE LIKE YOU – ADRIAN DUFFY & THE MAYO BOYS NEW IRISH
Recommended
CAVALIER – JAMES VINCENT MCMORROW IRISH
EVERYBODY'S MUSIC – THE BARLY MOB IRISH
RAINBOX – TRACK DOGS IRISH
MARRIED TO MUSIT – FIACH MORIARTY IRISH
DOWN ON THE BAYOU – ROBERT MIZZELL
IF ONLY I – NOWHERE MAN & WHISKEY GIRL
HOOK , LINE & SINKER – THE SHOOS IRISH
DOWN DOWN THE DEEP RIVER – OKKERVIL RIVER
LET IT ROLL – BRENDAN QUINN & THE KICKIN' MULE IRISH
SOMEWHERE ONLY WE KNOW – LILY ALLEN
Album of The Week: Amos Lee: Mountains of Sorrow, Rivers of Song
This weeks album of the week is Amos Lee: Mountains of Sorrow, Rivers of Song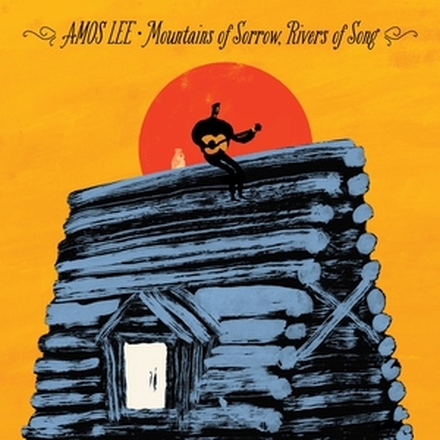 With his dusty voice and populist Americana, more real and current than the more retro-leaning members of the oeuvre, Amos Lee straddles the real estate staked out by Levon Helm, Little Feat and John Prine. In his songs, wonder isn't wide-eyed, but knowing—and that makes the emotional charge more resonant.
His elegiac title track, sweeping dignity in the face of how hard life and respiteful death can be, finds Lee tangling his earthy tenor with Patty Griffin's wire-and-sky soprano for a plainspoken tribute to those who make it work by their own two hands, confessing as a funeral procession goes by: "And I have a cabin of solitude/ I built it with my own hands, it's quite crude/ Ain't much to it, this I know/ But I won't leave too much behind here when I go/ I'll be seeking my fortunes, carryin' on/ Past the mountains of sorry and rivers of song…"
That self-reliance is a potent theme. The techno-shuffling "Loretta," with plenty of room for the Philadelphia native's midrange to twist into soulful drifts, witnesses to a self-possessed woman who knows respect starts with her own fine self. The homage is equally reverential and desirous, and it works.
Jay Joyce, recently striking success with country progressive Eric Church, isn't afraid of Lee's funkier side. He takes the singer/songwriter into a tangy bit of horns, steamy female singers and clavinet to rave like a more wide-open Lenny Kravitz on "The Man Who Wants You" and the atmospheric "Indonesia," where Lee's ether-like tenor poses the yearning "When will I be free…" as some kind of homing pigeon of the heart.
For all its R&B undertow, gris-gris glory and soul shuffles, the Mountain's essence is the acoustic-grounded, folk and country excavations. Whether it's the gently finger-picked "Dresser Drawer," with room for the desolation of its post-busted marriage lament, or the Guy Clark-worthy sweeping Texas meditation on progress and its price "Johnson Blvd," featuring Willie Nelson vet Mickey Raphael's plangent harmonica, Lee makes sorrow shimmer.
That ache gets embroidered by Nashville's very finest—dobroist Jerry Douglas, mandolinist Jed Hughes and a silvery vocal from Alison Krauss—on "Chill In The Air," another song about trying to break the ties of a love that's gone, but not quite releasing the abandoned. Like Jackson Browne for another generation, Lee understands the staining traces of love—drawing on small details like a woman's breath falling softly on his chest while they slept.
Spending his career exploring the American songbook's capacity to hold his emotional tides, Amos Lee distills his essence. Ranging from old-timey to reverential, soul to Appalachian, Mountain stands utterly his.
Playlist
RTÉ Radio 1 Music Policy
With more than 40 hours of music on RTE Radio 1 every single week, we want to ensure the best music for our listeners is played. Every fortnight we have a new playlist of the best of the new releases from Irish and international acts. And there's always an album of the week. The tracks are rotated over the main daytime programmes and are updated every week.
Tracks from the Radio 1 Album of the Week can be heard over the week on Rising Time, The Ronan Collins Show and Late Date. (Tracks marked ** are new additions). We hope you enjoy the music...