A List
LOVE LIKE THIS - KODALINE

GET LUCKY - DAFT PUNK FEAT PHARRELL WILLIAMS
Liquid Lunch – Caro Emerald
It's Just Not Cricket – The Duckworth Lewis Method

Young & Beautiful – Lana Del Rey
Hometown Girls – The Strypes

America – Paperboys
Feel It All – KT Tunstall

Stir Crazy – Karrie


The End Is Nigh – Bell X 1


Harry Connick Jr – Everyman Should Know

B List
DON'T FOR GET WHO YOU ARE – MILES KANE
SAILING - MOYA BRENNAN AND CORMAC De BARRA

LONESOME SPARROW – THE WHILEAWAYS

HEY MR.MOON DANIEL O DONNELL

SOUL BROTHER - THE HOT SPROCKETS

DO WHAT YOUR PAPA SAID - SHAUNA MACKIN

The Sun is Gonna Shine – The Carnival Brothers

Everything Has Changed - Taylor Swift & Ed Sheeran
The Thrush In the Storm - Dervish

Irish Boy - Patty Griffin

Carter – Arthur Beatrice

Recommended Listening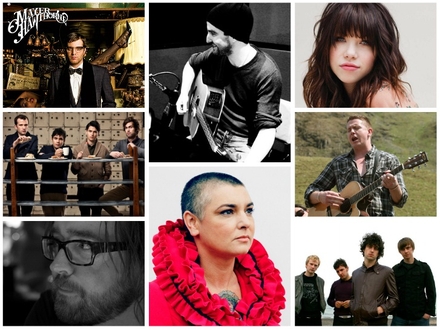 Candy Floss - Stuart Agnew
Take a Picture Carly Rae Jepsen
Her Favorite Song - Mayor Hawthorn
Canadian Geese - Damien Dempsey
Old Lady - Sinead O' Connor
Step - Vampire Weekend
Spilling Diamonds - Niall Thomas
Petardu - Delorentos
Album of the Week: John Fogarty - Wrote A Song For Everyone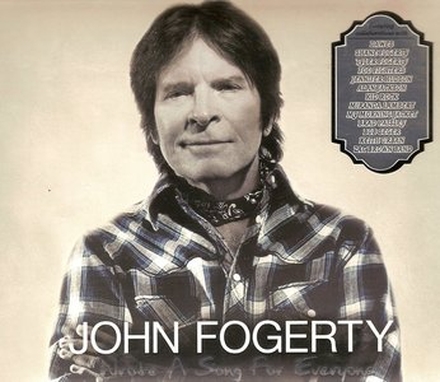 This weeks album of the week is John Forerty - Wrote A Song For Everyone.
Here is what allmusic.com had to say about it:
For a good portion of his solo career, John Fogerty refused to play any of his old Creedence Clearwater Revival songs -- not because he hated them but because he was tied up in a nasty legal battle with Saul Zaentz, the head of his former record label Fantasy.
After a few decades, Fogerty's position softened and he started playing the tunes in concert, then, after Concord purchased Fantasy in 2004, he celebrated CCR, first with a new hits compilation combining his old band and solo work, then eventually working his way around to Wrote a Song for Everyone, a 2013 album where he revisits many of his most popular songs with a little help from his superstar friends. Savvy guy that he is, Fogerty doesn't place all of his chips on one bet: he mixes up rock and country, old and new, dabbling just a bit in R&B and alternative folk, but preferring to stick to a tastefully weathered roots rock that suits him well. Curiously, there is very little swamp rock to be heard here -- Kid Rock yowls through "Born on the Bayou," but that only helps it sound like it's coming straight out of a trailer -- and the song choice, along with the guest list, skews toward country; with Bob Seger singing "Who'll Stop the Rain" and My Morning Jacket easing back on "Long as I Can See the Light," which leaves just the aforementioned son of Detroit stomping through the bayou, and the Foo Fighters lumbering through "Fortunate Son" as pure rock & roll. Heavy as they are -- and they are, substituting volume for swing -- they're overshadowed by never-ending country-rockers, some spirited enough to enliven familiar melodies, some so sober the whole proceeding winds up seeming a bit po-faced.
At worst, this means Wrote a Song for Everyone is no better than generic -- it's hard to identify Keith Urban as the duet partner on a too-smooth "Almost Saturday Night" -- but a few of the guests stamp their own identity on the cover, whether it's Brad Paisley twisting "Hot Rod Heart" (the only cover here that can't be called a hit, as it's pulled off Fogerty's acclaimed 1997 LP Blue Moon Swamp) toward his twanging Telecaster territory, or Miranda Lambert stealing the title track from her host and guest guitarist Tom Morello.
All of this is enjoyable but it's rarely compelling, as very few songs play with the original arrangement in any serious fashion (Zac Brown Band's untroubled "Bad Moon Rising" is the exception that proves the rule). It's telling that the lasting moments arrive either when Fogerty unveils two solid new solo songs -- "Mystic Highway" and "Train of Fools" -- or when he leads his sons through the terrific, bluesy choogle of "Lodi," turning the lament into a celebration. All three cuts prove that Fogerty, no matter how much fun he's having elsewhere on the record, doesn't need any guests to sound alive.
Music Exchange - Ronan Collins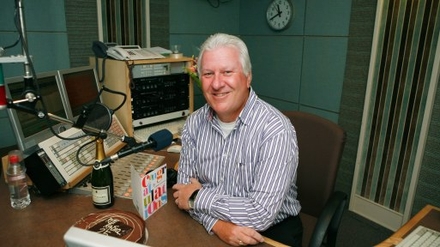 This weeks Music Exchange comes from Ronan Collins:
So many songs and so many memories and too many songs to pick just one that REALLY stands out! Well one song that has always stood out for me is "The Tracks of My Tears" by Smokey Robinson and The Miracles one of the greatest Motown songs of all .I just think the melody, the lyrics, the vocals and the musicianship gel completely to give what is ,to me, a perfectly constructed pop song. As to the memory associated with the song, as I'm sure you think there has to be one, well mind your own business-it's not for sharing.
Ronan Collins
Playlist
RTÉ Radio 1 Music Policy
With more than 40 hours of music on RTE Radio 1 every single week, we want to ensure the best music for our listeners is played. Every fortnight we have a new playlist of the best of the new releases from Irish and international acts. And there's always an album of the week. The tracks are rotated over the main daytime programmes and are updated every week.
Tracks from the Radio 1 Album of the Week can be heard over the week on Rising Time, The Ronan Collins Show and Late Date. (Tracks marked ** are new additions). We hope you enjoy the music...