Pantisocracy Sunday 25 December 2016
Panti Bliss hosts a late night cabaret of conversations with, and about, contemporary Ireland.
Tune in on Christmas Day 2017 at 4pm for a special Christmas Pantisocracy, with guests Lisa Lambe, Liam Ó Maonlaí, Colin Dunne, Doireann Ní Ghríofa and Seán Mac Erlaine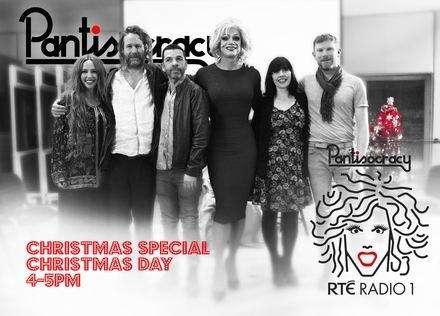 http://pantisocracy.ie/season-2-episode-5/
Also coming up on New Year's Day 2018 at 2pm is another new instalment of the popular series, with guests Aoife Scott, Razeen Ibraheem, Niamh Mc Carthy, Steve Wall and Luka Bloom,
http://pantisocracy.ie/season-2-episode-6/
A cabaret for the times we live in, Pantisocracy is a society of equals.
Pantisocracy is an Athena Media Production for RTÉ Radio 1. www.pantisocracy.ie #pantisocracy.