Mooney Goes Wild Monday 9 July 2018
Philip McCabe, RIP (20/10/18)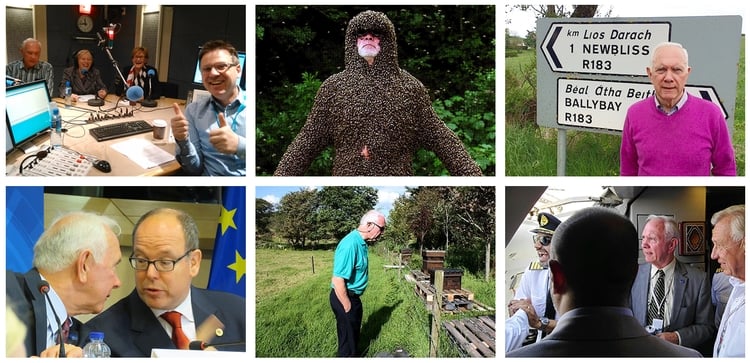 Everyone on Mooney Goes Wild is devastated to learn of the death of our friend and colleague, Philip McCabe. Philip did more for our understanding of the honey bee than a life time of learning could ever have taught us. Kind, thoughtful and generous, he was a true gentleman, and his knowledge, quick wit, and wonderful ability to entertain us with his storytelling meant that he was a pleasure to be around. He will be very much missed. Our deepest sympathies to his wife Mary and family, and all who had the pleasure to know or meet him.
In January 2017, Derek made a documentary called The Beeman, which profiled Philip McCabe, his fascinating life and work. To find out more and to listen to the documentary, click here.
Email: mooney@rte.ie
Facebook: facebook.com/rtenature
Twitter: @NatureRTE
Fish In Hot Weather
While we're all basking in the glorious sunshine of this incredible heat wave, do spare a thought for our wildlife and the impact which these soaring temperatures are currently having on them throughout the country.
We all know that it's important to leave out some water for our feathered friends but what about our marine creatures, such as the fish in our lakes, canals and rivers – how are they faring right now?
Lower water levels and warmer temperatures can lead to fish kills. Water holds less oxygen as it warms up and hundreds of fish were suffocated by the increased algae.
Just yesterday in the newspapers, we saw a photograph of Aasleagh Falls on the Galway / Mayo border. This glorious waterfall was famously featured in the movie The Field, but it's now been practically reduced to a stream!
From the banks of The Royal Canal near Leixlip in Co.Kildare, Terry Flanagan spoke with Dr. Greg Forde, Head of Research and Development at Inland Fisheries Ireland...
If you'd like to report fish in distress, Inland Fisheries Ireland has a 24 Hour Hotline on 1890 34 74 24 or 1890 FISH 24.
They'll continue to monitor water bodies for any signs of distressed fish in shallow water, but will be able to react more quickly to timely reports received.
Milner Edel Ramberg
Once upon a time, everybody had a nice hat, and there were rules to follow on where and how to wear that hat. In recent years we've seen a resurgence of hat wearing from both women and men - fedoras, panamas, stetsons, bowlers, bretons, berets...
Milner Edel Ramberg makes hats in her studio in Galway. Derek met Edel recently and they spoke about the use of feathers in millinery….
Chernobyl Wolves
What happens to nature after a nuclear accident? How does wildlife inhabit the fallout zone after the humans have fled?
A new study looks at how gray wolves from the radioactive forbidden zone around the nuclear disaster site of Chernobyl are now roaming out into un-contaminated land across the wider region.
Michael Byrne is a wildlife ecologist at the University of Missouri in Columbia in the United States, he explains the consequences of a radioactive disaster on the wolves..
Elephant Communication
It's possible that elephants could be using long-distance communication to survive. As elephants walk across the earth, their footstep produce sounds that vibrate through the ground, and these vibrations could be detected by other elephants some distance away, passing vital information such as the whereabouts of a mate, but also potential dangers such as distant incoming thusmai… or even ivory poachers.
Researchers from Oxford University and Save The Elephants worked together to study the tremors that their movements send through the ground.
Professor Tarje Nissen-Meyer of Oxford University was part of the team who carried out the work in Kenya's Samburu National Reserve. Tarje talked about the research with Derek.