Mooney Goes Wild Monday 18 June 2018
Philip McCabe, RIP (20/10/18)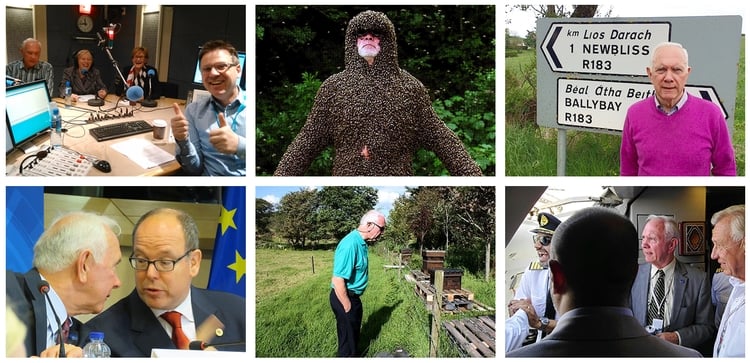 Everyone on Mooney Goes Wild is devastated to learn of the death of our friend and colleague, Philip McCabe. Philip did more for our understanding of the honey bee than a life time of learning could ever have taught us. Kind, thoughtful and generous, he was a true gentleman, and his knowledge, quick wit, and wonderful ability to entertain us with his storytelling meant that he was a pleasure to be around. He will be very much missed. Our deepest sympathies to his wife Mary and family, and all who had the pleasure to know or meet him.
In January 2017, Derek made a documentary called The Beeman, which profiled Philip McCabe, his fascinating life and work. To find out more and to listen to the documentary, click here.
Email: mooney@rte.ie
Facebook: facebook.com/rtenature
Twitter: @NatureRTE
Woodpeckers
We had a very special feature on the programme a couple of months ago and it came from a private estate in County Wicklow. It was the Great Spotted Woodpecker – its machine gun-like-staccato increasingly heard in forested areas across much of Leinster... and parts of Ulster.
Declan Murphy is a well known wildlife author and speaker. He has such a strong fascination with woodpeckers that he created a hide... from where he observed them over a period of time, culminating in the writing of his book 'A Life in the Trees'.
Declan spoke to us this evening from the hide, along the banks of the Avonmore River in Co Wicklow ...
Mrs Pankhurst's Purple Feather by Tessa Boase
Emmeline Pankhurst was a distinctive firebrand - less than 5 feet tall, her shoe size just 3 and a half, and she wore a single, purple ostrich feather in her hat. Mrs Pankhurst was never without her plumage.

Twelve years before the suffragette movement began dominating headlines around the world, another very different but equally strident women's campaign was making an impact. Its aim was radical: to stamp out the fashion for feathers in hats.
Its lead character was Etta Lemon, and she was anti-fashion, anti-feminist – and anti-suffrage.

Mrs Lemon has been largely forgotten by history, but her mighty society lives on – it is the largest wildlife conservation charity in Europe – the RSPB, or Royal Society of the Protection of Birds.
A new book "Mrs Pankhurst's Purple Feather" tells the story of these two great women. It's author is Tessa Boase who spoke with Derek from Hastings on the south coast of England...