Mooney Goes Wild, Sunday February 25th 2018
Follow Us On Social Media:
Facebook: www.facebook.com/rtenature
E-mail Us: mooney@rte.ie
Caring For Wild Animals
Please note that many species of mammals, birds, invertebrates etc... are protected under law and that, even with the best of intentions, only someone holding a relevant licence from the National Parks & Wildlife Service should attempt the care of these animals. For full details, please click here to read the NPWS Checklist of protected & rare species in Ireland. If you are concerned about a wild animal, please contact your local wildlife ranger - click here for details.
Events & Listings
Click here for a full list of events taking place around the country, and movies currently on release, which might be of interest to wildlife lovers!
On Mooney Goes Wild tonight... SPECIAL: Plastics #1
The Plastic Revolution starts here on Mooney Goes Wild! In a week where, it would seem, the world has woken up to an environmental crisis brought about by our utter dependence on single use plastic, we ask the question – where do we go from here?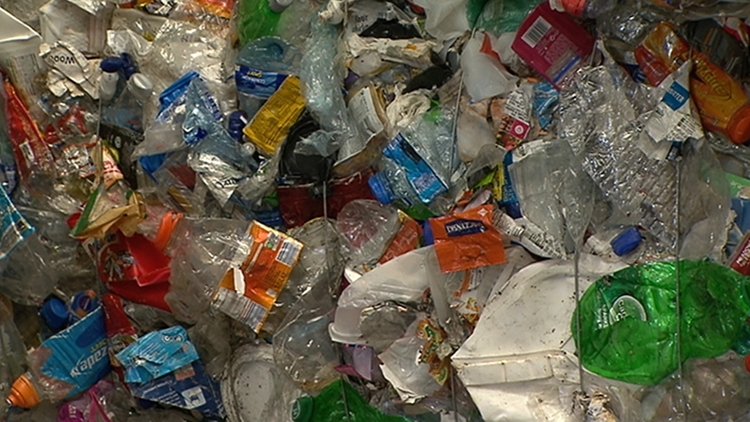 This isn't the first time we've discussed the true scale of plastic pollution on Mooney Goes Wild. We were one of the earliest voices in the mounting campaign to reduce plastic waste and find alternatives, highlighting how just through our daily activities, from using washing machines to buying coffees-to-go, incalculable amounts of plastic are entering oceans, eventually ending up inside our fish and marine mammals.
If we take a look at the past fifty years, global plastic production has increased 20-fold from 15 million tonnes to 311 million tonnes, contributing significantly to waste levels and transforming us into a plastic polluted planet.
Just last month, we brought you the tragic story of the Cuvier's Beaked Whale, recovered from the waters off Bergen in Norway, who had died from ingesting plastic bags, mistaking them for food and completely blocking its digestive system. Click here to listen back to The Bergen Whale.
Left: a Cuvier's Beaked Whale; right: Dr. Richard Collins (l) with Prof. Terje Lislevand (r) at the University Museum of Bergen
And it's not just whales, dolphins and turtles which are suffering such devastating effects. Fish are swallowing micro plastics, which are fragments of larger plastic items or those found in beauty products such as facial scrubs. Last October, we met Dr. Anne Marie Mahon, from the Galway-Mayo Institute of Technology, who talked to us about her research into micro plastics in our environment (click here to find out more and listen back to that interview).
Anne Marie Mahon and Dr. Richard Collins
But if there was ever a true watershed moment in our awareness of just how serious an issue plastic has become, then it came last Monday and once again it was from Galway, when an NUIG study found that a huge 73% of deep-sea fish have ingested plastic. For more information on this story, visit www.rte.ie/news/2018/0219/941718-plastics. To read the research article 'Frequency of Microplastics in Mesopelagic Fishes from the Northwest Atlantic', which was published in Frontiers In Marine Science, click here.
The deep water fish which were studied are also prey for fish destined for human consumption, and the one question everyone is now asking is: could micro plastics and toxins be transferred, and pose a threat to our own human health?
To discuss the scale of the plastic problem, it's implications, and the solutions, we're joined in studio by zoologist Dr. Richard Collins, marine scientist Dr. Ken Whelan, Professor Kevin O'Connor (Associate Professor of the School of Biomolecular and Biomed Science at UCD), and from our Cork studios by Dr. Tom Doyle who, with Alina Wieczorek, co-authored the study into micro plastics in fish at the Ryan Institute at NUI Galway...
Top: from left - Derek Mooney, Dr. Richard Collins & Dr. Ken Whelan
Bottom: from left - Prof. Kevin O'Connor, Dr. Tom Doyle & Oliver Tickell
Our guests tonight include:
Professor Kevin O'Connor
Prof. Kevin O'Connor is director of the Beacon Research Centre and Associate Professor at the School of Biomolecular and Biomed at UCD. He believes in the potential for bio-based plastics to replace petrochemical plastics and acts as an advisor on the 'Bio-economy' to the Taoiseach's office. For more information on the European Bio-Economy Strategy, click here.
Dr. Tom Doyle
There are few more startling and worrying findings than that shown by NUI Galway this week. They found that 73% of deep water fish have eaten plastics. Their study, conducted in the northwest Atlantic, recorded one of the highest percentages of plastic yet found in fish on the planet, and was reported widely across the world.
That danger is not only confined to the creature that eats the litter, as the food chain can transfer this plastic back to us. Dr Tom Doyle, from the Ryan Institute at NUI Galway, is co-author of the study and joins us to tell us more about the recent findings...
Oliver Tickell
The day after that NUIG research was published, revealing one of the highest frequencies of plastic found in fish anywhere – ever - a new report was presented at London's Royal Geographical Society. The Ocean Plastic Crisis Summit, which was organised by the group Artists Project Earth, featured talks from scientists, business people, politicians, and campaigners, with the aim of putting together an Action Manifesto.
Oliver Tickell is an environmental journalist, and he presented a report which highlighted that there are already multiple laws and agreements in place to tackle pollution in our oceans – but that enforcement is the problem. So last Tuesday, Derek went along to the Summit to find out more...
To read Oliver Tickell's report 'International Law and Marine Plastic Pollution - Holding Offenders Accountable', click here.
Hedgerows: It is an offence to 'cut, grub, burn or otherwise destroy hedgerows on uncultivated land during the nesting season from 1 March to 31 August, subject to certain exceptions'. For more information, click here.
To contact your local wildlife ranger, click here for contact details. To read the Wildlife (Amendment) Act 2000, click here.
IMPORTANT NOTICE
Please DO NOT send any live, dead or skeletal remains of any creature whatsoever to Mooney Goes Wild.
If you find an injured animal or bird, please contact the National Parks & Wildlife Service on 1890 20 20 21, or BirdWatch Ireland, on 01 281-9878, or visit www.irishwildlifematters.ie
***CLICK HERE TO FIND OUT EVERYTHING YOU NEED TO KNOW ABOUT DAWN CHORUS 2017!***
***Download the Dawn Chorus 2017 podcasts***
Dawn Chorus 2017 - First Hour - 00:00 - 01:00
Dawn Chorus 2017 - Second Hour - 01:00 - 02:00
Dawn Chorus 2017 - Third Hour - 02:00 - 03:00
Dawn Chorus 2017 - Fourth Hour - 03:00 - 04:00
Dawn Chorus 2017 - Fifth Hour - 04:00 - 05:00