Mooney Goes Wild, Sunday January 28th 2018
Four Tips For Feeding Hungry Birds In Cold Weather
This is a tough time for birds. Keen gardeners will know that their natural food source has been depleted, leaving our feathered friends struggling to find food. They need all the help they can get. Learn more about feeding birds by clicking here for tips for feeding hungry birds in cold weather.
Email: mooney@rte.ie
Facebook: facebook.com/rtenature
Twitter: @NatureRTE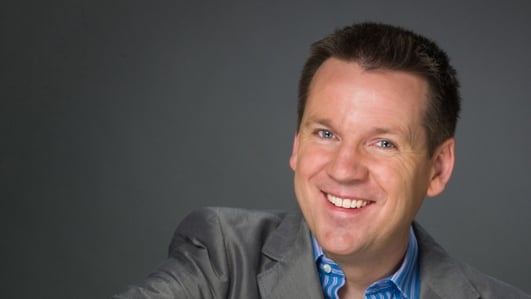 On Mooney Goes Wild tonight...
We chat about Derek's robin and a fascinating hawfinch, enjoy a rare sighting of the Glossy Ibis on the Shannon callows, we get a unique insight into primates in the African jungle, and find out about a new book which celebrates the miraculous coastal ecosystem that is Dublin Bay...
Robins & Hawfinches
We start with the sound that Derek is greeted by every morning as he leaves home - the beautiful Robin! Joining Derek in studio tonight are panellists Dr. Richard Collins, Eanna ni Lamhna and BirdWatch Ireland's Development Officer Niall Hatch... The book Richard mentions is called Birds Of The Western Palearctic.
Robin - The Christmas Bird
The robin, not the turkey, is the real Christmas bird; you'll find him on cards, cakes and Christmas trees. But is Robin Redbreast having us on? Is he really the friendly and gentle little fellow he seems? Does he deserve his special Christmas place? Dr. Richard Collins, scientific adviser to Mooney Goes Wild, investigates! To read more about this special documentary, and to listen to the programme, click here.
Hawfinch In Wicklow
During the week, we received a tweet (to @naturerte) from one of our listeners Cian, who said:
Hawfinch found by my Granddad this morning at Druids Heath Golf Course in Kilcoole - exactly where the waxwing were last year
Hawfinch in Wicklow; Image: Cian Cardiff
Niall Hatch tells us about this remarkable and rare little visitor...
Glossy Ibis
You may well have heard of the 'sacred Ibis' – a notorious bird that was venerated and often mummified by Ancient Egyptians as a symbol of the god Thoth. It was invoked against incursions of winged serpents – and in mythology, it was said that when the Sacred Ibis was sacrificed, flies that brought pestilence died immediately after feeding on its carcass.
Left: Thoth, based on New Kingdom tomb paintings (image: Jeff Dahl / Wikipedia); right: a Glossy Ibis (image: sarangib / Pixabay)
But you might be less familiar with its less famous relative – the Glossy Ibis!
This is the most widespread Ibis species, breeding in the warmer regions of Europe, Asia, Africa, Australia, and the Atlantic and Caribbean regions – but over the past decade, there have been several sightings of these rare birds here in Ireland.
This week three Glossy Ibises appeared on Bunihinly Bog in Co. Westmeath – to which they were no doubt attracted by the low-lying wetland. During the week, Derek headed down to Athlone to meet Bórd na Móna Ecologist Dr Mark McCorry, in the hopes of seeing them for himself... He then headed over to Wicklow to meet BirdWatch Ireland's Development Officer Niall Hatch, to find out about the ibises that had been spotted on the BWI's own reserve...
Three Glossy Ibises at the East Coast Nature Reserve in Wicklow; photo by Oran O'Sullivan of www.irishgardenbirds.ie
For more information, photos, videos and audio recordings of the Glossy Ibis, visit The Internet Bird Collection - Glossy Ibis.
Researching Primates In Africa
Fancy a challenge this year? What about a new job that includes getting up as early as 2.30am for a 14 hour shift - following chimpanzees up to 25 kilometres a day through dense African jungle? Getting back to your basic forest tent around 8pm for rice and beans, before a short sleep and then doing it over and over again – month after month?
Then you have the malaria, yellow fever, cabin fever, no contact with family and friends for months - and everything else that comes with jungle living. It isn't "I'm a Celebrity Get Me Out of Here - With Primates". It's an average working day for Adeelia Goffe.
Our panel this evening, from left: Richard Collins, Eanna ni Lamhna, Niall Hatch and Adeelia Goffe
Adeelia, who is currently living in Dublin, is a Research Scientist with a particular interest in social behaviour and has worked with primates in Uganda, Nigeria and Senegal, and has recently returned from the war-torn Democratic Republic of Congo. She joins Derek, Richard, Eanna and Niall in studio to chat about what she has observed and learnt in her work...
Dublin Bay: Nature And History
On a clear day, an aerial view of Dublin Bay is - no doubt - a welcome vista to anyone arriving into Ireland by air. The 65 kilometres of sweeping coastline from Howth to Dalkey is both beautiful and dramatic - teeming with life both animal and human.
Aerial view of Dublin Bay and the North Bull Island; photo: Sinéad Renshaw
You might see Dubliners enjoying the bay in myriad ways - from bathers daring to take a dip in the 40 foot, to kitesurfters on Dollymount strand, to joggers and dog walkers in Clontarf, and fleets of small craft sailing across Dún Laoghaire Harbour.
Of course we share the bay with a vast array of plants and animals. It contains some of our best examples of sand flats, dunes and saltmarshes - providing cover and feeding grounds to millions of shellfish, worms, crustaceans and other creatures. There are flocks of migratory birds from Arctic Canada and tropical Africa; seals and porpoises are in abundance, and occasionally we have dolphins and whales. Dublin's social history is also intimately connected to the bay around which it grew. It would be barely recognisable to the Vikings who first beached their longships on our sandy shores back in the 9th century AD.
A railway line follows the coast, while two formidable harbour walls protect the city - one of which caused the Bull Island to form and grow. And while in the past, changes were implemented with little regard for future impact, the authors of a new book entitled Dublin Bay: Nature And History, say sustainable planning is now vital for the future of Dublin Bay.
Richard Nairn (image: Collins Press)
The daunting scope of the book is courtesy of three authors: David Jeffrey (retired Professor of Biology at Trinity College Dublin), Rob Goodbody (Geographer and Planner) and Richard Nairn (Environmental Consultant). The East Pier in Dún Laoghaire offers a commanding view of Dublin Bay, and that's where Richard Collins met Richard Nairn to find out more...
Dublin Bay: Nature And History, by Richard Nairn, David Jeffrey and Rob Goodbody, is published by Collins Press. The ISBN is 9781848893290 and the RRP is €24.99. For more details, visit www.collinspress.ie/dublin-bay.
Hedgerows
It is an offence to 'cut, grub, burn or otherwise destroy hedgerows on uncultivated land during the nesting season from 1 March to 31 August, subject to certain exceptions'. For more information, click here. To read the Heritage Bill 2016, as passed by Dáil Éireann on July 5th 2018, click here. To read the Heritage Act 2018, click here.
To contact your local wildlife ranger, click here for contact details. To read the Wildlife (Amendment) Act 2000, click here.
Caring For Wild Animals
Please note that many species of mammals, birds, invertebrates etc... are protected under law and that, even with the best of intentions, only someone holding a relevant licence from the National Parks & Wildlife Service should attempt the care of these animals. For full details, please click here to read the NPWS Checklist of protected & rare species in Ireland. If you are concerned about a wild animal, please contact your local wildlife ranger - click here for details.
IMPORTANT NOTICE
Please DO NOT send any live, dead or skeletal remains of any creature whatsoever to Mooney Goes Wild. If you find an injured animal or bird, please contact the National Parks & Wildlife Service on 1890 20 20 21, or BirdWatch Ireland, on 01 281-9878, or visit www.irishwildlifematters.ie