Mooney Goes Wild, Sunday November 5th 2017
Philip McCabe, RIP (20/10/18)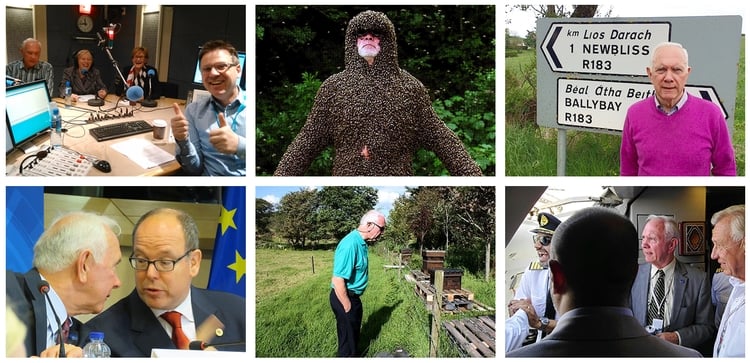 Everyone on Mooney Goes Wild is devastated to learn of the death of our friend and colleague, Philip McCabe. Philip did more for our understanding of the honey bee than a life time of learning could ever have taught us. Kind, thoughtful and generous, he was a true gentleman, and his knowledge, quick wit, and wonderful ability to entertain us with his storytelling meant that he was a pleasure to be around. He will be very much missed. Our deepest sympathies to his wife Mary and family, and all who had the pleasure to know or meet him.
In January 2017, Derek made a documentary called The Beeman, which profiled Philip McCabe, his fascinating life and work. To find out more and to listen to the documentary, click here.
Email: mooney@rte.ie
Facebook: facebook.com/rtenature
Twitter: @NatureRTE
On Mooney Goes Wild tonight...
Award-winning wildlife cameraman Colin Stafford-Johnson shares his experience of filming in some of the wildest places on earth with Derek and panelists Dr. Richard Collins and Dr. Ken Whelan. We chat to Orla Doherty, one of the producers of BBC Television's spectacular Blue Planet II series. And Eanna ni Lamhna learns how an art installation is revealing microscopic magic in the Trinity Trees Project...
Colin Stafford-Johnson On Tour
Colin Stafford-Johnson is one of Ireland's most loved wildlife cameramen. This multi-award-winning cinematographer and wildlife expert is perhaps best known here for series including Wild Ireland, Living The Wildlife and The Secret Life Of The Shannon.
Colin has of course travelled the world with the BBC, PBS in the United States and National Geographic amongst others – but it was for Crossing The Line and RTÉ's The Secret Life Of The Shannon (or On A River In Ireland, as it was named for international distribution), that he scooped the 'Oscar' of wildlife film-making at the Jackson Hole Wildlife Film Festival in Wyoming in 2013 (for more information on this fabulous achievement, click here).
Colin is about to embark on a nationwide tour, where audiences can enjoy evenings of hair-raising stories about 25 years filming in some of the wildest places left on earth. He joins Derek, Richard and Ken in studio tonight to chat about some of the amazing wildlife experiences that he's been fortunate enough to witness...
Colin's Tour Dates
Monday, November 6th - GALWAY, Town Hall Theatre
Tuesday, November 7th - KERRY, INEC, Killarney
Wednesday, November 8th - WEXFORD, St. Michael's Theatre, New Ross
Thursday, November 9th - CLARE, Glor Theatre, Ennis
Saturday, November 11th - MONAGHAN, The Garage Theatre
Tuesday, November 14th - CORK, Everyman Theatre
Wednesday, November 15th - KILDARE, Riverbank Arts Centre, Newbridge
Thursday, November 16th - DUBLIN, Axis, Ballymun
Friday, November 17th - WESTPORT - Westport Town Hall
Saturday, November 18th - CARLOW, Visual Arts
Monday, November 20th - Strabane, The Alley Theatre
Tuesday, November 21st - SLIGO, Hawk's Well Theatre
Wednesday, November 22nd - WATERFORD, Theatre Royal
For further information on Colin Stafford-Johnson and his tour, visit his Facebook page.
Blue Planet II
Last Sunday, the much-anticipated BBC natural history series Blue Planet II hit our screens, sixteen years after the mesmerising first series Blue Planet I. The new series has been four years in the making, and is wonderfully produced to show dazzling discoveries of marine life. In last week's show, Trevally fish were filmed hunting birds for the very first time, in an extraordinary piece of footage...
The series continued on BBC One tonight, in an episode titled 'The Deep', which looked at the deep sea - the biggest habitat on Earth.
It's sometimes called the "inner space"; just one part of it, the Abyssal plain, covers more than half of the planet's surface. More people have been to the moon than have been to the deepest parts of our oceans. Whole species of creatures living there remain unnamed - many more are still undiscovered with vast areas uncharted.
Orla Doherty is one of the producers of Blue Planet II, and she - along with a BBC film crew - has spent more than 1,000 hours in manned submersibles for the series. She produced tonight's episode about the Deep, and joins us Derek, Richard, Ken and Colin Stafford-Johnson from the BBC Studios in Bristol...
For more information about Blue Planet II, click here or visit www.bbcearth.com/blueplanet2. The series is broadcast on Sunday nights on BBC One at 8pm, with repeats from the previous week also on Sundays (so for example if you missed this evening's episode, 'The Deep', which was produced by Orla, then you can watch it on BBC One next Sunday, November 12th, at 16:55 - for full listings, click here).
Trinity Trees Project
It's that time of year again when trees undergo their Autumnal transformation – with greens turning a wonderful, warm and rich array of brown, red, yellow and orange tones. And whilst this perennially vibrant explosion of colour is abundantly visible, Trinity College in Dublin is inviting us to take a closer look at the magic WITHIN our trees.
Some of the Trinity Trees; images: Olivia Hassett
The primary objective of the Trinity Trees Project is to showcase fascinating, microscopic elements through the creation of a series of innovative artworks – installed in eight trees – spread throughout the campus. It's part-performance, part-exhibition and part-guided audio tour – and it plans to alter how visitors see the trees in their own neighbourhoods. Eanna ni Lamhna went along to TCD to check it out...
Trinity Trees Exhibition project team at Probe at Trinity College Dublin
The Trinity College Trees Project is open to the public until Sunday, November 12th. For more information about the Trinity College Trees Project, or download exhibition walk audio guides, click here.
Hedgerows
It is an offence to 'cut, grub, burn or otherwise destroy hedgerows on uncultivated land during the nesting season from 1 March to 31 August, subject to certain exceptions'. For more information, click here. To read the Heritage Bill 2016, as passed by Dáil Éireann on July 5th 2018, click here. To read the Heritage Act 2018, click here.
To contact your local wildlife ranger, click here for contact details. To read the Wildlife (Amendment) Act 2000, click here.
Caring For Wild Animals
Please note that many species of mammals, birds, invertebrates etc... are protected under law and that, even with the best of intentions, only someone holding a relevant licence from the National Parks & Wildlife Service should attempt the care of these animals. For full details, please click here to read the NPWS Checklist of protected & rare species in Ireland. If you are concerned about a wild animal, please contact your local wildlife ranger - click here for details.
IMPORTANT NOTICE
Please DO NOT send any live, dead or skeletal remains of any creature whatsoever to Mooney Goes Wild. If you find an injured animal or bird, please contact the National Parks & Wildlife Service on 1890 20 20 21, or BirdWatch Ireland, on 01 281-9878, or visit www.irishwildlifematters.ie