Mooney, Friday January 2nd 2015
Philip McCabe, RIP (20/10/18)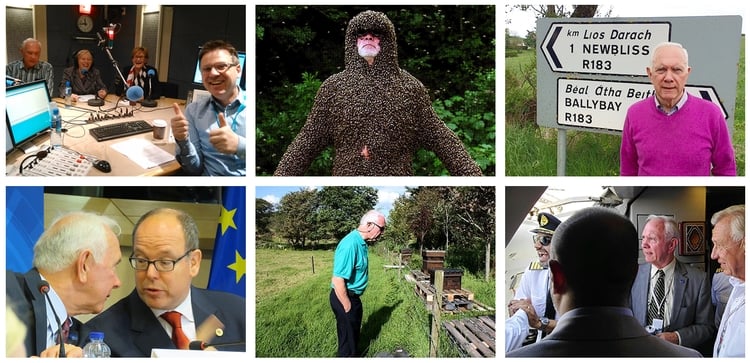 Everyone on Mooney Goes Wild is devastated to learn of the death of our friend and colleague, Philip McCabe. Philip did more for our understanding of the honey bee than a life time of learning could ever have taught us. Kind, thoughtful and generous, he was a true gentleman, and his knowledge, quick wit, and wonderful ability to entertain us with his storytelling meant that he was a pleasure to be around. He will be very much missed. Our deepest sympathies to his wife Mary and family, and all who had the pleasure to know or meet him.
In January 2017, Derek made a documentary called The Beeman, which profiled Philip McCabe, his fascinating life and work. To find out more and to listen to the documentary, click here.
Email: mooney@rte.ie
Facebook: facebook.com/rtenature
Twitter: @NatureRTE
On Mooney Goes Wild today...
Each year, from late October through to February, hundreds of thousands of Starlings come together to form magnificent aerial displays just before they roost. Why do they do it? In this special programme, Starlings, Derek Mooney and Dr. Richard Collins investigate one of nature's greatest spectacles: Starling murmurations...
Some of those featured in this afternoon's documentary are:
Niall Hatch, Tom O'Callaghan and Eugene Dunbar, BirdWatch Ireland
Richard Collins, Niall Hatch, Tom O'Callaghan and Eugene Dunbar, on Lilliput Shore of Lough Ennell, Co. Westmeath, waiting for the Starling murmuration
To read more about the Starling, click here.
Ronald Surgenor
Richard Collins & Ronald Surgenor, Weir Operative with the Department of Social Development, on the River Lagan in Belfast
Dr. Richard Collins with Ronald Surgenor by the Sacha
Ronald Surgenor & Richard Collins
Under Albert Bridge, on the River Lagan, in Belfast. The shelf-like structure is the perfect roosting site for thousands of noisy starlings
Derek observes a starling murmuration in Belfast with Claire Barnett, Senior Conservation Officer (Species and Habitats) with the RSPB in Northern Ireland:
Derek shows evidence of starling dropping on Albert Bridge Belfast
Starlings gathering over the Albert Bridge in Belfast
Prof. Chris Feare
Prof. Chris Feare with Dr. Richard Collins
- Owner of WildWings Bird Management, Guildford, England.
- Research and consultancy in the management of wild birds for conservation and pest control
- Head of bird department, Department of Environment and Rural Affairs, UK, May 1974 – March 1996 (21 years 11 months)
University of Leeds, BSc PhD, Zoology, 1962 – 1969
- Activities and Societies: British Ornithologists' Union (former Vice-President), British Trust for Ornithology, BirdLife International, Royal Society for the Protection of Birds, Seabird Group, Indian Ocean Seabird Group
- Honors & Awards
1994 Elected to International Ornithological Congress Committee
1995 Appointed Honorary Visiting Professor, University of Leeds
2008 Awarded British Ornithologists' Union medal
Lloyd & Rose Buck
Over the past 22 years, Lloyd and his wife Rose have been involved with many different film and television productions. They have a team of birds specially trained for filming on location and in studios but can also train new birds for specific projects.
Richard Collins with a hand-reared Starling
Lloyd and Rose are the world's experts at in-flight and tracking filming with birds. "We have our own family of birds that we work with exclusively for documentaries, film , drama, commercials and photography projects". For more information, visit www.lloydbuck.co.uk.
Prof. Dr. Charlotte K. Hemelrijk
Richard Collins & Dr. Charlotte Hemelrijk
• Chair of the Dutch Society of Theoretical Biology (NVTB)
• Board-member of the Groningen Center for Social Complexity Studies (GCSCS)
• External board-member of the Ethologische Gesellschaft
• Chair of the NWO-VICI committee for ALW
• Member of the complexity call of NWO
• Editor of PlosOne
Research Field: Self-organization in social systems
Charlotte and her team are interested in all aspects of self-organisation in social systems. In their models they try to produce complex phenomena by self-organisation as a side-effect of interactions of individuals with their environment. At present their focus is on social systems of primates, fish and birds.
Dr. Richard Collins with Daniel Pearce
Research Interests:
During the course of his Ph.D, Daniel looked at collective behaviour in animals, primarily how birds are able to organise themselves into huge flocks so easily. He studied this by both simulation and observation on large starling flocks in the wild. For more, visit
www2.warwick.ac.uk/newsandevents/pressreleases/the_mystery_behind.