Mooney, Friday August 22nd 2014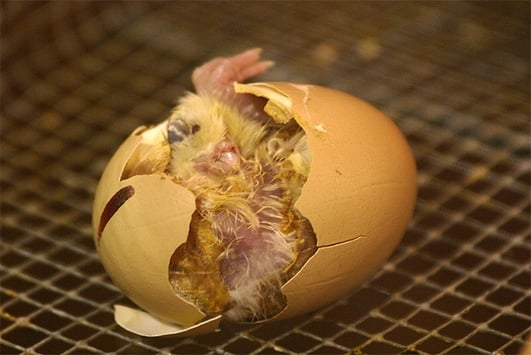 Sunblock In Eggshells
When we tap the top of our boiled eggs at the breakfast table, it's fair to say that few of us would pause to consider what makes up this firm but fragile substance.
The eggshell is mostly made up of calcium carbonate, but according to Dr. Stephen Portugal, eggshells are complex structures and far more sophisticated than many people would realise or appreciate.
He believes that eggshell pigmentation may act as 'sunblock' - controlling the light reaching embryos.
Dr. Steven Portugal is a lecturer in Animal Behaviour & Physiology from Royal Veterinary College, University of London, and he joins us this afternoon from the BBC studios in Oxford...
To read Dr. Portugal's paper First light for avian embryos: eggshell thickness and pigmentation mediate variation in development and UV exposure in wild bird eggs, click here.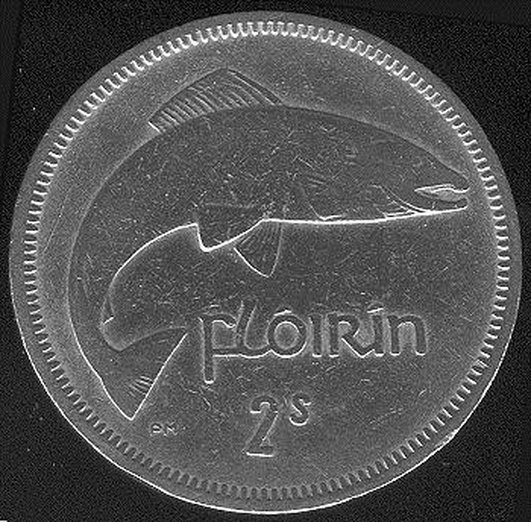 Irish Salmon Stocks
The salmon goes far back in Irish culture, at the very least as far back to the time of the Fianna when, as the story has been told down through generations, the young Fionn Mac Cumhaill mistakenly ate the salmon of knowledge he was cooking for his master. It is a food fit for a Queen, and we have even celebrated it on our currencies. So we would be a bit miffed if our iconic wild salmon disappeared from our waterways...
The Atlantic Salmon Trust, and other fishing organisations in England and Wales, has urged the Government there to take urgent action to halt the decline in salmon stocks following the worst estimates of salmon stocks on record.
To tell us what is going on there, and whether we have the same difficulties here in Ireland, we are joined this afternoon from RTÉ's Galway studio by Dr Cathal Gallagher, Head of Research for Inland Fisheries Ireland.
Dinosaur 13
If you play the above clip, you'll see the trailer of the documentary film Dinosaur 13, which is currently showing at the Lighthouse Cinema in Dublin. It tells the story of Sue, a Tyrannosaurus Rex skeleton discovered in South Dakota in 1990.
At that time, it was the largest, most complete T Rex ever discovered, and the palaeontologists who stumbled across the fossil should have expected international acclaim as a result. Instead they became embroiled in a battle with the FBI, the National Guard, court action and prison.
Our very own Dr. Richard Collins saw the film during the week, and he's in studio to give us his opinion on what he saw...
For the times that the film is screening in the Lighthouse Cinema, click here.
For more information about the film, visit www.dinosaur13movie.com.
New Elephant Calf At Dublin Zoo
Some good news coming out of Dublin Zoo in recent weeks and days; first of all, the news that a baby bull elephant was born to Elephant Mum Yasmin last month. And this week, ANOTHER bull calf born! It was born last Tuesday to Elephant Mum, Anak.
And if that wasn't enough, a THIRD pregnant cow is due to give birth in about a month's time!
It's all go at the Zoo, and it's been incredibly busy with visitors keen to see these cute little calves. Katriona McFadden heads over to the Zoo to meet up with Director Leo Oosterweghel at the elephant enclosure...
PRESS RELEASE: The baby boom continues! Dublin Zoo announce birth of second Elephant Calf!
The excitement continues at Dublin Zoo with the announcement of the arrival of a second Asian elephant calf this week. The healthy male calf was born to mother Anak at 6.24am on Tuesday 19th August weighing in at 70kg. This is another extraordinary achievement for the animal care team at Dublin Zoo.
The calf, which is yet to be named, will join the rest of the herd – Bernhardine, Asha, Yasmin and her new calf which was born last month, mum Anak and Dad Upali in the Kaziranga Forest Trail at Dublin Zoo which is sponsored by The Natural Confectionery Company.
Details of the 'Month of the Elephant' will be available at www.dublinzoo.ie from September 15th.
Leo Oosterweghel, Director at Dublin Zoo commented, "We are all so excited here at Dublin Zoo. To have two healthy elephant calves born in such quick succession is wonderful. We're really pleased to have such great support from the Lord Mayor, Dublin City Council and The Natural Confectionery Company and we hope that the 'Month of the Elephant' allows people learn more about these impressive animals."
The Natural Confectionary Company will be announcing details of the second naming competition on their Facebook page where another lucky family will get to officially name the new arrival at an event in Dublin Zoo.
Visitors can see Upali, Bernhardine, Asha and Anak and Yasmin with their new calves at the Kaziranga Forest Trail daily. You can also keep an eye on the herd on the elephant webcam at www.dublinzoo.ie. Details of the TNCC naming competition can be found on www.facebook.com/thenaturalconfectionerycom
The keeper talk 'Elephant Encounters' happens at 12.30pm every day so this is a good time to visit the Kaziranga Forest Trail to learn more about Asian elephants.
Search For A Child Star Finalists
Earlier this year, we launched our competition to find Ireland's newest child star. The competition was open to boys and girls who were aged 10 years old or under. We asked you to record a piece that was no more than three minutes long, and e-mail it in to us.
The finalists, in no particular order, are:
- Hannah Kinsella (9 years old, from Lucan, Co. Dublin) with Pushover
- Nikki Brown (8 years old, from Saggart, Co. Dublin) with Colours Of The Wind
- Anna Lily Fox (6 years old, from Ballinalee, Co. Longford) with a Johnny Cash medley
- Laoise Farrell (9 years old, from Ogonnolloe. Co. Clare) with The Call
- Alannah Bermingham (10 years old, from Kilmacud, Dublin) with Colours Of The Wind
The date for the final will be announced shortly and the winner will perform at our Christmas Mooney Tunes concert.