Mooney, Tuesday July 29th 2014
Dawn Chorus 2018
This year's Dawn Chorus programme will take place on Sunday, May 6th 2018, and will be broadcast from across Europe and beyond between midnight and 7am! For more information, click here.
Follow Us On Social Media:
Facebook: www.facebook.com/rtenature
E-mail Us: mooney@rte.ie
Caring For Wild Animals
Please note that many species of mammals, birds, invertebrates etc... are protected under law and that, even with the best of intentions, only someone holding a relevant licence from the National Parks & Wildlife Service should attempt the care of these animals. For full details, please click here to read the NPWS Checklist of protected & rare species in Ireland. If you are concerned about a wild animal, please contact your local wildlife ranger - click here for details.
Events & Listings
Click here for a full list of events taking place around the country, and movies currently on release, which might be of interest to wildlife lovers!
Nature LIVE
On Sunday May 6th, 2018, RTÉ's Wild Island season goes international as Derek Mooney hosts one of the most ambitious LIVE natural history programmes ever undertaken. Broadcasting live from six countries across Europe, Nature LIVE will showcase some of the continents most extraordinary wildlife, from Polar Bears in the Norwegian Arctic to Flamingoes in southern Spain to Basking Sharks off the west of Ireland. This one-hour special will be anchored by RTÉ presenter Derek Mooney from the banks of Dublin's River Liffey, with wildlife film-maker Colin Stafford-Johnson on the Blasket Islands.
Viewers can take part by sharing their own pictures and videos of nature and wildlife using #naturelive from wherever they live in Europe.
JOIN US
We have a limited number of audience tickets for this live event. Apply for tickets by email to natureliveaudience@rte.ie
Location: Sir John Rogerson's Quay, Dublin
Date: Sunday 6th May 2018
Time: 16.30 - 18.00
*Gates close at 16.45!
Please note that this is an unseated event and outdoors so you will need to wear appropriate clothing for the Irish weather. We need the following information: The number of tickets you are applying for. Your name, surname, age contact phone number and address. The names, surnames and ages of your guests.
*Unfortunately we cannot accommodate for Children under 12yrs. All minors under 16 must be accompanied by an adult/guardian
Tickets are limited so first come first served!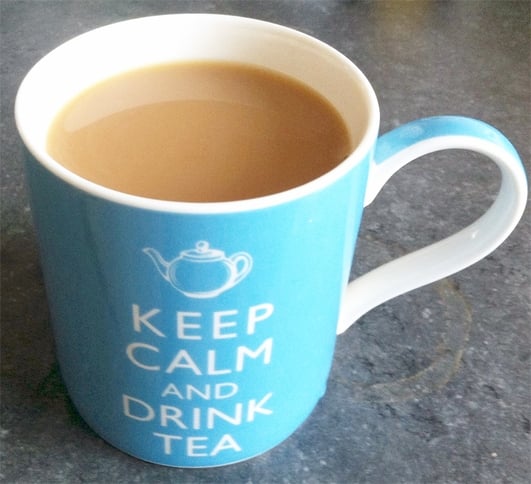 Irish Things That Baffle Foreigners
Ireland's obsession with tea goes back a long time, all the way back to our colonial days, most likely. And despite the Celtic Tiger rise of green teas, alternative teas, Tea infusions, and so on, the traditional cup of "scald", as they call it down the Wesht, still rules the roost. Most of us have had the old "Lyons versus Barry's" debate at some stage in our lives.
It's a debate that really confuses Larry Donnelly, an American in Galway. In fact, our fascination with that little act of putting a few black leaves into a cup of hot water, mixing in the little milk and sugar, and suddenly being at peace with the world, leaves him completely perplexed.
And that's not the only thing that mystifies him about the Irish. Why do we prefer rugby and soccer over our native Gaelic games? What's with that whole Eurovision thing?
Larry is a native of Boston, Massachusetts, but has dual Irish and American passports. He's a law lecturer at NUI Galway and a columnist at thejournal.ie, and he recently wrote a column entitled 10 Things I Still Just Don't Get About Ireland, and he joins us today from RTÉ's Galway studio to explain what those things are, and why he doesn't get our relationship with them!
To read Larry's original article, click here.
Searching For The Perfect Strawberry
On Saturday morning, Bláthnaid ni Chofaigh headed down to Wexford; her mission was to find the perfect strawberry.
Alanna's strawberry stall outside Gorey
Buying strawberries from Alanna
Bláthnaid next went to a second stall – owned an supplied by the same grower but this seems to cater mainly for locals – and it's situated just at the entrance to Green's farm.
Bláthnaid talking to Claire
It's interesting to note that locals seem to be indulging in a lot more jam making activity than strawberry eating!
So what is it about the sunny south east that makes its strawberries so uniquely succulent? Is it the quality of the soil or is there something in the Wexford air? For answers to those and other questions, Bláthnaid talked to John Green of Green's Fruits...
Blathnaid talking to John Green
Bláthnaid's sons enjoying the fruits of her labours!
Sailing From From Paris To Berlin
Last March Derek received an e-mail from a couple, Adrian and Nuala Gallagher. They told of their plans to take a 'Gap Year' and see a bit of the world.
However, they're not the typical early-twenty-somethings heading off to Thailand with a backpack on their back.
Nuala and Adrian onboard C'est La Vie
Their Gap Year consisted of buying a boat, naming it C'est La Vie, learning how to use it and navigating their way to Berlin, blogging along the way.
When we first met them they were just about to set off – but now they are back in Ireland and join us in studio this afternoon tell us how it went!
Adrian and Nuala are raising funds for St. Vincent de Paul (they met through the charity as they were both volunteers). Their target is€2000 target, and they would love people to pledge. To find out how, visit http://svp.ie/adrianandnualasgapyear. And to read their blog, detailing their journey, visit http://adrianandnualasgapyear.com.
Search For A Child Star Finalists
Earlier this year, we launched our competition to find Ireland's newest child star. The competition was open to boys and girls who were aged 10 years old or under. We asked you to record a piece that was no more than three minutes long, and e-mail it in to us.
The finalists, in no particular order, are:
- Hannah Kinsella (9 years old, from Lucan, Co. Dublin) with Pushover
- Nikki Brown (8 years old, from Saggart, Co. Dublin) with Colours Of The Wind
- Anna Lily Fox (6 years old, from Ballinalee, Co. Longford) with a Johnny Cash medley
- Laoise Farrell (9 years old, from Ogonnolloe. Co. Clare) with The Call
- Alannah Bermingham (10 years old, from Kilmacud, Dublin) with Colours Of The Wind
The date for the final will be announced shortly and the winner will perform at our Christmas Mooney Tunes concert.
Hedgerows: It is an offence to 'cut, grub, burn or otherwise destroy hedgerows on uncultivated land during the nesting season from 1 March to 31 August, subject to certain exceptions'. For more information, click here.
To contact your local wildlife ranger, click here for contact details. To read the Wildlife (Amendment) Act 2000, click here.
IMPORTANT NOTICE
Please DO NOT send any live, dead or skeletal remains of any creature whatsoever to Mooney Goes Wild.
If you find an injured animal or bird, please contact the National Parks & Wildlife Service on 1890 20 20 21, or BirdWatch Ireland, on 01 281-9878, or visit www.irishwildlifematters.ie