Mooney, Thursday April 17th 2014
Mooney
Derek Mooney with his unique mix of conversation, information, advice and entertainment
Mooney's Money
We've €1,000 to give away today to save or spend as you please, take a break from your bills, or a make a break to the sun, it's up to you!

For your chance to win the cash, answer the following competition question:
Thursday, April 17th 2014

True or false: Venice, Florence and Milan are all cities in Italy?
If you think you know the answer, call or text the competition line:

ROI: 1515 71 72 00

NI: 0901 293 3501
text MOONEY followed by your answer and name to 57111 (NI and ROI)

Each text entry costs €1 (incl VAT) or GBP £1.00. Calls from the eircom network will cost €1.02 (incl VAT) and from a BT landline will cost GBP £1.02. Calls from other networks and from mobiles will cost more.
Please note, the person named in the entry must be aged 18 years or older as at date of entry.
Competition lines open from 2pm and will close at 4.20pm today, (17/04/14). Please do not enter outside of the advertised competition window as you will be charged for your entry, but your entry will not be included. From time to time, these open/close times may vary. Any change to the standard open/close times will be announced here and on the show. The cash prize winner will be announced on-air towards the end of the Mooney show each day.

COMPETITION TERMS AND CONDITIONS

Call Service Provider: Phonovation. Tel: 0818 217 100.

Text Service Provider: Oxygen8/Xiam Interactive. Tel: 0818 444 433

Please do not enter outside the advertised competition open and close times and date(s) as you will be charged, but your entry will not be included in the draw. Please do not enter during programme replays on the RTÉ Radio Player after the advertised close time and date as you will be charged for your entry, but your entry will not be included as the competition will have closed.

Entrants must be aged 18 years or older as at date of entry and a resident of the Republic of Ireland or Northern Ireland in order to qualify as the prize winner.

Promoter reserves the right to request proof of age, verifiable by birth cert or passport only, and proof of residency, verifiable by recent utility bill only (issued within 6 months of win).

1 x Mooney's Money prize winners will win a €1,000 cash prize. (All cash prizes issued to the winner by euro cheque, made payable to the winner, allow 28 working days for delivery).
By entering the competition, the participants agree to be bound by the terms and conditions; that their surname and county of residence may be announced on-air if they win a prize; and agree to have their details/image/winner sequence used for promotional purposes if required.
Employees of RTÉ, Phonovation, Xiam Interactive and their associated partners, companies or suppliers and their immediate family members are not eligible to win/enter.

RTÉ's decision in relation to selection of winner is final and no correspondence will be entered into.
RTÉ standard competition terms and conditions also apply.
A Postcard From Italy...
The Godfather's Waltz must be one of the most played tunes of all times. It conjures images of sunshine and Sicily and godfathers!
But Italians don't like a growing international trend of using "mafia" as a marketing brand. It ranges from a chain of restaurants in Spain called 'La Mafia' to a German company, called 'Palermo Mafia Shooting' which makes and sells products such as 'Al Capone pasta' and 'Wicked Cosa Nostra sauce' to a book of recipes called "The Mafia Cookbook".
It does all seem a little, well, tasteless!
This afternoon, we travel to Perugia in Italy, to chat to Bray native, Kerry Waldron, about mafia restaurants, Silvio Berlusconi, a Disneyland for foodies, and the singing nun, Sister Cristina Scuccia, who is taking The Voice Of Italy by storm!
Mooney's Thursday Quiz
It's Mooney, it's Thursday, so it must be time for our Mooney's Thursday Quiz! And, we have a FANTASTIC prize up for grabs today!
It's a two-night weekend break in the 5 star luxurious K Club Hotel & Spa in Straffan, Co Kildare! The prize is based on two people sharing a Superior room, includes breakfast on both mornings and dinner on an evening of your choice in their River Room restaurant. You will also have complimentary access to the hotel's health club with its swimming pool, gymnasium, steam room and outdoor hot tub!
While you're there you can check out the K Spa or the two championship golf courses. And if you choose to visit over Easter there are lots of family-friendly events like an Easter Egg Hunt, the Easter Bunny will be there and there will be real baby chicks in the lobby.
Runners-up today will get a copy of The Way That I Went by Robert Lloyd Praeger - the book that inspired RTÉ's award-winning programme TV documentary The Secrets Of The Irish Landscape! And everyone who takes part in the quiz will get a Mooney PRIDE watch!
Mooney Tunes 10
Can you believe it? It's Mooney Tunes time again, and astonishingly, we are approaching our tenth concert!
It all started in September 2009, at the National Concert Hall. The very first Mooney Tunes featured music such as Send In The Clowns, The Anvil Chorus and even the theme from Hawaii Five-O.
Over the last nine concerts, there hasn't been any genre of music we haven't covered. We've done a lot of classical favourites, we've had arias and choruses from some of the greatest operas ever written.
In the last concert, Mooney Tunes 9 in December last year, we did some incredible jazz, like Jack L singing My Way, and the big band orchestra performing Sing Sing Sing by Benny Goodman.
We've had pop, traditional Irish, even country music - Daniel O'Donnell went down a treat at Mooney Tunes 7!
All in all, over the nine concerts so far, we have brought you a total of 152 pieces of music. They were performed by some of the cream of Irish and international talent, accompanied by the RTÉ Concert Orchestra.
Everybody from sopranos Cara O'Sullivan and Claudia Boyle, tenor Paul Potts, baritone John Molloy have performed. We've had Brian Kennedy, Jerry Fish, Chloe Agnew, John Sheehan from the Dubliners. We also did a special Eurovision tribute, with Niamh Kavanagh, Linda Martin, Paul Harrington and Charlie McGettigan.
Anyway, the good news is, we want to bring you another gem of a show. And, since it's our 10th concert, we've decided to a kind of "best of".
We would like you, our listeners, to tell us your favourite moments from the last nine shows. Now, you don't have to have been to the shows to nominate a favourite moment. All of the concerts have been broadcast on RTÉ Radio One shortly after the live performances.
And to help, here's a list of every single piece of music that we have featured!
LIST OF MUSIC PLAYED AT MOONEY TUNES CONCERTS
01. Begin The Beguine
02. Ev'ry Time We Say Goodbye
03. Lizst Rhapsody No. 2
04. Beat Out That Rhythm
05. O Mio Babino Caro
06. Pink Panther Theme
07. Chiqitta
08. Pure Imagination
09. Silent Night
10. Che Gilida Manina
11. Nessun Dorma
12. My Way
13. Under My Skin
14. When A Child Is Born
15. Sing Sing Sing
16. Let It Snow
17. Strauss
18. Also Sprach Zarathustra
19. Bridge Over Troubled Water
20. E il Sol Dell Amina from Rigoletto
21. Donizetti – Una Furtiva Lagrima
22. Superstar
23. Tchaikovsky-Polonaise Onegin
24. Roll Back The Clouds
25. She's Out Of My Life
26. You Don't Have To Say You Love Me
27. Bond Theme
28. Moonraker / Diamonds Are Forever
29. Minuet & Badiniere from Orchestral Suite No. 2
30. Edelweiss
31. My Heart Will Go On
32. Lonesome Boatman
33. O Holy Night
34. Mediation from Thais
35. That's Amore
36. In Paradisum
37. Gabriel's Oboe
38. The Way We Were
39. Last Christmas
40. Hark The Herald Angels Sing
41. As Long As He Needs Me
42. Soul Bossa Nova
43. Marriage Of Figaro: Duettino Sul Aria
44. One Day Like This
45. Jerusalem
46. Swan Lake: Introduction
47. Send In The Clowns
48. I Left My Heart In San Francisco
49. My Heart Will Go On
50. Les Mis: Bring Him Home
51. Carmen: Intermezzo
52. Ain't No Mountain High Enough
53. South Pacific - Some Enchanted Evening
54. Verdi - La Traviata - Siempre Libre
55. Have I Told You Lately
56. Time To Say Goodbye
57. True Friends
58. Hello Dolly
59. Daydream Believer
60. Requiem - Pie Jesu
61. Someone To Watch Over Me
62. The Sound Of Music: Climb Every Mountain
63. The Producers
64. Nessun Dorma
65. Star Of Bethlehem
66. Nowhere Man
67. Marino Waltz
68. The Christmas Song
69. Hope from 'Irish Destiny'
70. In Your Eyes
71. Why Me?
72. Rock 'n' Roll Kids
73. O Holy Night
74. Dances With Wolves
75. Wind Beneath My Wings
76. Old Man River
77. Fields of Athenry
78. Raindrops Keep Falling On My Head
79. O Mio Babbino Caro
80. Suite from The Quiet Man
81. Over The Rainbow
82. Libertango
83. Adagio from Spartacus
84. The Bridge (An Droichead)
85. Theme from JFK/West Wing
86. Memory from Cats
87. Un Bel Di
88. Ave Maria
89. Elizabethan Serenade
90. Born Free
91. Can't Take My Eyes Off of You (You're Just Too Good To Be True)
92. As Long As He Needs Me
93. Por Una Cabeza
94. Troika
95. When A Child Is Born
96. I'll Be Home For Christmas
97. Baby, It's Cold Outside
98. Trepak from The Nutcracker Suite
99. Once Upon A Time In The West
100. Vilia from The Merry Widow
101. Jingle Bells Forever
102. Va Pensiero (Chorus of the Hebrew Slaves)
103. Song Of Bernadette
104. Harry's Wonderous World
105. Lament
106. You Raise Me Up
107. Silent Night 1915
108. Do Re Me
109. Somewhere Over The Rainbow
110. O Holy Night
111. A Christmas Festival/ Sleigh Ride
112. Theme From Dragnet
113. Fiddler On The Roof
114. Nella Fantasia
115. Flower Duet
116. Champagne Polka
117. One Fine Day (from Madame Butterfly)
118. The Coolin
119. Hymn To Hope
120. Everybody Hurts
121. 80's TV Themes Medley
122. We Have All The Time In The World
123. 633 Squadron
124. Star Trek
125. Le Basque
126. Cavatina
127. We Shall Overcome
128. It's For You
129. When I Fall In Love
130. Hallelujah
131. Cinema Paradiso
132. Impossibly Beautiful
133. Danny Boy
134. You'll Never Walk Alone
135. Riverdance
136. Hawaii Five-O
137. William Tell Overture
138. A Summer Place / Music To Watch Girls By
139. Everybody's Talking
140. Sunday Miscellany theme
141. Onedin Line / Spartacus
142. Gabriel's Oboe – The Mission
143. Radetsky March
144. Anvil Chorus
145. Mise Eire
146. Classical Gas
147. If
148. Ravel's Bolero
149. Barccarolle - O Sole Mio
150. Chariots Of Fire
151. Hallelujah Chorus
152. Cavalleria Rusticana
Mooney Tunes 10 will take place on Friday, June 13th at the Bord Gáis Energy Theatre at 8pm. Tickets will go on sale the program is finalised. We want people to nominate from the list of tunes on the website. And we may even include a couple of surprises. It will be the middle of the summer, so why not think of some of your summer favourites!? E-mail mooney@rte.ie, with the subject line 'Mooney Tunes 10'!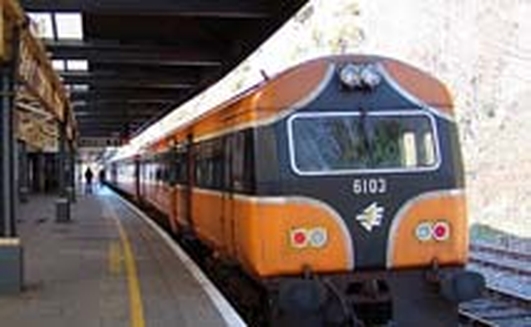 The Journey's On Us - Irish Rail Initiative
One of the things that Mooney is delighted to be involved with is the "Journey's On Us" initiative with Irish Rail. This is where voluntary community charity groups can apply to win a return free rail travel trip, anywhere in the country, for them and up to 50 members of the group. But they threw in a little extra this year, where they asked the different groups who travelled to tell them about their experience of their journey with Irish Rail. And they had a special prize for the winning group. This morning, Brenda has been to the swimming pool in Kells in Co. Meath to present the winning group with a cheque for €500. So who are they, and why did they win?
Special Hands are a group that provides activities for children from two to thirty with special needs – anything from swimming, pottery, cooking to beauty treatments. Brenda went to meet the group this morning, and found out more about their activities...
The Special Hands group in Kells
Brenda chats to Teresa Odlum and her son Daniel, age 15
Brenda with Rita Butterly, from Irish Rail, and Emma Brady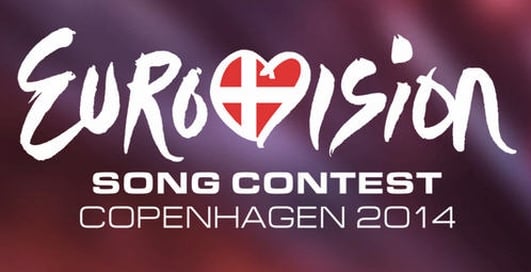 Eurovision Green Room Party
Join Mooney in our Eurovision Green Room at the Bord Gáis Energy Theatre on Saturday, May 10th 2014. The party takes place in the Circle Club.
If you want to be there, all you have to do is tell us in not more than forty words why you and a friend or friends LOVE the Eurovision. All entrants/attendees must be over 18. If you are lucky enough to receive a golden invitation to our EUROVISION GREEN ROOM you will get to see all the action as it happens live from Copenhagen.
Tickets will be allocated to couples and groups of four people.
All attendees must make their own way to and from the venue.
There is no cash alternative to this prize.
Closing date for receipt of entries is April 25th 2014
Usual RTE terms and conditions apply.
Success For Secrets Of The Irish Landscape!
Many of you will be familiar with the fantastic Secrets Of The Irish Landscape that was broadcast last year on RTÉ One. This three-part television documentary, hosted by Derek Mooney, followed the footsteps of Robert Lloyd Praeger, Ireland's greatest naturalist and author of the iconic book The Way That I Went.
The series examined many little understood aspects of the Irish Landscape from the last Ice Age until now, with some intriguing findings! It was a huge success when it aired, becoming a firm favourite with audiences and critics alike. And the plaudits keep on coming! Last week, Secrets Of The Irish Landscape won gold at the New York World's Best Film and Television Awards 2014 for the best documentary series in science and technology!
PRESS RELEASE:
RTÉ Wins Gold at NEW YORK WORLD'S BEST FILM AND TELEVSION FESTIVAL 2014
The RTÉ Cork series Secrets Of The Irish Landscape, presented by Derek Mooney and broadcast on RTE One last May, has WON GOLD at the final of one of the world's most prestigious film and television competitions: the New York World's Best Film and Television Awards 2014, for the best documentary series in science and technology. The awards are now in their 57th year. Secrets Of The Irish Landscape competed against entries from 36 countries.
The three-part series follows in the footsteps of Robert Lloyd Praeger, (Ireland's greatest naturalist and author of the iconic book The Way That I Went), as Derek updates the history of how the Irish landscape came into being, using the very latest science and research.
The series was produced in RTÉ Cork, by Head of RTÉ Cork Colm Crowley in association with the National Botanic Gardens and UCC, and was backed by the Broadcasting Authority of Ireland.
At the Award Show in Las Vegas (which was held as part of NAB, the USA's national association of broadcasters convention on April 8th),
Derek Mooney said;
"I love making nature programmes. It's part of who I am. I'm genuinely thrilled we've won this award, not just for myself but the crew and for RTÉ. When we think of science and nature programmes we tend to believe that only the BBC can make them but this proves we can do them just as well, if not better. It's fantastic that a very Irish story, about how we got our landscape, has found such a universal resonance and connected with others around the world, and that we also got the chance to celebrate the work one of one Ireland's greatest scientists on the world's stage. I was aware of Praegers' work but it wasn't until I journeyed in his footsteps that I fully appreciated the man. The success of this programme on the international stage will, I hope encourage RTÉ to develop this genre of TV. There is a market for natural history programmes in Ireland and there is plenty of subject matter for TV producers to focus on – bring it on!"
Colm Crowley, Barry Donnellan and Derek Mooney
Colm Crowley said:
"It's is a real honour to represent RTÉ at this prestigious festival, which has given us a chance to showcase the work of Irish television on an international stage. Winning gold at this event is a fantastic tribute to the RTÉ Cork team that put the show together, and a special thanks to Derek and his radio team who also contributed hugely to the making of this series. Also special thanks to the chief series consultant Matthew Jebb, Director of the National Botanic Gardens, who was centrally involved in developing the series."
This is the third major nomination the series has received in the last few months. The book to accompany the series was a finalist in the Irish Book Awards and the series also has received a nomination for the Houston Film festival in Texas.
The series is currently on air in Australia and Canada.
The series was shot in HD by freelance DOP Barry Donnellan on a Cannon C 300 camera, with additional photography by RTÉ Cork's Ben Kilroy and a small team of specialists' landscape photographers.
The series was edited by freelance editor Cliona Nolan and RTÉ staff editor Sean Mooney, and dubbed in RTÉ Cork by Niall O'Sullivan. Location sound was recorded by freelance Kieran Curtin and RTÉ Cork staffer Brendan Cahill.
The programme was researched by freelance Naoimh Reilly.
A complex media management solution was required to handle the HD work flow which was managed by Antoin O Callaghan and John Lynch in Cork, and the series was graded in Windmill Lane by Dave Hughes.
The production co-ordinators who worked across the 12 month shoot were Aoife O'Callaghan and Sonya O'Neill
The chief series consultant was Matthew Jebb, Director of the National Botanic Gardens.
About the 2014 NAB Show
NAB Show, held annually in Las Vegas, is the world's largest electronic media show covering filmed entertainment and the development, management and delivery of content across all mediums. With nearly 95,000 attendees from 156 countries and more than 1,500 exhibitors, NAB Show is the ultimate marketplace for digital media and entertainment. From creation to consumption, across multiple platforms and countless nationalities, NAB Show is home to the solutions that transcend traditional broadcasting and embrace content delivery to new screens in new ways. Complete details are available at www.nabshow.com.
About NAB
The National Association of Broadcasters is the premier advocacy association for America's broadcasters. NAB advances radio and television interests in legislative, regulatory and public affairs. Through advocacy, education and innovation, NAB enables broadcasters to best serve their communities, strengthen their businesses and seize new opportunities in the digital age. Learn more at www.nab.org.
National Dawn Chorus Day
National Dawn Chorus Day will take part on Sunday, May 18th 2014. If you are part of a group who will be taking part in a Dawn Chorus event in your local area, and want to register your event with us, please send full details - name, contact number, what will be happening and where, to mooney@rte.ie, with the subject line 'Dawn Chorus 2014'. And who knows, we may contact you during our Dawn Chorus broadcast!
Where will you be on National Dawn Chorus Day?
Hedgerows
It is an offence to 'cut, grub, burn or otherwise destroy hedgerows on uncultivated land during the nesting season from 1 March to 31 August, subject to certain exceptions'. For more information, click here.
To contact your local wildlife ranger, click here for contact details. To read the Wildlife (Amendment) Act 2000, click here.
Caring For Wild Animals
Please note that many species of mammals, birds, invertebrates etc... are protected under law and that, even with the best of intentions, only someone holding a relevant licence from the National Parks & Wildlife Service should attempt the care of these animals. For full details, please click here to read the NPWS Checklist of protected & rare species in Ireland. If you are concerned about a wild animal, please contact your local wildlife ranger - click here for details.
IMPORTANT NOTICE
Please DO NOT send any live, dead or skeletal remains of any creature whatsoever to Mooney Goes Wild. If you find an injured animal or bird, please contact the National Parks & Wildlife Service on 1890 20 20 21, or BirdWatch Ireland, on 01 281-9878, or visit www.irishwildlifematters.ie