Mooney, Friday April 11th 2014
On Mooney Goes Wild today, with Marty Morrissey
We report on a new citizen-science initiative, aiming to monitor the health of our rocky shore animals, key indicators of rising sea and air temperatures. Hedgehogs are waking up after a long hibernation. But what can you do to help them recover the 30% body fat they lost over the winter period? And we visit the newly-refurbished Airfield Trust, in Dublin 14, where young urban children are introduced to the joys of rural life!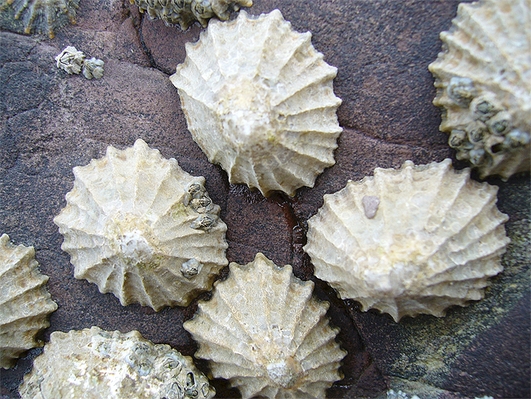 Looking For Limpets
Last week on the programme we spoke to the man responsible for counting how many butterflies in Ireland. Dr. Tomás Murray is an ecologist with the National Biodiversity Data Centre. And he told us how using "citizen scientists" around the country helped him get very valuable data about butterfly populations.
This afternoon, we are joined from the RTÉ Galway studio by Dr Louise Firth, Lecturer in Zoology at NUI Galway. She is also looking for citizen scientists. But she wants them to count the sea urchins and limpets and barnacles in all the rock pools and crevices around the shores of the West of Ireland....
For more information visit: http://www.mba.ac.uk/shore_thing/resources.html, and to get involved, e-mail shorethingireland@gmail.com.
Pheasants Flying Into Gable Wall
We had an interesting e-mail to the programme recently from Deirdre Ní Cinnéide. Deirdre lives on Aran Mór and recently she has had the experience of seeing not one, but three pheasants fly into the gable end wall of her house.
Was this just a coincidence, or is there something more sinister at play? We sent our reporter, Terry Flanagan, off to meet Deirdre to see could he could help solve this problem...
Pheasant
International Meeting of Young Beekeepers
We're delighted to be joined in studio today by a good friend of Mooney Goes Wild: Philip McCabe. And alongside Philip is a young man who may well be taking his place over the coming years as our resident expert on all things bee-related.
His name is Jordan O'Neill, he's from Dundalk, Co Louth, and he has just turned 16 years of age. Jordan is one of Ireland's leading young beekeepers, and is are hoping to go to the International Meeting of Young Beekeepers in Poland...
Airfield Reawakens
After two years of extensive renovations, the Airfield farm in Dundrum in Dublin opened this week. This 38 acre working farm, gardens, café and heritage experience was first established by the Overend Family in 1974 for educational and recreational purposes.
It offers offer visitors a wonderful opportunity to enjoy and learn about food, farming and the natural world, as Eanna ni Lamhna found out when she went there earlier this week...
She talks to some of those working at Airfield, including Michael Jacob, who guides schoolchildren around the farm, and Eamon Young, who is the farmer at Airfield.
Airfield Awakens, the launch of the newly renovated Airfield, takes place this weekend, April 12th and 13th. There will be special talks, tours and workshops. For more information about Airfield, including maps, prices and opening times, visit http://www.airfield.ie/.
And the good people at Airfield very kindly offered us five family passes for you, our listeners, to the first five people to text us the word 'Airfield'. Thank-you to everybody who entered; our five winners are: Frank Fleming from Glasnevin, Dublin, Lorraine Kelly from Ballymore Eustace, Co. Kildare, Ronan O'Driscoll from Sutton, Dublin, Therese Meacle from Tullamore, Co. Offaly and Alison Carbally from Wicklow. Congratulations!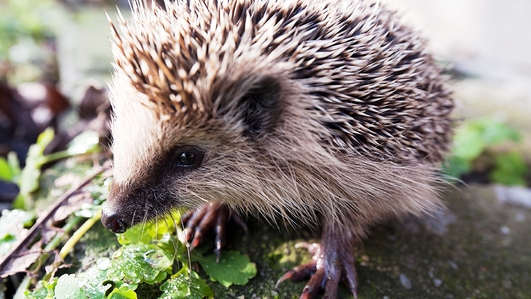 Hedgehogs Are Waking Up
It's the time of year when, with the weather warming up, the hibernation season is at an end and as we speak hedgehogs all over Ireland are on the hunt for food to replace the fat reserves they used up during their long sleep.
On awakening, their need to feed is urgent.
In the UK, the hedgehog population has declined by a third in the last ten years and the RSPB is calling on people to make their gardens as wildlife-friendly as possible and to leave hedgehog-friendly food around for any prickly visitors who may happen by.
Dr Amy Haigh is a Post-Doctorate Researcher in University College Cork. She's currently studying Red Squirrels on Fota Island, but in 2011 she completed a PHD on the Ecology of the European Hedgehog in Rural Habitats in which she researched habitat use, feeding and courtship behaviour, and she joins us from RTÉ's Cork studio...
What can we do to help the hedgehog? Traditionally we were told to leave out bread and milk but this is NOT the right thing to do...
Hedgehogs are lactose intolerant, so that is the worst possible thing for them! Dried cat biscuits are good. WE DO NEED TO FEED THEM. People kill slugs in gardens to protect plants and slugs are natural diet for hedgehogs. Fences and boundaries on gardens make it hard for hedgehogs to move between habitats – it's a good idea to leave some overgrown areas in gardens for things to happen naturally.
Hedgehogs like to hide in leaves/grass cuttings / compost / rubbish – check them before burning/cutting/mowing /forking/disposing etc
Plastic items can trap/ensnare/cut hedgehogs
They can fall down holes into troughs/vessels/pools – if you can't stop them falling in make sure they have a way out
Dogs are bad for hedgehogs – know what they're doing late at night!
If you accidentally disturb a hedgehog nest, carefully replace the material and they'll repair it or move on. Avoid touching any young in the nest; avoid wakening a hibernating adult. If you do waken it – leave some food – just in case!
How Many Insects Do Bats Eat?
Every week, our e-mail system bulges with questions for our wildlife experts, who do their best to provide advice and identify the photos you send in. But we received a particularly interesting question this week. You may remember that a couple of weeks ago, Derek spoke to Dick Warner about his new TV show, The Park... Well if you were watching that show last Sunday, you will have heard Ferdia Marnell, Head of Ecology with the National Parks & Wildlife Service, talking about the bats that can be found in the park. And if you missed that episode, you can watch it back here: http://www.tv3.ie/3player/show/584/78263/1/The-Park.
Did you catch that at the beginning? 3000 insects? Well one of our listeners, Cathy, was watching and was so intrigued by that, that she sent us this e-mail:
Hi Derek
I managed to catch part of the Killarney National Park on the Telly and the Bat-man mentioned that the lesser horse shoe bat consumes approx 3,000 insects per night. I have no reason to disbelieve the chap. However, I am baffled to know what the procedure is that draws this conclusion. How in the name of heavens can that be measured?! I've a few theories as to how this could be done but cannot see these ideas working in practice.
Do you know how they measure this??
Love the show! Regards, Cathy
Well, to tell us how we know about the diet of the Lesser Horse Shoe Bat, we're joined on the line by Dr Daniel Buckley, a bat specialist working for Scott Cawley ecological consultancy and Chairman of the Irish Wildlife Trust...
National Dawn Chorus Day
National Dawn Chorus Day will take part on Sunday, May 18th 2014. If you are part of a group who will be taking part in a Dawn Chorus event in your local area, and want to register your event with us, please send full details - name, contact number, what will be happening and where, to mooney@rte.ie, with the subject line 'Dawn Chorus 2014'. And who knows, we may contact you during our Dawn Chorus broadcast!
Where will you be on National Dawn Chorus Day?