Mooney, Friday March 28th 2014
This year's Dawn Chorus programme took place on Sunday, May 6th 2018, and was a roaring success! All India Radio producer Monika Gulati sent us a pic of herself sporting our Dawn Chorus beanie!!
May Events
Well whilst our Dawn Chorus programme may have finished for another year, throughout May, events are still taking place around the country to celebrate the beautiful birdsong that our feathered friends provide. For more information on these events, and on the annual Burren In Bloom festival that takes place from May 18th - 20th, visit our events listings page! And if you have an event you'd like to let our listeners know about, e-mail mooney@rte.ie.
Follow Us On Social Media:
Facebook: www.facebook.com/rtenature
E-mail Us: mooney@rte.ie
Caring For Wild Animals
Please note that many species of mammals, birds, invertebrates etc... are protected under law and that, even with the best of intentions, only someone holding a relevant licence from the National Parks & Wildlife Service should attempt the care of these animals. For full details, please click here to read the NPWS Checklist of protected & rare species in Ireland. If you are concerned about a wild animal, please contact your local wildlife ranger - click here for details.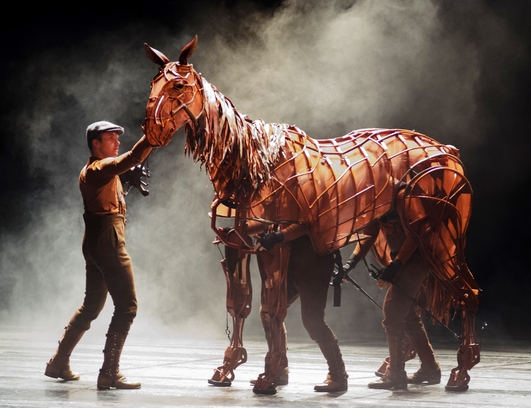 War Horse
On Wednesday, Richard Collins went along to the opening night of the play War Horse, in Dublin's Bord Gáis Energy Theatre. It's a production that has been winning universal rave reviews, but what would our Richard make of it? He joins us in studio to give us his reaction to the performance he saw...
War Horse continues at the Bord Gáis Energy Theatre until April 26th, with tickets costing from €20 to €60. For more information, click here...
Dairy Farms In New Zealand
Visitors from New Zealand will have heard of the Selwyn River which flows through the Selwyn District of Canterbury in the South Island. It's a huge river, 80km long. But according to our marine biologist Ken Whelan, it's gone! It's an ex-river!
Ken was there for five weeks, from mid-January to late-February. New Zealand is getting into dairy farming in a big way because there is such a big demand for milk powder from the Chinese.
Dairy farming extracts huge amounts of water and this has caused a lot of controversy among farmers, environmentalists, politicians and tourist organisations. Ken joins us in studio today with more...
Irrigration Units in New Zealand
Irrigration Units in New Zealand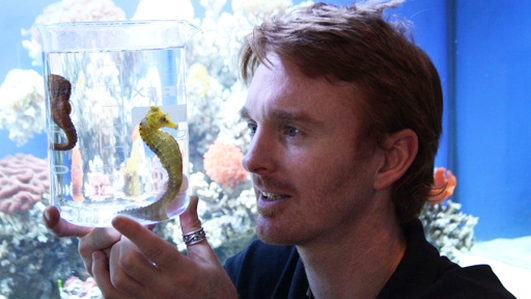 Saving Seahorses
According to the marine biologist Kealan Doyle, seahorses could be extinct in 8517 days from today! Last year his documentary Save Our Seahorses enthalled audiences on RTÉ. Did you know that the seahorse is the only animal in the world where the male gives birth, and they can give birth to 4,000 babies at a time?! Pregnancy lasts for two weeks and labour for two hours. And did you also know that the male dances around the female every single morning? They are most fascinating fish, and we're delighted that Kealan joins us in studio this afternoon to tell us more about the seahorse - and what we can do to prevent their extinction...
For more information about Kealan, visit www.saveourseahorses.org or www.Seahorseaquariums.com.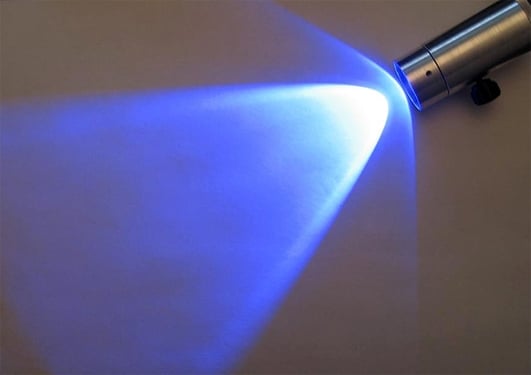 UV Light & Migration
Ultraviolet light gives us suntans, sunburn, it helps us make Vitamin D – but we humans can't see it. It's invisible to us. But NOT to many animals. Their eyes CAN see UV light and, as a result, they see the world very differently to us. Reindeer's eyes are particularly UV-sensitive. It's estimated that a high-tech camera can only pick up 5 percent of the UV light that a reindeer's eye can!
But why is this important?
Well, there are all sorts of sources of UV Light. One of them is from overhead power cables. And it turns out that reindeer, and other animals, are being scared off by the UV flashes that emit from these power cables - flashes that we humans can't see. And it's affecting habitats and migration.
Glen Jeffrey has been doing research into this. He is a Professor of Neuroscience at University College London – he specialises in how animals see the world - and he joins us this afternoon from the BBC London studios...
Hedgerows: It is an offence to 'cut, grub, burn or otherwise destroy hedgerows on uncultivated land during the nesting season from 1 March to 31 August, subject to certain exceptions'. For more information, click here.
To contact your local wildlife ranger, click here for contact details. To read the Wildlife (Amendment) Act 2000, click here.
IMPORTANT NOTICE
Please DO NOT send any live, dead or skeletal remains of any creature whatsoever to Mooney Goes Wild.
If you find an injured animal or bird, please contact the National Parks & Wildlife Service on 1890 20 20 21, or BirdWatch Ireland, on 01 281-9878, or visit www.irishwildlifematters.ie