Mooney, Tuesday February 18th 2014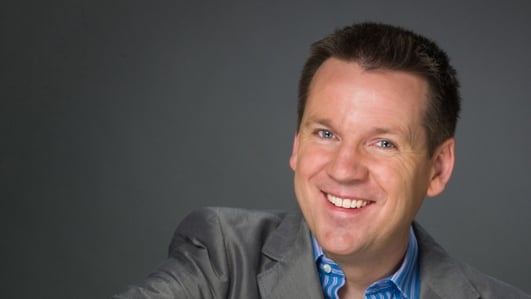 Mooney
Derek Mooney with his unique mix of conversation, information, advice and entertainment
Car Stickers
Derek chats with Brenda Donohue, Mooney reporter, about individually named 'on board' car stickers
Swan Lake
Ballet is not everybody's cup of tea, but let's be honest - most people who turn their noses up at ballet have never actually been to see a production of any kind, let alone something as spectacular as Swan Lake!
Matthew Bourne's Swan Lake comes to the Bord Gáis Energy Theatre next week. It opens on Tuesday, February 25th. And if you want to see a display of strength, agility, athleticism, and artistry at the highest level, you could do worse than taking a look at this particular production.
So, in the interests of exploring the challenges of performing ballet at this level, we've decided to send two men along to the gala opening next week.
Both know a thing or two about athleticism. Both have achieved great things in their particular disciplines at the highest level. Both have agreed to learn a thing or two from each other coming, as they do, from very different perspectives.
Our first reviewer is Stephen Brennan, education officer at Ballet Ireland, and our second reviewer is none other than former Irish rugby international, Neil Francis...
For more information about the forthcoming production of Matthew Bourne's Swan Lake, visit www.bordgaisenergytheatre.ie. The performances run from Tuesday, February 25th until Saturday, March 1st.
We got some great reaction to the interview today, including this amazing caricature, sent in to us from a very quick-thinking listener, Niall O'Loughlin!
For more information about Niall's work, visit www.caricatures.ie , on Twitter or on Facebook.
Mooney's Search For A Child Star!
Here on Mooney, we are trawling the country for talented children who are confident performers – to find Ireland's next child star. The competition is open to boys AND girls – as long as you're 10 years old or under. To enter all you have to do is record a piece that's no more than three minutes long, tell us where you're from and how old you are - and entries must come in to us via parents or guardians.
You can record it on your iPhone, smart phone, computer, or in a studio – whichever is available to you.
Then e-mail your entry to mooney@rte.ie, putting "SEARCH FOR A CHILD STAR" in the subject field.
Remember, the competition is open to children 10 years old or under. Tell us where you're from and give us a phone number so that we can get in touch with you! Make sure you have the consent of your parent or guardian.
The Overtones
You may love them or loathe reality shows like The X Factor and The Voice, but they're a great way of hearing old songs sung in a new fashion. Michael Bublé has made himself a household name by re-working old numbers – Westlife were pretty good at it too, back in the day - and sometimes, when you're on a night out, all you want is a few good sing-along 'covers' to listen or dance to.
Well, enter The Overtones!
They're a 5-piece, sharply-dressed ensemble of former painters who have been do-wopping their way all over the UK playing classic hits from the 50s and 60s...
The Overtones are currently touring Ireland with their third album featuring music from the movies, and today Mark Franks, Mike Crawshaw, Lachie Chapman, Timmy Matley and Darren Everest AKA 'The Overtones', join us in studio!
Numismatician Michael Kelly (Expert Coin Collector)
There's no-one to compare to the great John McCormack, and we don't need an excuse to play his music! But we have good reason today, because our next guest has very kindly brought in three €10 Silver Proof John McCormack commemorative coins that were launched last month by the Central Bank. And he is going to give them away to 3 lucky listeners.
It has been a long time since we have had a visit from our numismatist Michael Kelly, a man who collects and values coins, tokens, banknotes, stamps and medals.
And since the since Irish International Coin Fair is taking place at the RDS this weekend, it is timely that we have him in! He tells us about the Fair, the John McCormack coin, and two more rare coins:
1992 ten pence coin
The last time Michael was on, he spoke about a 1992 ten pence coin piece. It had a salmon on one side and a harp on the other. At the time there was only two of these coins known. They are very valuable - one sold at auction for €10,000 a year and a half ago!
1985 20 pence coin
About 600 of these were made. They would have been given out to phone companies and the like for them to test them on their slots and the majority of them would have been returned for destruction. However 22 weren't returned. Michael has accounted for about seven of them so it means there is 14 / 15 still out there. They would also sell for about €10,000.
Irish International Coin Fair
The Irish International Coin Fair will be taking places in the Serpentine Hall in the RDS this weekend on Saturday and Sunday from 11 am – 6 pm. It is organised by The Numismatic Association of Ireland. Admission is €5. To contact Michael, call or text 086 871-4880.
Hedgerows
It is an offence to 'cut, grub, burn or otherwise destroy hedgerows on uncultivated land during the nesting season from 1 March to 31 August, subject to certain exceptions'. For more information, click here.
To contact your local wildlife ranger, click here for contact details. To read the Wildlife (Amendment) Act 2000, click here.
Caring For Wild Animals
Please note that many species of mammals, birds, invertebrates etc... are protected under law and that, even with the best of intentions, only someone holding a relevant licence from the National Parks & Wildlife Service should attempt the care of these animals. For full details, please click here to read the NPWS Checklist of protected & rare species in Ireland. If you are concerned about a wild animal, please contact your local wildlife ranger - click here for details.
IMPORTANT NOTICE
Please DO NOT send any live, dead or skeletal remains of any creature whatsoever to Mooney Goes Wild. If you find an injured animal or bird, please contact the National Parks & Wildlife Service on 1890 20 20 21, or BirdWatch Ireland, on 01 281-9878, or visit www.irishwildlifematters.ie