Mooney, Tuesday February 4th 2014
Dawn Chorus 2018
This year's Dawn Chorus programme will take place on Sunday, May 6th 2018, and will be broadcast from across Europe and beyond between midnight and 7am! For more information, click here.
Follow Us On Social Media:
Facebook: www.facebook.com/rtenature
E-mail Us: mooney@rte.ie
Caring For Wild Animals
Please note that many species of mammals, birds, invertebrates etc... are protected under law and that, even with the best of intentions, only someone holding a relevant licence from the National Parks & Wildlife Service should attempt the care of these animals. For full details, please click here to read the NPWS Checklist of protected & rare species in Ireland. If you are concerned about a wild animal, please contact your local wildlife ranger - click here for details.
Events & Listings
Click here for a full list of events taking place around the country, and movies currently on release, which might be of interest to wildlife lovers!
Nature LIVE
On Sunday May 6th, 2018, RTÉ's Wild Island season goes international as Derek Mooney hosts one of the most ambitious LIVE natural history programmes ever undertaken. Broadcasting live from six countries across Europe, Nature LIVE will showcase some of the continents most extraordinary wildlife, from Polar Bears in the Norwegian Arctic to Flamingoes in southern Spain to Basking Sharks off the west of Ireland. This one-hour special will be anchored by RTÉ presenter Derek Mooney from the banks of Dublin's River Liffey, with wildlife film-maker Colin Stafford-Johnson on the Blasket Islands.
Viewers can take part by sharing their own pictures and videos of nature and wildlife using #naturelive from wherever they live in Europe.
JOIN US
We have a limited number of audience tickets for this live event. Apply for tickets by email to natureliveaudience@rte.ie
Location: Sir John Rogerson's Quay, Dublin
Date: Sunday 6th May 2018
Time: 16.30 - 18.00
*Gates close at 16.45!
Please note that this is an unseated event and outdoors so you will need to wear appropriate clothing for the Irish weather. We need the following information: The number of tickets you are applying for. Your name, surname, age contact phone number and address. The names, surnames and ages of your guests.
*Unfortunately we cannot accommodate for Children under 12yrs. All minors under 16 must be accompanied by an adult/guardian
Tickets are limited so first come first served!
Learning Languages
On yesterday's programme, Brenda Donohue reported back on some French classes for children that were being held in Castleknock, in Dublin. We received a huge amount of feedback on the item, including this e-mail from Gillian:
Hi Derek and Brenda,
My name is Gillian O'Donovan and I teach pre school and primary school children languages here in County Sligo, I set up my business, First Time French in January and would love if you could give it a small mention on your show.
I've had wonderful feedback from parents who can't get over how quickly the children absorb the language.
My website is www.firsttimefrench.com and my phone number is 086 151-4655 if anyone in the Sligo area is interested in classes.
Many thanks,
Gillian O'Donovan
Human Milk Bank
A few weeks on the show Brenda asked the question: are there any Irish wet nurses? A wet nurse is a woman who breastfeeds and cares for another's child. Wet nurses are employed when the mother is unable or chooses not to nurse the child herself.
Lots of you texted and e-mailed the programme, telling is about The Western Trust Human Milk Bank. This is Ireland's only milk bank, located in Co. Fermanagh. The co-ordinator in Anne McCrea and recently she was in Dublin delivering breast milk - Brenda caught up with her to find out more...
For more, find out www.westerntrust.hscni.net.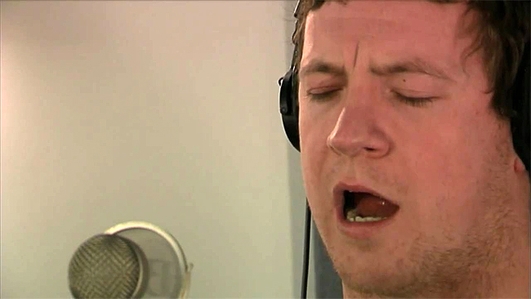 George Murphy
Ten years ago a 17-year-old college student took to the stage of the Helix Theatre in Dublin to compete to win the You're a Star talent competition. He came from Artane in Dublin and, at the time, he was studying to be an actor. He ended up coming 4th that year.
Well he has gone on to forge a career as a full-time singer both here and America - most recently, for us, he very kindly did a 'House Party' in the Mary Aikenhead Centre down the road in Donnybrook.
He is the one, and only, George Murphy, and he joins us in studio this afternoon!
Raglan Road, in memory of Luke Kelly, is available on iTunes next week and the proceeds go to the Simon Community for the homeless.
Kevin Walker, Pop Idol
It was originally released in 1984, one of the highlights U2's classic album, The Unforgettable Fire. But that particular version first hit the airwaves in September of last year, during one of the final rounds of Swedish Idol.
What makes it unusual is that the performer, who was born and bred in Sweden, is actually a compatriot of U2. His name is Kevin Walker. He was born in Orebo, Sweden, in 1989, but he speaks English with a Carlow accent! And not only is he an aspiring singer. He is also a professional footballer, eligible to play for both Sweden and Ireland!
Are you intrigued? Well, we were! Which is why we asked Kevin to go into a studio in Sweden today! Kevin chats to Derek and Brenda about Swedish Idol, his football career, and his Irish connections.
Hedgerows: It is an offence to 'cut, grub, burn or otherwise destroy hedgerows on uncultivated land during the nesting season from 1 March to 31 August, subject to certain exceptions'. For more information, click here.
To contact your local wildlife ranger, click here for contact details. To read the Wildlife (Amendment) Act 2000, click here.
IMPORTANT NOTICE
Please DO NOT send any live, dead or skeletal remains of any creature whatsoever to Mooney Goes Wild.
If you find an injured animal or bird, please contact the National Parks & Wildlife Service on 1890 20 20 21, or BirdWatch Ireland, on 01 281-9878, or visit www.irishwildlifematters.ie