Mooney, Tuesday January 28th 2014
This year's Dawn Chorus programme took place on Sunday, May 6th 2018, and was a roaring success! All India Radio producer Monika Gulati sent us a pic of herself sporting our Dawn Chorus beanie!!
May Events
Well whilst our Dawn Chorus programme may have finished for another year, throughout May, events are still taking place around the country to celebrate the beautiful birdsong that our feathered friends provide. For more information on these events, and on the annual Burren In Bloom festival that takes place from May 18th - 20th, visit our events listings page! And if you have an event you'd like to let our listeners know about, e-mail mooney@rte.ie.
Follow Us On Social Media:
Facebook: www.facebook.com/rtenature
E-mail Us: mooney@rte.ie
Caring For Wild Animals
Please note that many species of mammals, birds, invertebrates etc... are protected under law and that, even with the best of intentions, only someone holding a relevant licence from the National Parks & Wildlife Service should attempt the care of these animals. For full details, please click here to read the NPWS Checklist of protected & rare species in Ireland. If you are concerned about a wild animal, please contact your local wildlife ranger - click here for details.
On Mooney today...
We speak to Devon Harris, a member of the Jamaican Bobsleigh team whose exploits at the Winter Olympics in 1988 were made famous in the film Cool Runnings. Motoring correspondent Michael Sheridan talks about clocking cars, and reporter Brenda Donohue finds out about a Jack Russell dog in Wicklow whose developed a very close friendship with a cat!
Caring For Garden Birds This Winter
To find out how to care for and attract garden birds, read Jim Wilson's Guide To Garden Birds - CLICK HERE!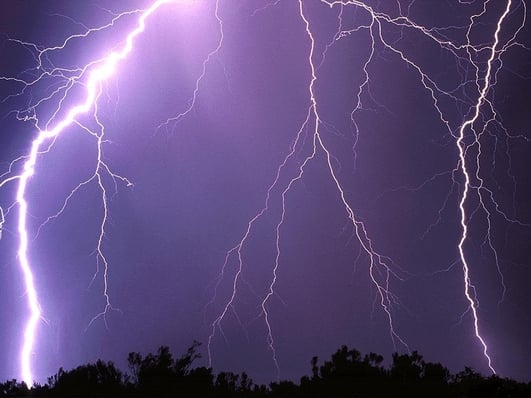 Calling Thunder & Lightning!
Yesterday, on Mooney's Monday Quiz, one of our contestants was called Ger Thunder! And we thought, what an unusual and wonderful surname! So we would like to gather together as many people who have the surname Thunder, and as many with the surname Lightning, as we can! If your surname is either Thunder or Lightning, get in touch with us: mooney@rte.ie.
Wicklow Cat Suckles On Dog
Tom and Jerry never got on this well!
Yesterday, listener Wanda Bourne sent us in this thirty-second video that just has to be seen to be believed. When you watch it, you'll rub your eyes and say "am I correct in what I'm looking at?!"
You see, what was on Wanda's video was her ten-year-old terrier dog Millie, and one of her four-year-old cats, called Indi (after Indiana Jones). Now Indi was contentedly suckling Millie. Indi the cat was having a right good old suckle on Millie – yes, a cat was receiving milk from a dog!
Is this possible? Is it a freak of nature? Is it commonplace? Are Millie and Indi a one-off? Well to answer some of these questions and to find out a little bit more, Brenda showed the video to our very Andrew Byrne, who was in studio yesterday, and she got his take on it...
Brenda visited Wanda in her home in Goldenfort, in Co. Wicklow, to see this most unusual phenomenon with her own eyes...
Wanda with Millie the dog and her cats
Brenda with Wanda, Millie the dog, and the cats
Millie and Indi
Wanda since sent us in a further two videos:
Millie feeding Indi:
And she also told us of the close relationship that both her dog and cats have with her fish!
Wanda's dog Millie and goldfish
Wanda's dog Millie and goldfish
Wanda's cat and goldfish
Garth Brooks Fans Queue For Tickets
Next Thursday, tickets go on sale for tickets to see Garth Brooks on tour. Well for one group of committed fans, the chance of missing out on those tickets is unthinkable, and they've been queueing outside Stuarts Music Shop in Dungannon since Saturday! We talk to owner Raymond Stuart, and one of those fans, Roisin...
Motoring Matters With Michael Sheridan
"Car clocking" is when you change the genuine odometer reading of the car in order to make the car seem like it has driven a shorter distance than it actually has. It may surprise you to learn, that as the law stands right now it is not an offence to clock a car.
In fact, there are even "mileage correction services" which - as one company declares on its website - is a service that "becomes necessary when the mileage on the electronic display differs from the value which you believe to be correct".
However, it is an offense if you go to a car dealership and somebody sells you a car and doesn't tell you it is clocked. But the actual clocking of the car in itself is ok!
So it is good news for the consumer that a upcoming amendment to the law will for the first time make it an offence to tamper with an odometer.
Motoring Correspondent Michael Sheridan, from RTÉ Online, is in studio to talk about the practice of "clocking" a car...
Hedgerows: It is an offence to 'cut, grub, burn or otherwise destroy hedgerows on uncultivated land during the nesting season from 1 March to 31 August, subject to certain exceptions'. For more information, click here.
To contact your local wildlife ranger, click here for contact details. To read the Wildlife (Amendment) Act 2000, click here.
IMPORTANT NOTICE
Please DO NOT send any live, dead or skeletal remains of any creature whatsoever to Mooney Goes Wild.
If you find an injured animal or bird, please contact the National Parks & Wildlife Service on 1890 20 20 21, or BirdWatch Ireland, on 01 281-9878, or visit www.irishwildlifematters.ie
Happy Birthday
Stevie Wonder
6:05 Friends In Low Places
Garth Brooks
4:29 The Dance
Garth Brooks
3:51