Mooney, Friday January 17th 2014
This year's Dawn Chorus programme took place on Sunday, May 6th 2018, and was a roaring success! All India Radio producer Monika Gulati sent us a pic of herself sporting our Dawn Chorus beanie!!
May Events
Well whilst our Dawn Chorus programme may have finished for another year, throughout May, events are still taking place around the country to celebrate the beautiful birdsong that our feathered friends provide. For more information on these events, and on the annual Burren In Bloom festival that takes place from May 18th - 20th, visit our events listings page! And if you have an event you'd like to let our listeners know about, e-mail mooney@rte.ie.
Follow Us On Social Media:
Facebook: www.facebook.com/rtenature
E-mail Us: mooney@rte.ie
Caring For Wild Animals
Please note that many species of mammals, birds, invertebrates etc... are protected under law and that, even with the best of intentions, only someone holding a relevant licence from the National Parks & Wildlife Service should attempt the care of these animals. For full details, please click here to read the NPWS Checklist of protected & rare species in Ireland. If you are concerned about a wild animal, please contact your local wildlife ranger - click here for details.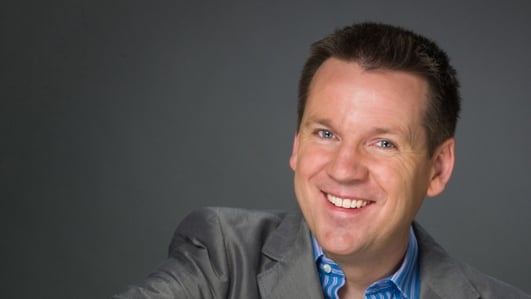 On Mooney Goes Wild today...
We have the latest news on the Highland cattle that have been introduced in North County Dublin to attract a range of bird species, we find out about plans to introduce more bees to the Burren, we debate the claims that Manuka honey has medicinal properties, and find out why the need for honeybees is greater than ever!
Caring For Garden Birds This Winter
To find out how to care for and attract garden birds, read Jim Wilson's Guide To Garden Birds - CLICK HERE!
The Blind Boys Of Alabama Competition
Calling all Irish gospel choirs/groups!
Would you like to perform in the National Concert Hall as support act for gospel legends The Blind Boys of Alabama as well as on RTÉ Radio 1's Mooney?
Mooney and Waltons World Masters Series are offering one lucky group the once-in-a-lifetime opportunity to do just that!
The Waltons World Masters Series welcomes The Blind Boys of Alabama back to Dublin and the National Concert Hall on Wednesday, May 21st 2014. Ireland has its own great tradition of gospel music, and one very special aspect of this concert is that the support act will be an Irish gospel choir/group selected by the third nationwide Waltons World Masters Gospel Competition, in association with the Mooney and RTÉ Radio 1! The winning choir/group will perform a 40-minute set before The Blind Boys take to the stage.
Eligibility
All Irish gospel choirs/groups are welcome to enter.
The Competition
After all entries are received, a shortlist of three finalists will be chosen by a jury made up of representatives from Waltons New School of Music and RTÉ Radio 1. The finalists will be announced and their recordings broadcast on the Mooney on Thursday, April 10th. Their entries will then be sent to The Blind Boys of Alabama, who will select the overall winner.
The winning choir/group will be announced on the Mooney on Thursday, May 1st, perform on Mooney on a date to be announced, and perform in the National Concert Hall as support act for the Blind Boys of Alabama on Wednesday, May 21st.
The winning choir/group will be responsible for their own transport to/from the venue, as well as accommodation (if required). The group will receive five pairs of tickets to the concert for guests, but there will be no monetary remuneration.
Entry
Entry forms are available at www.newschool.ie/worldmasters or by clicking here. E-mail or post forms with the required information and materials (e-mail preferred!) to:
worldmasters@newschool.ie (with 'Waltons World Masters Gospel Competition' in the subject line)
or
Waltons World Masters Gospel Competition
Waltons New School of Music
69 South Great George's Street, Dublin 2
Entries must arrive by 5pm on Friday, March. Late entries will not be accepted.
Please include the following materials and information:
Good quality audio recording(s) and MPG4, MOV, AVI or WMV video files or CD and DVD of one or two pieces that best display the range and skills of your choir/group.
A list of proposed repertoire to be performed at the NCH if your choir/group is chosen to perform.
A brief description your choir/group, including history, number of members and names, musical background of members and instrumentation (if any).
A JPG photograph of the choir for the Mooney Show and Competition web pages. If possible, please include a live performance photograph as well.
Website, Facebook or other URL(s), if any.
Email and contact details of the choir/group director.
Confirmation that all performers who feature on the audio and video files are available and will be able to perform on Wednesday, 21 May in the National Concert Hall, if your choir/group is selected.
Important Dates
Entry deadline: Friday, March 21st, 5pm
Finalists announced: Thursday, April 10th
Winner announced: Thursday, 1 May
Concert: Wednesday, 21 May
Highland Cows
Five Highland cattle have been put into Robswall in Malahide, North County Dublin, as part of Fingal County Council's biodiversity project, in an effort to manage the habitat in a more natural way.
The cattle keep the grass short, which encourages Brent Geese to the area, and their movement aeriates the ground, which in turn stimulates new plant life.
Last Saturday, January 11th, Dr. Richard Collins counted seventy Brent Geese at Robswall, along with curlew and oystercatchers...
Hams Visser, Biodiversity Office with Fingal County Council (left) with Dr. Richard Collins
Highland Cattle at Robswall, North County Dublin
Richard Collins and Highland Cattle farmer Archie McIntyre
Highland Cattle at Robswall, North County Dublin
Warning sign of Highland Cattle at Robswall, North County Dublin
Information sign on the Robswall Highland Cattle Project
Information sign on the Robswall Highland Cattle Project
Click here if you would like to listen back to Derek's documentary Highland Cattle in North County Dublin. To learn more about Fingal's Biodiversity Programme click here, and if you would like to find out more about Highland Cattle, visit www.highlandcattlesociety.com.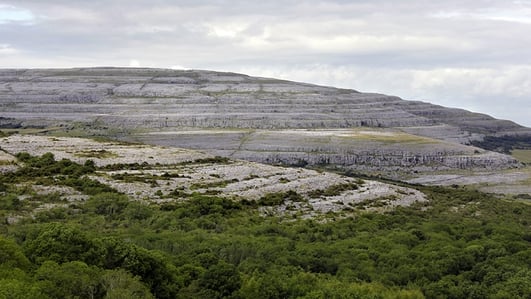 No Bees In The Burren?
There has been some discussion in the media following a meeting of Clare County council this month in relation to building of a bee apiary in the Burren.
A motion to support plans by NUI Galway and the Native Irish Honey Bee Society to create an apiary in the Burren was tabled by Fine Gael Councillor Johnny Flynn, Fine Gael councillor for Ennis East.
The proposal met considerable opposition, including from Michael Kelly, Fianna Fáil councillor for Ennistymon, who joins Derek on the phone to explain his concerns...
To give his views on all of this, we are joined in studio by Philip McCabe, President of The European Commission for Apiculture & Public Relations Officer for The Federation of Irish Beekeepers' Associations. For more information on Irish beekeeping, visit www.irishbeekeeping.ie.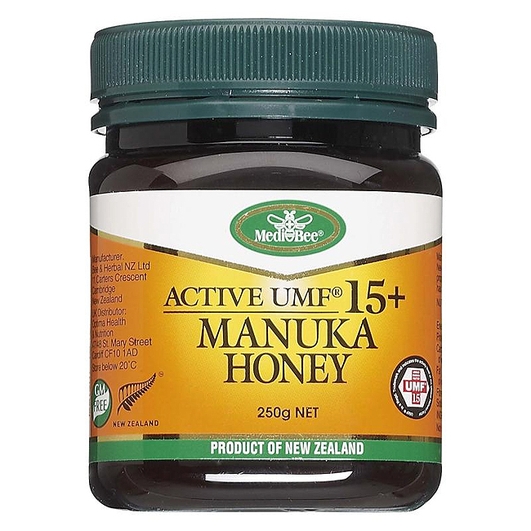 Manuka Honey
If you walk into any supermarket or health food shop you will see the most expensive pot of honey on the shelf is 'Manuka Honey' – it starts at around €7 or €8, and prices can go right up. But why DOES Manuka Honey market itself as a 'cut above the rest'? Is there scientific evidence to back it up?
Our resident bee expert Philip McCabe has been saying for years that there's nothing special about manuka honey... but Dr. Rose Cooper might like to dispute that. She says Manuka Honey is so fantastic it may even be able to beat MRSA - but, only if it's smeared on the skin!
A manuka bush growing in its native New Zealand
She's the Professor of Microbiology at Cardiff Metropolitan University in Wales, and she and Philip both join Derek and the panel today to debate the qualities of Manuka...
A bee on a manuka flower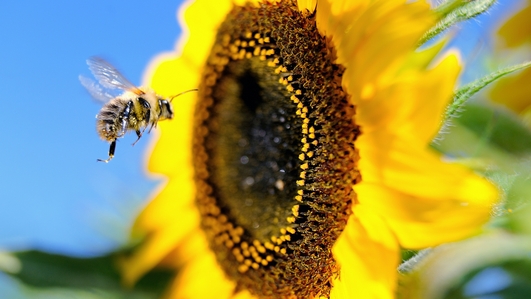 Honeybee Pollination
It's estimated that humankind has been on this planet for about 200,000 years. And for most of that time, we were hunter gatherers, feeding and foraging for fruits, hunting and cooking all kinds of animals.
We only started farming about 10,000 years ago, and over the last 50 years in particular agricultural science, and agricultural output, has increased to an extraordinary degree.
But before we get too carried away with ourselves, thinking how marvellous we are, we should remember how utterly dependent our modern farming methods are on one of the hardest working and most humble creatures on the planet: the amazing honeybee.
Did you know that some of the many foods pollinated by bees include cauliflower, cabbage, brussels sprouts, strawberries, Brazil nuts, peppers, chilli peppers, carrots, cucumbers, figs... The list is as long as your arm! And another example which is one of the most important crops to the Irish economy: oilseed rape.
Unfortunately in recent years, we have increased our agricultural production so much that the poor old honeybees can't keep up! In fact, demand for their services has increased five times as the number of honeybee colonies across Europe!
Jane Stout is Associate Professor of Botany in Trinity College, Dublin, and an expert on pollination ecology. She joins Derek and the panel in studio today to explain more...
Hedgerows: It is an offence to 'cut, grub, burn or otherwise destroy hedgerows on uncultivated land during the nesting season from 1 March to 31 August, subject to certain exceptions'. For more information, click here.
To contact your local wildlife ranger, click here for contact details. To read the Wildlife (Amendment) Act 2000, click here.
IMPORTANT NOTICE
Please DO NOT send any live, dead or skeletal remains of any creature whatsoever to Mooney Goes Wild.
If you find an injured animal or bird, please contact the National Parks & Wildlife Service on 1890 20 20 21, or BirdWatch Ireland, on 01 281-9878, or visit www.irishwildlifematters.ie