Mooney, Thursday January 16th 2014
The Blind Boys Of Alabama Competition
Calling all Irish gospel choirs/groups!
Would you like to perform in the National Concert Hall as support act for gospel legends The Blind Boys of Alabama as well as on RTÉ Radio 1's Mooney?
Mooney and Waltons World Masters Series are offering one lucky group the once-in-a-lifetime opportunity to do just that!
The Waltons World Masters Series welcomes The Blind Boys of Alabama back to Dublin and the National Concert Hall on Wednesday, May 21st 2014. Ireland has its own great tradition of gospel music, and one very special aspect of this concert is that the support act will be an Irish gospel choir/group selected by the third nationwide Waltons World Masters Gospel Competition, in association with the Mooney and RTÉ Radio 1! The winning choir/group will perform a 40-minute set before The Blind Boys take to the stage.
Eligibility
All Irish gospel choirs/groups are welcome to enter.
The Competition
After all entries are received, a shortlist of three finalists will be chosen by a jury made up of representatives from Waltons New School of Music and RTÉ Radio 1. The finalists will be announced and their recordings broadcast on the Mooney on Thursday, April 10th. Their entries will then be sent to The Blind Boys of Alabama, who will select the overall winner.
The winning choir/group will be announced on the Mooney on Thursday, May 1st, perform on Mooney on a date to be announced, and perform in the National Concert Hall as support act for the Blind Boys of Alabama on Wednesday, May 21st.
The winning choir/group will be responsible for their own transport to/from the venue, as well as accommodation (if required). The group will receive five pairs of tickets to the concert for guests, but there will be no monetary remuneration.
Entry
Entry forms are available at www.newschool.ie/worldmasters or by clicking here. E-mail or post forms with the required information and materials (e-mail preferred!) to:
worldmasters@newschool.ie (with 'Waltons World Masters Gospel Competition' in the subject line)
or
Waltons World Masters Gospel Competition
Waltons New School of Music
69 South Great George's Street, Dublin 2
Entries must arrive by 5pm on Friday, March. Late entries will not be accepted.
Please include the following materials and information:
Good quality audio recording(s) and MPG4, MOV, AVI or WMV video files or CD and DVD of one or two pieces that best display the range and skills of your choir/group.
A list of proposed repertoire to be performed at the NCH if your choir/group is chosen to perform.
A brief description your choir/group, including history, number of members and names, musical background of members and instrumentation (if any).
A JPG photograph of the choir for the Mooney Show and Competition web pages. If possible, please include a live performance photograph as well.
Website, Facebook or other URL(s), if any.
Email and contact details of the choir/group director.
Confirmation that all performers who feature on the audio and video files are available and will be able to perform on Wednesday, 21 May in the National Concert Hall, if your choir/group is selected.
Important Dates
Entry deadline: Friday, March 21st, 5pm
Finalists announced: Thursday, April 10th
Winner announced: Thursday, 1 May
Concert: Wednesday, 21 May
Brides And Brothers
Seven Brides For Seven Brothers is coming to the Bord Gáis Energy Theatre on January 27th, for one week only, so our reporter Brenda Donohue set out on a quest to try and see if we could find a group of brothers and sisters married...
Well, she found the three sisters married to three brothers: Carmel, Bridie and Phyllis are married to David, James and Gerard. The sisters are all originally from the North Strand in Dublin, but now all six live in Donaghmede. The sisters were all Sherlocks, but are now all Redmonds. This morning, Brenda went out to meet them all...
The brides and brothers in Donaghmede
The brides and brothers in Donaghmede
Glenn Murphy, Oisín O'Callaghan & Ronan Scollard
A year and a half ago three young students met as choral scholars in UCD. They are Glenn Murphy from Waterford, Oisín O'Callaghan from Cork and Ronan Scollard from Knocklyon. They were all studying different courses but discovered that music was a common denominator between the three of them.
More recently they gathered around a piano and began to experiment with arrangements of popular songs. Before they knew it they were meeting regularly to try and take well-known songs, and turn them on their heads and put their own unique spin on them.
Since posting some videos on YouTube they've become something of an overnight internet sensation – and the lads are here in the studio now for a chat and to perform live!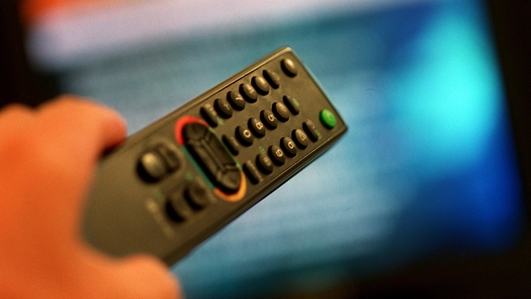 How TV Ratings Work
During the programme, Derek chatted about the list of most-viewed programmes for 2013, and many of you were curious about how the TV ratings are gathered...
- Neilsen measures TV data in Ireland.
- They sign up about a thousand random households and give them a set-top box which is hooked up to your TV, Sky or UPC box and a landline or modem.
- Each remote control has personalised buttons – for instance "Mum", "Dad", "Derek".
- When you start watching TV you press your personalised button to sign in.
- Neilsen then know who is watching what and for how long.
- At 3am each morning the box dials into Neilsen's freephone number automatically and delivers the daily data
- Each morning the overnight data is released to "the industry" – TV broadcasters and ad agencies
If you would like to read the press release detailing the Top 20 Television Programmes of 2013, click here.
TAM Ireland (Television Audience Measurement Ireland Ltd) oversees the audience measurement system - for more information about how the system works, visit www.tamireland.ie/about/faq.
Transition Year Operation Observation
Whether it's Grey's Anatomy, ER or Casualty, fans love watching the drama between the doctors AND the drama in the operating theatre. Well yesterday, one hundred and seventy ONE 'fans', gathered into a lecture theatre at Dublin's Beaumont Hospital and watched a live, 'interactive' operation take place.
170 of them were transition year students but one was Mooney's own Katriona McFadden, and she joins Derek in studio to tell us what the experience was like!
Observing Surgery
Observing Surgery