Mooney, Tuesday December 10th 2013
***MOONEY GOES WILD WINS ROSE D'OR AWARD!!***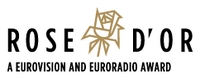 The prestigious annual Rose D'Or Awards (now in their 55th year) honour the very best of international radio, TV and online entertainment programmes, and the awards ceremony took place last night (Tuesday, September 13th 2016). Over 400 programmes from more than 130 broadcasters and production companies in 33 different countries were submitted for this year's Rose d'Or awards. For the first time, a new competition category, 'Radio Event Of The Year' was created. We entered European Dawn Chorus in this category, and we're absolutely delighted to let you know that ... drumroll... WE WON!!! We're absolutely thrilled to pieces, and a massive thanks to all our EBU and BirdLife International partners, we couldn't have done it without you! Click here to read more about the 2016 Rose D'Or awards (in which legendary funnyman John Cleese picked up the Lifetime Achievement award), and click here to relive - and re-listen to - all the beautiful Dawn Chorus birdsong from right across Europe.
***STOP PRESS*** Dawn Chorus Picks Up Another Award!
We're thrilled to let you know that on Friday, October 7th, the Dawn Chorus won the Innovation Award at the PPI Radio Awards in Kilkenny!
***To visit The Mooney Show website, click here!***
Facebook: www.facebook.com/rtenature
Twitter: @naturerte
Keane & Vieira - Best Of Enemies
The decade was the 1990s, and the two biggest footballing tribes were Arsenal and Manchester United. The 'midfield enforcers' of those tribes were Patrick Vieira and Roy Keane, respectively.
Patrick Vieira and Roy Keane
Tonight the pair are reunited in an ITV4 documentary, Keane & Vieira - Best Of Enemies, which evokes a time of gladiatorial conflict between two of the world's most driven midfielders. The pair met 19 times on the pitch and were shown 21 red cards between them. They were compulsive viewing at the time and from what we've seen, tonight's documentary is going to be riveting too.
Matt Barlow is a Sports Journalist with the Daily Mail in London – he has had a sneak preview of the WHOLE documentary - and he joins Brenda on the line with a preview...
Keane & Vieira - Best Of Enemies will be shown on ITV4 tonight at 10pm, and on RTÉ Two tomorrow week, December 18th, at 9.55pm. For more information about the programme, visit www.itv.com/sport/football.
Batsheva Dagan, Auschwitz Survivor
The 1993 movie Schindler's List contains probably the most vivid cinematic portrayal of the nightmare that was the Nazi Holocaust.
To most of us, the Holocaust, and place names like Auschwitz, Birkenau, Treblinka, are events and places in history that we learn about in school, and through TV documentaries and movies.
Batsheva Dagan
But last Friday, producer Olan McGowan came face-to-face with this dreadful history, when he met one of the few remaining survivors of Auschwitz - a lady called Batsheva Dagan. Today, we hear hear her experience and memories of this truly horrific time...
In the interview, Batsheva talked about her books, in particular one book called Imagination: Blessed be, Cursed be: Reminiscences from There. This book is available on Amazon.com, for $15.
Irish Skills Competition
Fifty years ago, Ireland's top apprentices took part in a World Skills competition right here in Dublin. Believe it or not, the event is still running and the national competition to find the best apprentices in a range of skill areas got underway at various venues in Ireland today...
Competitions are taking place in crafts such as carpentry, joinery, electrical installations, industrial control, metal fabrication, plastering, and many, many more, so this morning, Mooney producer Fergus Sweeney visited DIT in Dublin to find out more...
For more information on the IrelandSkills National Competition, click here.
Hedgerows: It is an offence to 'cut, grub, burn or otherwise destroy hedgerows on uncultivated land during the nesting season from 1 March to 31 August, subject to certain exceptions'. For more information, click here.
UPDATE: February 29th 2016 - Press Release From BirdWatch Ireland:
Putting the record straight: Dates for burning and hedge-cutting have NOT changed
BirdWatch Ireland, Ireland's largest conservation charity, is very concerned about misinformation that is currently circulating regarding the dates within which the burning of vegetation and cutting of hedges is permitted. It would like to remind landowners that all burning and cutting must cease on 29th February this year and that burning and cutting remains prohibited from 1st March to 31st August.
Despite attempts by the Minister for Arts, Heritage and the Gaeltacht, Heather Humphreys T.D., to change the laws regulating these dates by introducing the Heritage Bill 2016 earlier this year, it is important to note that the proposed date changes were ultimately NOT made. This is because the bill failed to pass through both houses of the Oireachtas before the recent dissolution of the Dáil in advance of the general election.
The laws in place governing the dates for hedge-cutting and upland burning therefore remain unchanged. The period within which cutting and burning is prohibited are set down in Section 40 of the Wildlife Act 1976 (as amended in 2000), which states that:
(a) It shall be an offence for a person to cut, grub, burn or otherwise destroy, during the period beginning on the 1st day of March and ending on the 31st day of August in any year, any vegetation growing on any land not then cultivated.
(b) It shall be an offence for a person to cut, grub, burn or otherwise destroy any vegetation growing in any hedge or ditch during the period mentioned in paragraph (a) of this subsection (above).
The existing law provides exemptions for road safety and other circumstances and should be read carefully to ensure compliance.
Section 40 of the Wildlife Act exists to protect nesting birds. Many of our upland bird species are in decline and are in danger of extinction in Ireland; amongst them is the Curlew, which has declined by 80%. Many birds which nest in hedgerows into August are also in serious decline, including the endangered Yellowhammer. The changes to the cutting and burning dates which had been proposed in the now-defunct Heritage Bill 2016 would have caused serious impacts to these birds. A petition launched by BirdWatch Ireland in conjunction with several other national conservation organisations to stop these changes attracted more than 16,200 signatures and rising.
BirdWatch Ireland would also like to advise members of the public that if they see hedges being cut or fires in the uplands on or after 1st March, such activity could be illegal. In such cases, we would encourage people to contact the National Parks and Wildlife Service (www.npws.ie) to report such activity.
BirdWatch Ireland warmly welcomes the demise of the Heritage Bill 2016 and sincerely hopes that any future administration will consider the importance of Ireland's natural heritage and will not attempt to reintroduce such a flawed and damaging piece of legislation.
To contact your local wildlife ranger, click here for contact details. To read the Wildlife (Amendment) Act 2000, click here.
IMPORTANT NOTICE
Please DO NOT send any live, dead or skeletal remains of any creature whatsoever to Mooney Goes Wild.
If you find an injured animal or bird, please contact the National Parks & Wildlife Service on 1890 20 20 21, or BirdWatch Ireland, on 01 281-9878, or visit www.irishwildlifematters.ie