Mooney, Friday November 29th 2013
This year's Dawn Chorus programme took place on Sunday, May 6th 2018, and was a roaring success! All India Radio producer Monika Gulati sent us a pic of herself sporting our Dawn Chorus beanie!!
May Events
Well whilst our Dawn Chorus programme may have finished for another year, throughout May, events are still taking place around the country to celebrate the beautiful birdsong that our feathered friends provide. For more information on these events, and on the annual Burren In Bloom festival that takes place from May 18th - 20th, visit our events listings page! And if you have an event you'd like to let our listeners know about, e-mail mooney@rte.ie.
Follow Us On Social Media:
Facebook: www.facebook.com/rtenature
E-mail Us: mooney@rte.ie
Caring For Wild Animals
Please note that many species of mammals, birds, invertebrates etc... are protected under law and that, even with the best of intentions, only someone holding a relevant licence from the National Parks & Wildlife Service should attempt the care of these animals. For full details, please click here to read the NPWS Checklist of protected & rare species in Ireland. If you are concerned about a wild animal, please contact your local wildlife ranger - click here for details.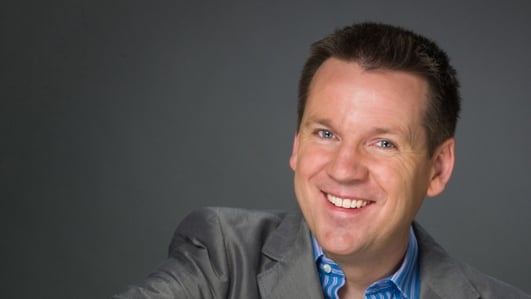 On Mooney Goes Wild this afternoon, live from Scotland:
We hear about plans to bring wolves back to the Scottish Highlands and why ramblers aren't happy. Richard Collins takes a look at fossils from a 330 million year old shark and Eanna Ni Lamhna finds out why wild beavers are thriving around the River Tay...
Mooney's Honeymooners, with the Sunday World!
***THIS COMPETITION HAS NOW CLOSED***
Mooney has teamed up with the Sunday World (www.sundayworld.com) to give one very special couple a second honeymoon! We looked for Ireland's favourite couple - and that couple could win a dream trip to San Francisco, worth a whopping €10,000!!!
The winning couple will be revealed in the Sunday World on December 22nd, and on Mooney on Christmas Day. Good luck to everybody who entered!
Mooney Tunes 9
On Monday, December 16th, Mooney Tunes 9 will take place at the Bord Gáis Energy Theatre in Dublin!
The ninth concert in our hugely popular series of Mooney Tunes will be a variety Christmas concert with various singers and the RTÉ Concert Orchestra. Listeners requests will be read out and their songs will be played. There will be love songs, songs you will sing along to, beautiful classical music and lots of Christmassy tunes to get you in the festive mood a week before Christmas!
The Mooney Tunes concerts have been extremely successful, and tickets often sell-out within hours of going on sale.
The benefit of buying the tickets in person at the theatre box office is that there is no service charge to pay. Tickets are priced from €14.50 and go up to €20, €28, €34 and €39.50, depending on where you are sitting.
Tickets are also on sale online from Ticketmaster.ie, Ticketmaster outlets and from the Ticketmaster phonelines:
0818 719 377 - Republic of Ireland Customers
0844 847 2455 - Northern Ireland Customers
00 353 1 456 9569 - International Customers
Tickets bought from Ticketmaster.ie online or on the phone are subject to a 12.5% service charge so, for example, that would make the €14.50 ticket, the cheapest ticket, €16.60. If you buy your tickets in person from a Ticketmaster outlet there will be a €2.50 flat fee service charge, and there is no service charge whatsoever if you buy them in person at the box office here at the Bord Gais Energy Theatre.
But whichever way you choose to get your tickets for Mooney Tunes 9, we suggest that you do it as soon as possible after 3pm, when they go on sale! It's the perfect pre-Christmas concert - but tickets will go early, so get yours as soon as you can to avoid disappointment! For more information about the concert, visit www.bordgaisenergytheatre.ie/index.php/artist/mooney-tunes.
Bearsden Shark At The Hunterian Museum
Derek and Richard meet Dr. Neil Clark, Curator of Palaeontology at the Hunterian Museum, in the University of Glasgow. Neil is an expert on the Bearsden Shark...
The 'Bearsden Shark' is the most complete shark of its age. Found by Stan Wood while walking his dog by a stream in the north west of Glasgow, this 330 million year old shark has a strange, toothed fin-spine behind its head. We can only guess at its purpose...
Dr. Richard Collins and Dr. Neil Clark
Foetus specimen in the Hunterian Museum
Dr. Richard Collins In The Hunterian Museum, Glasgow
The Hunterian Museum at the University Of Glasgow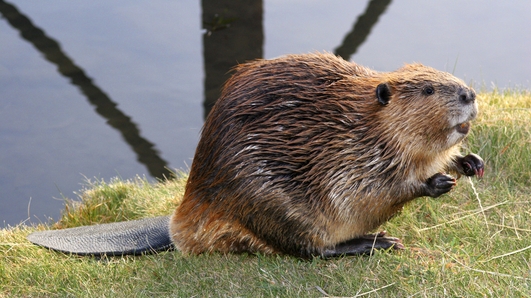 Scottish Beavers
This morning, Eanna ni Lamhna went searching for signs of beavers in Birnam Wood, and this afternoon, she tells Derek and Richard what she found...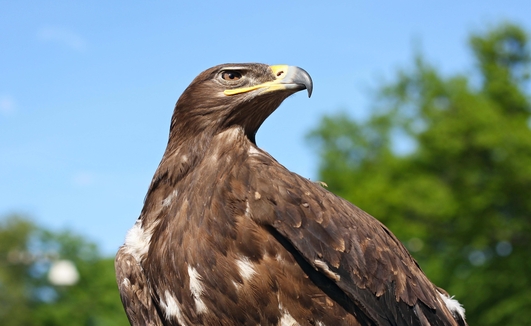 Scotland's Favourite Wild Animal
If you click on the above link, you'll be able to listen back to a 2001 documentary about the reintroduction of the Golden Eagle to Ireland. In the documentary, Richard Collins chats with John Marsh, project leader on the look-out for the majestic bird of prey in the Highlands of Wester Ross in Scotland.
In fact, the Golden Eagles which are now seen in Irish skies have come from Scotland.
And, guess what? In a competition run by Scottish National Heritage and Visit Scotland to find the country's favourite wild animal, which animal do you think came out on top? That's right, the Golden Eagle!
Professor Des Thompson, is Principal Adviser on Biodiversity with Scottish National Heritage, and he joins us from the BBC's studios in Edinburgh...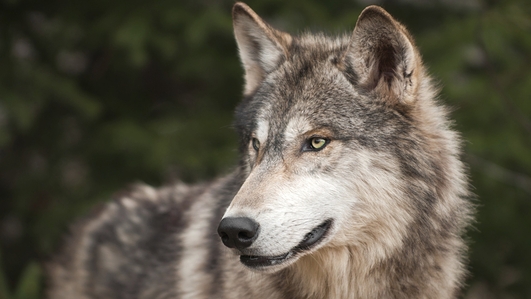 The Wolf In Scotland
Myth and superstition surround a lot of animals, but very few animals over the centuries have suffered as much vilification as the wolf. We all grew up with fairytales like 'Little Red Riding Hood', and its villain, the big bad Wolf. We've had the story of the Wolf in sheep's clothing, the boy who cried Wolf. And in the 20th century, werewolves have proved hugely fascinating for fiction writers and movie directors alike.
It's fair to say that mankind's relationship with wolves over the centuries has been "turbulent". In Ireland, the last Wolf was reportedly killed in 1786, near Mount Leinster in County Carlow. But to hear the wonderful call of the wild world today, you would have to travel a lot further than Ireland.
If you click on the above link, you'll be able to listen back to Eric Dempsey's 2004 documentary Wolf: Spirit Of The Wild.
In Scotland, official records indicate that the last wolf was killed almost 100 years earlier, by Sir Ewan Cameron in 1680 in Killiecrankie, in Perthshire.
However, if our next guest has his way, they will be back very soon, roaming freely around his land. And Paul Lister man has a lot of land - 23,000 acres, in fact!
He tells us why he wants to reintroduced wolves back into Scotland...
One body who're not so keen on Paul's plans to reintroduce wolves to his Alladale Wilderness Reserve are Ramblers Scotland, who work to promote walking and safeguard public access to land in Scotland. Helen Todd is Campaigns and Policy Manager with Ramblers Scotland, and she also joins us to tell us about their objections...
The organisation that Paul founded is called The European Nature Trust. It was set up in 2001 to help preserve and restore the last remaining areas of wilderness and degraded habitats in Europe - for more information, visit www.theeuropeannaturetrust.com.
And to find out more about the Ramblers Scotland's view on the reintroduction of native species, visit www.ramblers.org.uk/scotland.
Hedgerows: It is an offence to 'cut, grub, burn or otherwise destroy hedgerows on uncultivated land during the nesting season from 1 March to 31 August, subject to certain exceptions'. For more information, click here.
To contact your local wildlife ranger, click here for contact details. To read the Wildlife (Amendment) Act 2000, click here.
IMPORTANT NOTICE
Please DO NOT send any live, dead or skeletal remains of any creature whatsoever to Mooney Goes Wild.
If you find an injured animal or bird, please contact the National Parks & Wildlife Service on 1890 20 20 21, or BirdWatch Ireland, on 01 281-9878, or visit www.irishwildlifematters.ie