Mooney, Thursday October 3rd 2013
Dawn Chorus 2018
This year's Dawn Chorus programme will take place on Sunday, May 6th 2018, and will be broadcast from across Europe and beyond between midnight and 7am! For more information, click here.
Follow Us On Social Media:
Facebook: www.facebook.com/rtenature
E-mail Us: mooney@rte.ie
Caring For Wild Animals
Please note that many species of mammals, birds, invertebrates etc... are protected under law and that, even with the best of intentions, only someone holding a relevant licence from the National Parks & Wildlife Service should attempt the care of these animals. For full details, please click here to read the NPWS Checklist of protected & rare species in Ireland. If you are concerned about a wild animal, please contact your local wildlife ranger - click here for details.
Events & Listings
Click here for a full list of events taking place around the country, and movies currently on release, which might be of interest to wildlife lovers!
Nature LIVE
On Sunday May 6th, 2018, RTÉ's Wild Island season goes international as Derek Mooney hosts one of the most ambitious LIVE natural history programmes ever undertaken. Broadcasting live from six countries across Europe, Nature LIVE will showcase some of the continents most extraordinary wildlife, from Polar Bears in the Norwegian Arctic to Flamingoes in southern Spain to Basking Sharks off the west of Ireland. This one-hour special will be anchored by RTÉ presenter Derek Mooney from the banks of Dublin's River Liffey, with wildlife film-maker Colin Stafford-Johnson on the Blasket Islands.
Viewers can take part by sharing their own pictures and videos of nature and wildlife using #naturelive from wherever they live in Europe.
JOIN US
We have a limited number of audience tickets for this live event. Apply for tickets by email to natureliveaudience@rte.ie
Location: Sir John Rogerson's Quay, Dublin
Date: Sunday 6th May 2018
Time: 16.30 - 18.00
*Gates close at 16.45!
Please note that this is an unseated event and outdoors so you will need to wear appropriate clothing for the Irish weather. We need the following information: The number of tickets you are applying for. Your name, surname, age contact phone number and address. The names, surnames and ages of your guests.
*Unfortunately we cannot accommodate for Children under 12yrs. All minors under 16 must be accompanied by an adult/guardian
Tickets are limited so first come first served!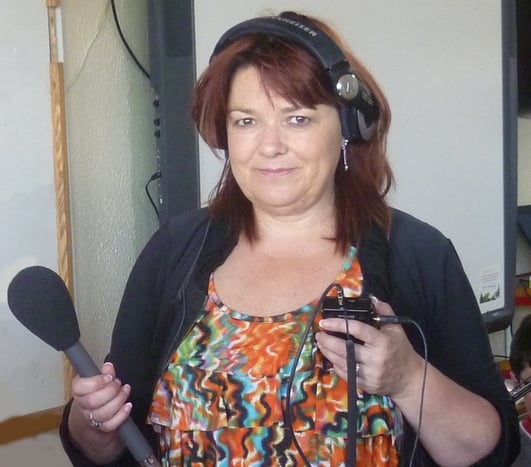 On Mooney today, with Brenda Donohue
We hear from the air hostess who says her life improved when she had her ears pinned back, we find out about a very unusual plant which grows both tomatoes AND potatoes, and we'll have some music from onboard the RTÉ Big Music Week train!
Win A Fuel Stove With Waterford Stanley & National Heat Month
All this week, Monday to Thursday, Mooney is teaming up with Waterford Stanley, the Irish manufacturer of expertly crafted, fuel-efficient, cast iron stoves, to celebrate National Heat Month in October. National Heat Month runs across nineteen Stanley Centres nationwide promoting home-heating efficiency and reductions on stoves.
And to celebrate National Heat Month in October, Waterford Stanley is giving you the chance to win a fabulous Stanley Cara Insert Solid Fuel Stove in Matt Black worth over €1,000 and €250 towards installation.
Waterford Stanley are the Irish manufacturer of expertly crafted, fuel-efficient, cast iron stoves. Stanley Stoves are up to three times more energy efficient than open fires while maintaining the warmth and visual benefits.
For your chance to win today's prize, answer the following competition question:
Thursday, October 4th:
True or false: Rooster, British Queens, and Kerr's pink are all varieties of potatoes?
If you think you know the answer, call or text the competition line:
ROI: 1515 71 72 00
NI: 0901 293 3501
text MOONEY followed by your answer and name to 57111 (NI and ROI)
Each text entry cost €1 (incl VAT) or GBP £1.00. Calls from the eircom network will cost €1.02 (incl VAT) and from a BT landline will cost GBP £1.02.Calls from other networks and from mobiles will cost more.
Please note, the person named in the entry must be aged 18 years or older as at date of entry.
Competition lines open from 2pm and close at 4.20pm today, (30/09/13) Please do not enter outside of the advertised competition window as you will be charged for your entry, but your entry will not be included. From time to time, these open/close times may vary. Any change to the standard open/close times will be announced here and on the show. The lucky cash prize winner will be announced on-air towards the end of Mooney each day!
COMPETITION TERMS AND CONDITIONS
Call Service Provider: Phonovation. Tel: 0818 217 100.
Text Service Provider: Xiam Interactive. Tel: 01 4832010 / 08454 606909.
Please do not enter outside the advertised competition open and close times and date(s) as you will be charged, but your entry will not be included in the draw. Please do not enter during programme replays on the RTÉ Radio Player after the advertised close time and date as you will be charged for your entry, but your entry will not be included as the competition will have closed.
Entrants must be aged 18 years or older as at date of entry and a resident of the Republic of Ireland or Northern Ireland in order to qualify as the prize winner.
Promoter reserves the right to request proof of age, verifiable by birth cert or passport only, and proof of residency, verifiable by recent utility bill only (issued within 6 months of win).
Prize for 1 winner consists of 1 Stanley Cara Insert Solid Fuel Stove to the max value of €1,050 (model/colour/spec as specified by the promoter, no cash alternative) and €250 towards Stove installation will be paid to the winner by euro cheque (issued to the winner, allow 28 working days for delivery)
The Promoter reserves the right to substitute a prize of equal value (as determined by the Promoter) if a prize element becomes unavailable for any reason whatsoever.
Employees of RTÉ, Phonovation, Xiam Interactive and their associated promotional partners, companies or suppliers and their immediate family members are not eligible to enter/win.
RTÉ's decision in relation to selection of competition winner is final and no correspondence will be entered into.
RTÉ standard competition terms and conditions also apply.
Ear Pinning
He's currently the most expensive soccer player in the history of the game - Real Madrid recently paid Tottenham Hotspur a whopping €100 million for Gareth Bale.
But last year, the Welshman took himself off for the summer break, not to a 7-star hotel in Dubai or a private yacht in Ibiza to party – instead he checked himself in to fix something that had been bothering him for years: his sticky-out ears.
When he arrived back at White Hart Lane, Spurs fans were quick to notice. They joked that his pinned-back ears were helping him to run faster as he began a phenomenal season, scoring 31 goals for club and country.
It might be a leap too far to suggest that his ear operation gave him the confidence to up his game so dramatically but certainly his last season at Spurs was his best ever.
Bale's operation has piqued a lot of people's curiosity about ear-pinning - or 'otoplasty' as it's more formally known - and joining us in studio to tell us more about the procedure is plastic surgeon, Dr Patricia Eadie...
And during the week, Brenda spoke to one of Dr. Eadie's adult patients, Jenny Hayes, who recently had just one of her ears pinned back. This is Jenny as a child before the operation...
Jenny Hayes with her prominent ear, as a child
For more information on what the ear pinning procedure involves, click here, and for more information on Dr. Eadie, click here.
RTÉ Big Music Week: House Party on Big Music Train with Derek Ryan!
Well, RTÉ's fourth Big Music Week is well and truly underway, with the Big Music Week Train cutting a dash in every station it pulls into. Mooney has jumped on board the train, and on Monday, Brenda hosted a most unusual House Party!
Just a quick reminder, the house parties are when a well known artist or band perform in a listener front room, kitchen, bathroom... whatever.
We've had some of Ireland's greatest entertainers, Brian Kennedy, Tommy Fleming, The Furey Brothers, Majella and Daniel O'Donnell, Crystal Swing, Jack L and the list goes on, all singing their hearts out in many a kitchen, all across the country.
Last Monday, we are took our House Party and put it on the Big Music Week Train along with Ireland's hottest country music star.
A carriage load of Mooney listeners travelled from Carlow to Waterford and back again all in the delightful company of Derek Ryan, who sang for us all along the way.
Brenda and her fellow passengers all gathered at 2.15pm on the platform in Carlow train station and waited for the Big Music Week Train.
People travelled from all over the country, Kilkenny, Roscommon, Galway, Laois, Dublin and of course Carlow to be part of this most unique house party, and today, we enjoy just a flavour of the fun on board, beginning with some of the passengers as they waited on the platform for the Big Music Week Train! For more information on the Big Music Train, visit www.rte.ie/bigmusicweek.
TomTatoes And Plant Grafting
Have you ever heard of the TomTato plant? It grows cherry tomatoes on top and potatoes underground! It's a new plant that has been introduced to the market for the first time by a mail order seed and plant company in the UK called Thompson and Morgan.
Their new product development manager Michael Perry is in the BBC's Suffolk studio to tell us more about this plant that gives you chips and the ketchup to go with it! And in studio we have Matthew Jebb, Director of the National Botanic Gardens here in Dublin.
For more information about the TomTato, click here.
Hedgerows: It is an offence to 'cut, grub, burn or otherwise destroy hedgerows on uncultivated land during the nesting season from 1 March to 31 August, subject to certain exceptions'. For more information, click here.
To contact your local wildlife ranger, click here for contact details. To read the Wildlife (Amendment) Act 2000, click here.
IMPORTANT NOTICE
Please DO NOT send any live, dead or skeletal remains of any creature whatsoever to Mooney Goes Wild.
If you find an injured animal or bird, please contact the National Parks & Wildlife Service on 1890 20 20 21, or BirdWatch Ireland, on 01 281-9878, or visit www.irishwildlifematters.ie It's Friday
Derek Ryan, Accompanied By John Byrne Matt Curran
3:00 Folsom Prison Blues
Derek Ryan, Accompanied By John Byrne Matt Curran
3:41 Wake Me Up
Derek Ryan, Accompanied By John Byrne Matt Curran
3:28 Take Me Home Country Roads
Derek Ryan, Accompanied By John Byrne Matt Curran
3:24