Mooney, Friday September 13th 2013
Dawn Chorus 2018
This year's Dawn Chorus programme will take place on Sunday, May 6th 2018, and will be broadcast from across Europe and beyond between midnight and 7am! For more information, click here.
Follow Us On Social Media:
Facebook: www.facebook.com/rtenature
E-mail Us: mooney@rte.ie
Caring For Wild Animals
Please note that many species of mammals, birds, invertebrates etc... are protected under law and that, even with the best of intentions, only someone holding a relevant licence from the National Parks & Wildlife Service should attempt the care of these animals. For full details, please click here to read the NPWS Checklist of protected & rare species in Ireland. If you are concerned about a wild animal, please contact your local wildlife ranger - click here for details.
Events & Listings
Click here for a full list of events taking place around the country, and movies currently on release, which might be of interest to wildlife lovers!
Nature LIVE
On Sunday May 6th, 2018, RTÉ's Wild Island season goes international as Derek Mooney hosts one of the most ambitious LIVE natural history programmes ever undertaken. Broadcasting live from six countries across Europe, Nature LIVE will showcase some of the continents most extraordinary wildlife, from Polar Bears in the Norwegian Arctic to Flamingoes in southern Spain to Basking Sharks off the west of Ireland. This one-hour special will be anchored by RTÉ presenter Derek Mooney from the banks of Dublin's River Liffey, with wildlife film-maker Colin Stafford-Johnson on the Blasket Islands.
Viewers can take part by sharing their own pictures and videos of nature and wildlife using #naturelive from wherever they live in Europe.
JOIN US
We have a limited number of audience tickets for this live event. Apply for tickets by email to natureliveaudience@rte.ie
Location: Sir John Rogerson's Quay, Dublin
Date: Sunday 6th May 2018
Time: 16.30 - 18.00
*Gates close at 16.45!
Please note that this is an unseated event and outdoors so you will need to wear appropriate clothing for the Irish weather. We need the following information: The number of tickets you are applying for. Your name, surname, age contact phone number and address. The names, surnames and ages of your guests.
*Unfortunately we cannot accommodate for Children under 12yrs. All minors under 16 must be accompanied by an adult/guardian
Tickets are limited so first come first served!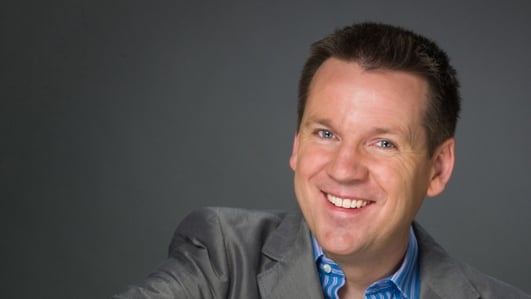 On Mooney Goes Wild today...
Wildlife cameraman Doug Allan tells us about his encounters with polar bears and other dangerous animals, as he captured some of television's most spectacular natural history scenes. We find out about beekeeping for beginners, and we'll hear about some of the worst crimes committed against animals in this country...
Doug Allan: Life Behind The Lens
Most of you reading this are most probably BIG FANS of David Attenborough's wildlife documentaries. He has revealed some of the wonders of the natural world to us through our television screens.
But behind the great man, there is a team of directors, producers, cameramen and sound recordists all patiently waiting, in all sorts of weather conditions, to 'get the shot.
Some might think it is utter madness to watch a polar bear for an entire week, staying awake through the night, waiting for that one single shot where she shows affection to her cub – but that was one of Doug Allan's most recent accomplishments.
One of a long list.
Doug is a freelance wildlife cameraman from Scotland. He's the man behind some of the most extraordinary scenes you have ever seen in nature programming – and he is joins Derek in studio today...
Doug will start a 'talking tour', called Life Behind The Lens, in Ennis next Thursday. It will be a two-hour show with an interval. He uses photos and video clips, and talks about the Arctic and the Antarctic. There will be a Q&A at the end and a book signing. It will tour throughout Ireland and the UK (full details are available by visiting www.dougallan.com), and the Irish dates are as follows:
Sept. 19th: Glór, Ennis, Co. Clare, 7.30pm, €15 (065 684 3103)
Sept. 20th: Balor Arts Centre, Ballybofey, Co. Donegal, 8.30pm, €15 (074 913-1840)
Sept. 21st: Alley Arts & Conference Centre, Strabane, Co. Tyrone, 7.30pm £12.50 (048 7138 4444)
Sept. 25th: St Michael's Theatre, New Ross, Co. Wexford, 8pm, €15 (051 421 255)
Sept. 28th: An Grianán Theatre, Letterkenny, Co. Donegal, 7.00pm, €15 [€12.50 concession] (074 912-0777)
Sept. 29th: Lyric Theatre, Belfast, 7.30pm, £12.50 (048 9038 1081)
Sept. 30th: Station House Theatre, Clifden, Co. Galway, 7.30pm, €15 (095 30303)
Oct. 1st: Axis, Ballymun, Dublin, 7.30pm, from €12/€15 (01 883-2100)
Oct. 2nd: Theatre Royal, Waterford, 7.30pm, €15 (051 874 402)
Oct. 3rd: Triskel Arts Centre, Christchurch, Cork, 7.30pm, €15 (021 427 2022)
Oct. 4th: The George Bernard Shaw Theatre, Carlow, 8.00pm, €15 (059 917-2400)
In studio: Eanna ni Lamhna, Siobhan Madigan, Richard Collins and Doug Allan
In studio: Richard Collins, Doug Allan, Eanna ni Lamhna & Derek Mooney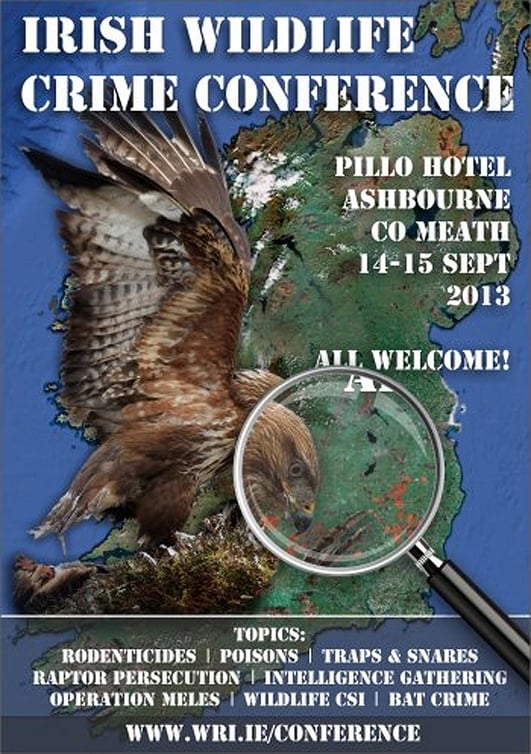 Irish Wildlife Crime Conference
Listeners to Mooney Goes Wild will be the very people most upset by the reports we do from time to time about harm inflicted by people on animals. Too often we have heard about hen harriers and white tailed eagles found poisoned, or of seals being shot by fishermen and the horrible story of their heads been nailed to stakes, or of dogs bred for hunting badgers.
So you will be very glad to hear that this weekend, Ireland's first all-island Wildlife Crime Conference is taking place in County Meath. And to tell us more, we are joined today from RTÉ's Belfast studios by Dr. Clyde Hutchinson, Chairperson of Wildlife Rehabilitation Ireland...
The website that Clyde set up telling people what to do if they find a wildlife casualty is www.irishwildlifematters.ie. It gives useful and easy to follow information and instruction to members of the public who find a wildlife casualty
The Irish Wildlife Crime Conference is taking place on September 14th and 15th - but IT IS BOOKED TO CAPACITY!! No vacancies!!
Details of the conference programme and speakers can be found at www.wri.ie/conference.
Saving Our Bees
As Albert Einstein said "If the bee disappeared off the face of the earth, man would only have four years left to live". It's a fight for survival for bees as worldwide populations are plummeting. But there is a fight back on and Philip Mc Cabe, who is President of The European Commission for Apiculture (which is the art of beekeeping) is here to explain what is the action plan for saving our native bee - and why we should be worried...
For more information, visit www.irishbeekeeping.ie.
Hedgerows: It is an offence to 'cut, grub, burn or otherwise destroy hedgerows on uncultivated land during the nesting season from 1 March to 31 August, subject to certain exceptions'. For more information, click here.
To contact your local wildlife ranger, click here for contact details. To read the Wildlife (Amendment) Act 2000, click here.
IMPORTANT NOTICE
Please DO NOT send any live, dead or skeletal remains of any creature whatsoever to Mooney Goes Wild.
If you find an injured animal or bird, please contact the National Parks & Wildlife Service on 1890 20 20 21, or BirdWatch Ireland, on 01 281-9878, or visit www.irishwildlifematters.ie